For this month, I'm switching up my goals just a little bit. Instead of my regular goal plan I'm going to be making goals in line with this month's series, frugal simple living. If you missed the post that talked about what to expect this month you can check it out here.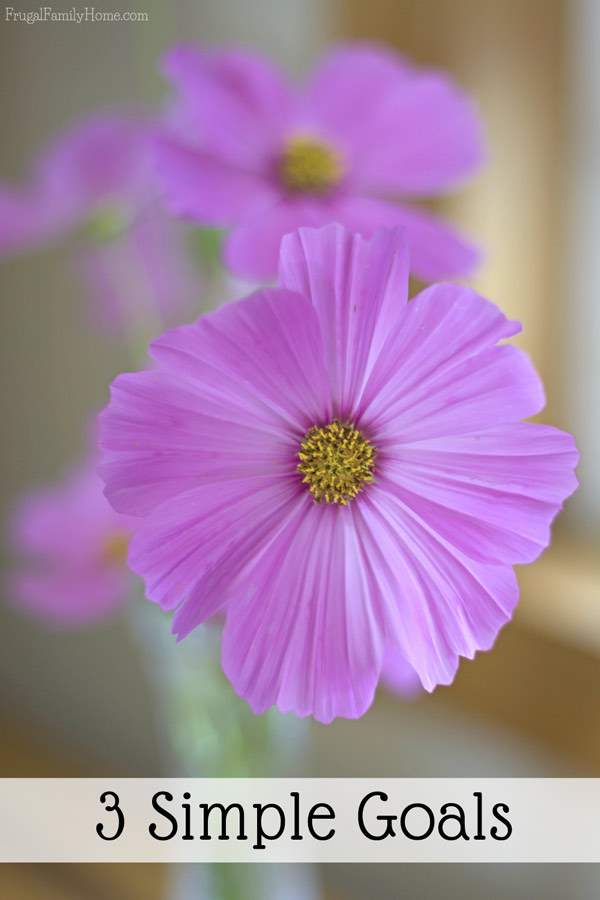 My 3 Simple Goals for this Week
Goal #1
Clean out the dead plants out of the garden. With the weather change, school starting, and just having less time to spend outside and the garden is looking bad. I need to clear out the plants that are dead or dying. I need to remove the tomato plants that are spent and bring in any green tomatoes and wrap them so I can ripen them indoors.
Goal #2
Have the kids help me restart the rug pattern. I think if I make a point to do this with the kids this week, we will get it done. I think my biggest roadblock to getting this rug done is writing the pattern as I go, so I can share it here on the blog. The rug will use t-shirt yarn and scrap yarn so it would be a perfect way to use up old odds and ends but still make a great rug or gift. My goal will be to get two rows done along with the instructions.
Goal #3
Keep up with my 3 big health priorities. This week I'm going to work on drinking more water. It was easier when the weather was warm but the last few weeks I've noticed my water consumption has dropped off. I'm going to work on increasing my water intake along with keeping up with my exercising 5 days a week and getting to bed on time. I find if I get enough water, exercise, and sleep my stress level is less. Which in turn makes for a better day.
Those are my 3 simple goals for this week. I think taking on just three goals for things I've been putting off or needing to work on will really help focus my energies for the week.
What are a few things you've been putting off that you could add to your goals list this week? I would love to have you share them in the comments below so we can encourage one another to get them done.
[signoff]