This past month I made good progress on my goals. It was a crazy month weather wise with almost a week of weather in the 80's. Way to hot for me when it's usually only in the 60's all month. I'm looking forward to more moderate weather this month.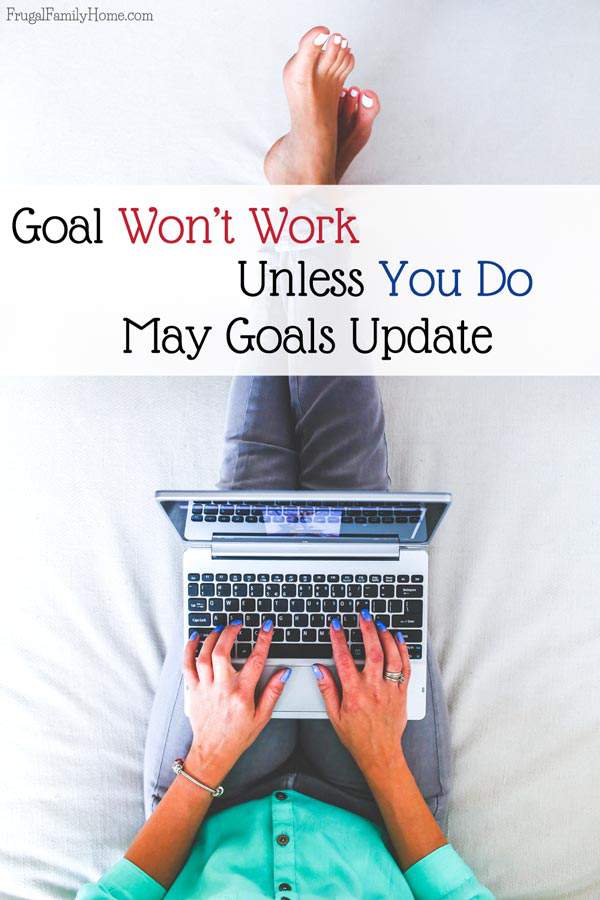 I'm also looking forward to the kids having more time to spend outside. Often May is a perfect weather month here. Not too hot but not rainy and cold either.
The Goal Plan for May
This month I'll be working on 5 main areas. Homeschooling, Weight Loss, Blog Growth, Family Time, and Organizing my Time. I've updated the progress I made on each goal as well as my plans for this month too. I would love to have you share in the comments below what your goals are for this month.
Homeschooling Goal
My son is doing well with working hard on practicing reading and getting ready for his testing this year. We have almost completed his test prep book and he is ready for his practice test. This month he will be taking a practice test. I'm also going to continue working with him on his reading, having him read to me 15 minutes a day.
Family Time Goal
We met and exceeded our family time goal this month again for the month of April. My kids are really enjoying all the time we've been spending doing fun things like gardening and playing games. This past month we spent time playing a few games on the tablet for our family time. But this month we should be spending more time outside working in the garden and doing fun things in the good weather outside.
Weight Loss
I met my goal for last month, getting exercise in each week. This month I'm going to focus on 10 minutes of exercise three days a week and I'm adding no eating after dinner 3 days a week too. I kept up with my exercise goal and was able to fit in quite a bit more with all the yard work we did this past month.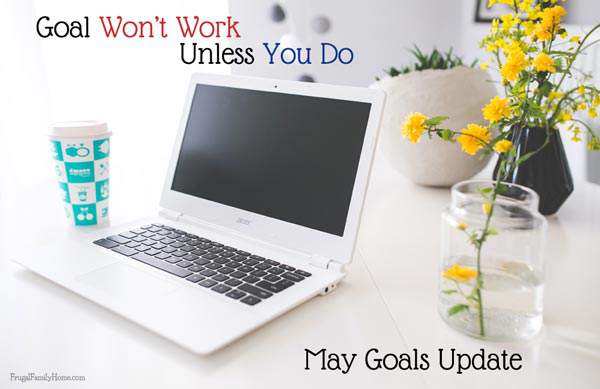 Blog Growth
I made a new social media sharing strategy and have just started pinning on my new schedule. We will see how it goes this month and then I can re-evaluate it for next month and do some tweaking to the schedule if needed. This month will just be a month of implementing the changes and watching to see how the changes go.
Organizing my Time
I was so close to finishing my calendar course. In April I really made an effort to start using Google calendar with iCal for all of my daily tasks. This was more challenging than I thought it would be. I'm going to continue to implement using my online calendar system as well as work on completing the calendar course. With only two lesson left I should be able to get it done.
Those are my 5 main goals for this month. Most of these goals will go for 6-12 months, the organizing my time goal is almost finished. I've been keeping on track with my goals using the steps I learned in the Make Over Your Year Course (affiliate link) It has really helped me to break down my goals into steps for each week and each month to reach my goals. So far it's been going really well this year. If you need to set goals of your own I would definitely recommend Crystal's Make Over Your Year course. (affiliate link) You don't have to wait for the new year to start to make over your year, you can start today!
What goals are you working on for this month? I would love to have you share them in the comments below.
[signoff]
This post contains a few affiliate links, which means when you purchase through them I may make a little money at no extra cost to you. Thanks for your support in this way! You can read my disclosure policy for more information.