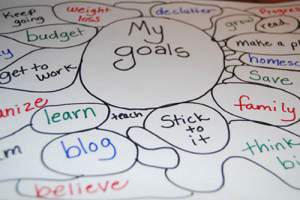 How did this past week go for you? At our house this week went by really fast again. I was able to transplant all of my tomato plants into more containers. I have 49 plants that I need to find new homes for. So far I have homes for about 10 plants. I guess I didn't need to start so many. 🙂
I am really excited about reading the book Platform. If you remember last week I only read through half of the first chapter but this week I am already half way through chapter three so I am making good progress now. Which I am excited about. I didn't get to work on my blog theme transfer at all but I did get the Clutter Busting done this past week as well as half of a guest post done.
Here is what I was able to accomplish this past week,
Continue daily read aloud time with my son ( I really bombed at this goal this week getting it only done 2 times)
Continue to work on my theme transfer (nothing done at all )
Try a New Recipe (nope)
Finish the first chapter of the book Platform (affiliate link see my disclosure here)
Continue exercising 5 days a week
Drink 6 glasses of water ( I averaged about 4-5 glasses each day so I am improving)
Start work on a guest post and write at least 100 words
Continue the Clutter Busting Challenge and blog about it each weekday
My Goals for This Week
Read to my son each day
Finish up our homeschooling for this year and finalize my daughter's grades
Try a New Recipe
Continue the Clutter Busting Challenge and blog about it each weekday
Read one chapter in the book Platform
Drink 6 glasses of water
Exercise 5 days this week and check in with my accountability partner
Sew up my son's pillow
Finish the guest post I started
Attend a Twitter Party
 What are your goals for this week? Any big plans?
[signoff]