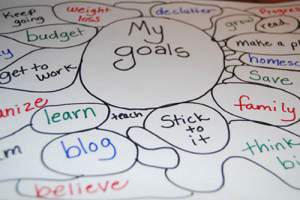 How did your week go last week? I hope it went well for you and you were able to get quite a few of your weekly goals accomplished. Around here we were able to get lots done too. I wasn't able to get to all my goals for this past week but that is alright.
I read to my son 4 times this past week and he also made progress with his reading. I printed off a few games to play with him to get him to practice his phonics and he really likes playing them. I read a chapter in each on of the books I am working on and read three chapters in another book. Yes, I have an attention problem with sticking to one book at a time. But when I get tired of reading one of them I can switch to the next and get more reading done that way.
This week was a good week for jam making too. I picked so many strawberries in our garden I was able to make two batches of strawberry freezer jam. My mom used to make it all the time and we just love it.
Here's the things I accomplished this past week,
Read to my son a few picture books this week
Read one chapter in each book, Platform, Better Than a Box and Simple Blogging
Continue reviewing with my daughter for her standardized testing
Exercise 5 days this week  I started using Sworkit Pro App (affiliate link) for my workouts this week. I really like it, I was sore everyday. So I know I was working different muscles, which is always good.
Make a batch of jam
Work on my blog design
Get 7-8 hours of sleep each night (I only made this goal 3 times this week, why am I staying up so late? )
Goals for This Week
Take my daughter for her testing
Write 4 blog posts
Work on blog design
Exercise 5 days this week
Get more sleep 7-8 hours a night
Do a fun outing or two with the kids
Read one chapter in each book, Platform, Better Than a Box, Simple Blogging (affiliate links)
What are your new goals for this new week?
[signoff]