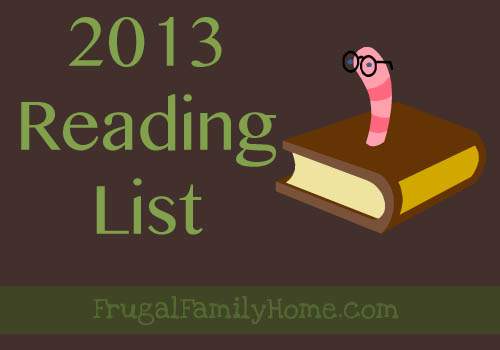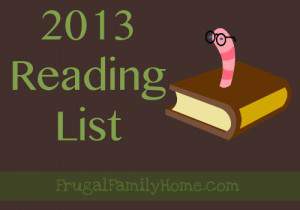 I don't usual make a book list to read each year. I just pick a book and  read it. Which leads to me not reading all that much except for the read-a-louds I do for my kids with their homeschooling. I read other blogs and see the volumes of book that others read in a year and think how do they get all that reading done?
It is not that I don't want to read and learn and expand my knowledge. I think it is just without a plan there are just too many other things that need my attention. So then books to read for just my own pleasure easily falls by the wayside. Do you know what I mean?
While I was over reading Crystal's post about her favorite books of 2012 she also wrote how many books she read this past year. She read a total of 130 books! I don't know how she finds the time to read so much. My reading speed is slow and when I am reading a book most of the time I like to take notes to help me remember the information I am learning so I can apply it to my life. So that does slow me down a bit. But I thought this year if I made a list maybe just maybe I could get 12-13 books read this year.
I have over a hundred and fifty Kindle books most of which I haven't even opened to read (most I found for free) so I thought I would start with some of those and a few other books I already have and make a reading list. As the year goes on I may swap out a book or two off my list for one I have just come a crossed that I just can't wait to read. At least with a plan I am hopeful to get more reading done. I am not including the books we do for read-a-loud for our homeschooling although I may just start adding those to my weekly goals list just to keep track.
Here is my list of books for 2013 to read
(These are in no particular order just as I found them in my Kindle or on my bookshelf)
50 Fitness Tips You Wish You Knew
Fear, Faith, and a Fistful of Chocolate: Wit and Wisdom for Sidestepping Life's Worries
GUTS Get Uncomfortable To Succeed
The MoneySmart Family System: Teaching Financial Independence to Children of Every Age
The God-Given Diet: Stop Dieting and Finally Lose Weight
Getting More Done: 10 Steps for Outperforming Busy People
31 Days to Build a Better Blog
Organized Simplicity: The Clutter-Free Approach to Intentional Living
Achieve Anything In Just One Year: Be Inspired Daily to Live Your Dreams and Accomplish Your Goals
21 Days of Gratitude Challenge: Finding Freedom from Self-Pity and a Negative Attitude (A Life of Gratitude)
Happier at Home: Kiss More, Jump More, Abandon a Project, Read Samuel Johnson, and My Other Experiments in the Practice of Everyday Life
Moneymalism: A Minimalist Money Guide
That is my plan for reading this year. I know I included 13 book titles. I guess I am feeling a little inspired by all the books at Crystal read this past year. I will be posting a review of each book as I finish it so be sure to be on the look out for those as this year goes on.
Also if you need a reading list printable, Crystal has one for free. 🙂
Do you make a reading list for the year? What are you planning on reading?
[signoff]
Disclosure: Some of the links in this post are my affiliate links.