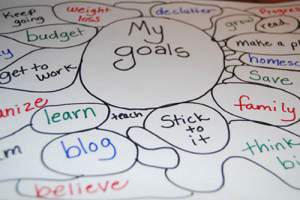 I was able to get most of my goals done this week. There are a few that still fell by the wayside but I did make some good progress. I am hoping to get back on track with my exercise as this past few weeks I haven't been very good about getting my exercise done each day. I think I need to plan for exercising first thing in the morning so I can get it done before the day gets busy. What works best for you to get your exercise in each day?
Here is what I was able to accomplish this past week,
Write a note of encouragement to someone
Continue listening to the Bible on cd each morning
Continue Good Morning Girls Bible study on Luke I was able to get this study done most days
Get to bed by 10:30 each night (I made it to bed on time about 4 times this week, better but I still need to work on this goal)
Continue my 10 jumping jacks and push ups each day ( Only about 3 times this past week)
Finish reading Fear Faith and a Fistful of Chocolates and write a review posts (Finished, look for the post on Wednesday)
Sort through the vegetable seeds and plan our garden out with the kids (We were able to get half of this goal done, I will work on the second half this week)
Write my yearly goal update for February (Look for the post this week)
Plan my next 5 weeks of dinners
New Goals for this Week
Write a note of encouragement or make a phone call
Work with the kids in making our garden plan for this year
Sprout peas for planting in the garden
Get to bed on time, 10:30
Exercise each day CD with kids each morning
Good Morning Girls Luke Study
Do a project with the kids
What is your plan for this week?
[signoff]