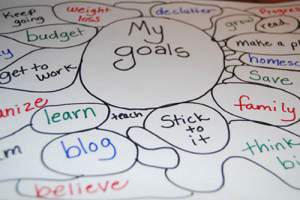 This week went by very quickly for me. It just seems yesterday we were starting a new week and now the next week has already arrived. I worked hard on my goals and had a few days where I felt I was making very little progress. Some days I started to feel upset about how little I was getting accomplished. As I could feel my frustration building I decided that being upset just wouldn't help at all  then I calmed down and the rest of the day went fairly well on those days. Just realizing my frustration was building before it had gotten to bad is good progress for me.
As far as the goals I was able to accomplish here they are,
My progress from last week
Write a post a day (most days I did some writing)
Start on next month series (look for a post on Friday)
Exercise each day this week (I was able to get my two fitness items accomplished each day this week)
Drink 6 glasses of water ( I still need to work on this one, I am still only getting 4-5 glasses in a day)
Finish the decluttering of the living room (I just finished now just to get the post up hopefully this week)
Read 2 chapters in How to Stick to a Diet ( I actually read 3 chapter this week)
Bible reading at breakfast with the kids (most days we listened to the Bible CD)
Try a new recipe
Attend two webinars ( I actually ended up attending two blogging ones and a homeschooling webinar too)
My goals for this week,
Post each weekday on my new series for February (details on Friday)
Listen to our Bible CD's at breakfast we are almost through Matthew
Continue to work my way up to 8 glasses of water a day, I am currently working on 6 a day this week
Read 2-3 chapters in How to Stick to a Diet
Attend two webinars
Exercise each day and pick my two new fitness items to add for next month
Select the recycled craft for next month
Read at least one book a day to my son
Try one new recipe
If you make weekly goals please leave a comment and let me know what your goals are for this week and how you did on your goals this past week. If you have a post written about your goals please leave the link with your comment.
Here's to a productive week,
[signoff]