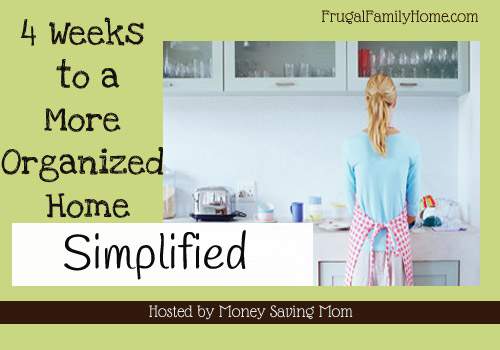 Crystal at Money Saving Mom is restarting her series, 4 Weeks to a More Organized Home today. Since I was thinking I needed to organize my home a little more before Thanksgiving and Christmas I decided to follow along. So if you need to do a little cleaning yourself why not join in too.
This series will be more simplified than the original series, meaning the tasks will just take about 15 minutes to do. Also the week off Thanksgiving will be a week of from cleaning. After all during the week of Thanksgiving I am sure you are like me and have enough other things to do.
So in just a few hours I will have my first post up about what I accomplished today. Here is where you can find Crystal's assignment for Day 1, today. So now I am off to do a quick 15 minute cleaning and purge my purses of all the things that are lurking in the bottom of them.
[signoff]