It's hard to let go of things we love at times. Even when those items are outgrown or getting worn out. I know my son has a hard time letting go of clothing he has outgrown, especially his favorites. That how this simple sewing craft for how to make a t-shirt pillow came about.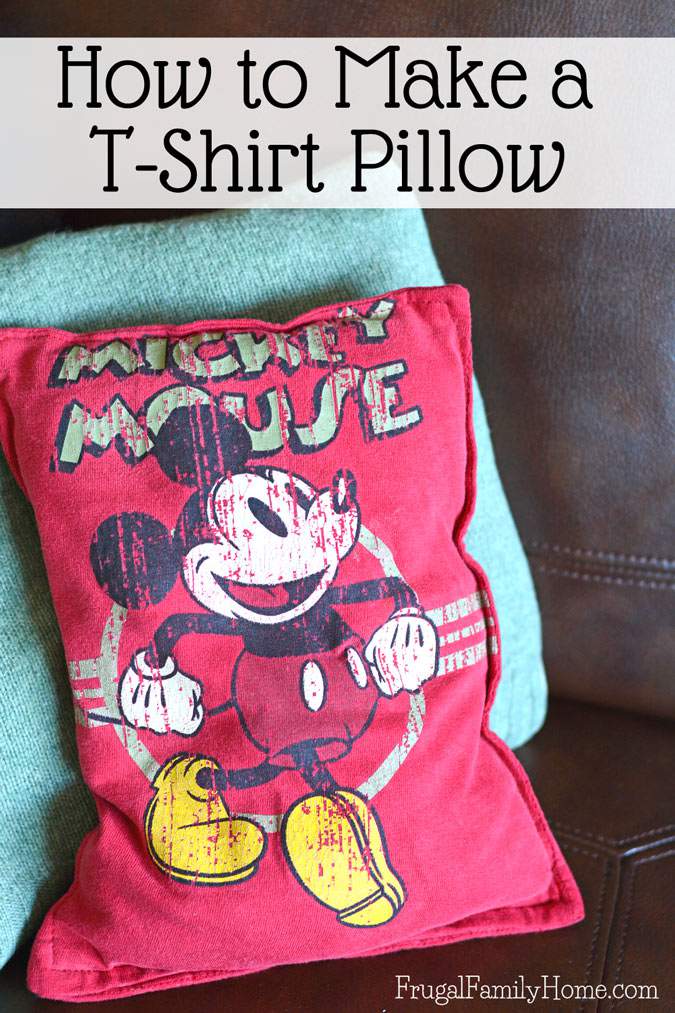 We started with a t-shirt my son just didn't want to let go of. It was one of his favorite shirts he wore all the time and one day I had to tell him, he had grown too big for the shirt. I mean when his little tummy started to hang out the bottom of the shirt it was time to let it go. But his heart just couldn't bear to let it go.
I could feel his pain. His little tender heart was so attached to this faded and well loved shirt, I couldn't bring myself to pry it away from him.
But since he couldn't use it as a shirt any longer, we transformed it into a t-shirt pillow for his bed. This way he could keep it and not have it hanging out in his dresser drawer until we battled over getting rid of it the next time we cleaned out his dresser.
By transforming the faded t-shirt into a t-shirt pillow for his bed he could hold onto it a little longer. It's a super easy sewing project that only takes a little bit of time, about 15 minutes and not much more than the shirt to make.
Some of the links in this post are my referral links. Which means when you purchase through them I can make a little money at no extra cost to you. Thanks for your support in this way. You can read more on my disclosure page.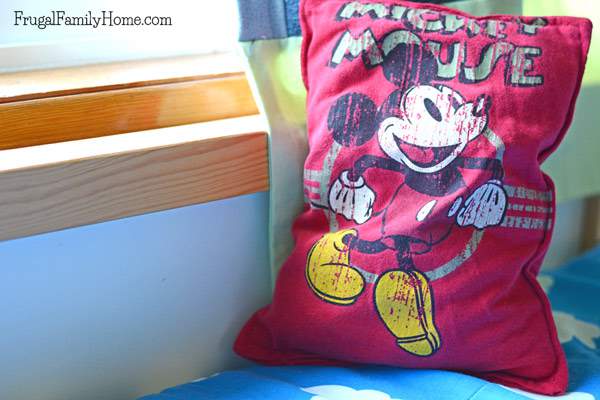 What You'll Need to Make this T-Shirt Pillow
Tools You'll Need
The sewing machine doesn't need to be a fancy one at all. You only need one that can sew a straight stitch. Don't worry if you're not very good at sewing either. You'll only need to sew along each cut edge to close it up. No fancy sewing skills needed at all.
This is an easy enough sewing project that your kids could give it a try. Although for them it might take longer than 15 minutes.
Steps to Make the T-Shirt Pillow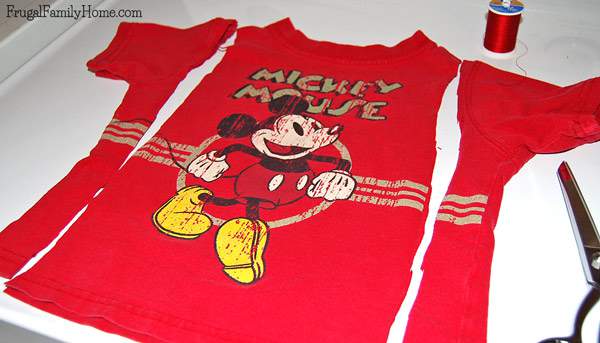 1. Cut the sides of the shirt off. If it has a design like the one I made, you'll want to cut up the sides to leave the design in the center of the square or rectangle .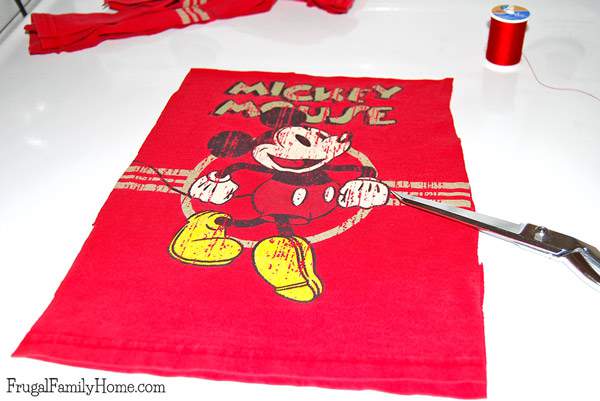 2. Once the sides and sleeves are cut off. It's time to remove the top. I cut down just enough to remove the collar but leave the wording on the front. Now you should have a front and a back piece of the pillow that are separate from one another. The bottom hem of the t-shirt should still be intact.
3. Now flip the front and back pieces of the pillow so the right sides are facing each other. And pin around the edges to hold it in place as you sew.
4. Sew around the cut edges leaving a margin of 1/2 inch. Leave the bottom edge or hemmed edge of the t-shirt open for stuffing.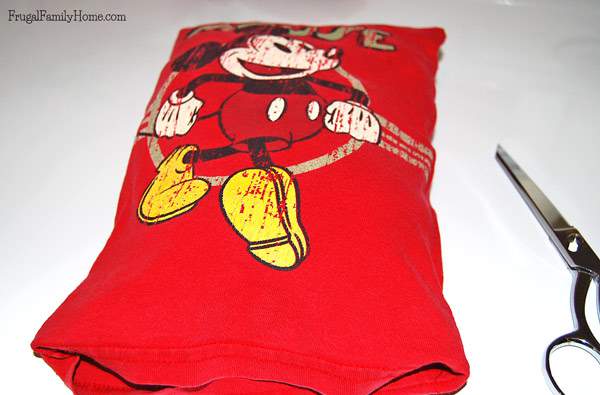 5. Stuff with Stuffing, Turn the pillow right side out and stuff with stuffing as full as desired.
6. Stitch the bottom closed. Since we left the hemmed edge at the bottom intact, you can just sew across the bottom on the right side of the fabric about 1/4 inch from the bottom edge.
Optional, To make the edges a little more crisp, you can sew around the other 3 sides about a 1/4 of an inch from the edge of the pillow to make a nice edging all the way around.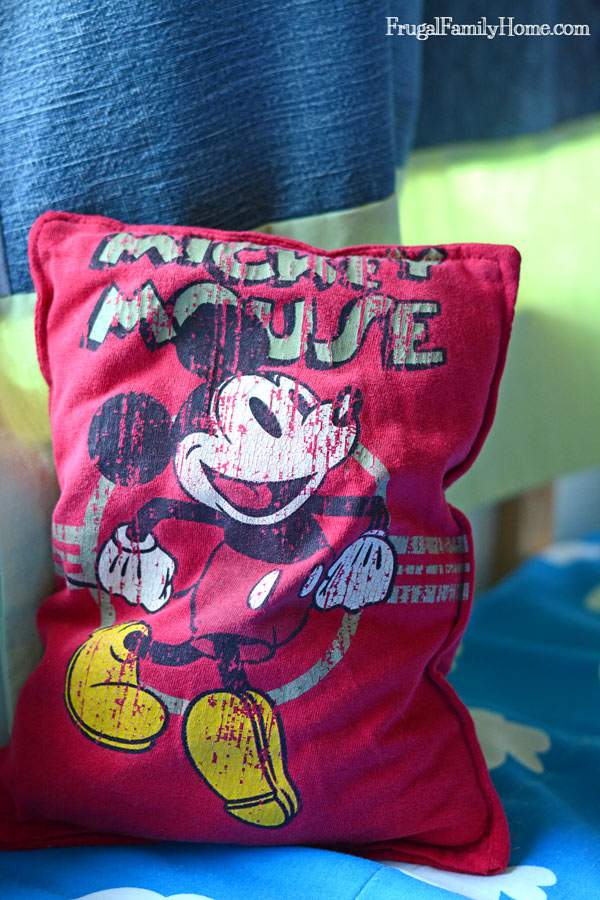 This is the cute Mickey Mouse throw pillow we made from my son's outgrown t-shirt. He was thrilled to be able to keep it a little longer and placed it immediately on his bed.
If your child or yourself has a favorite t-shirt that you just can't bear to part, this is a good option for transforming it into something they can use a little longer.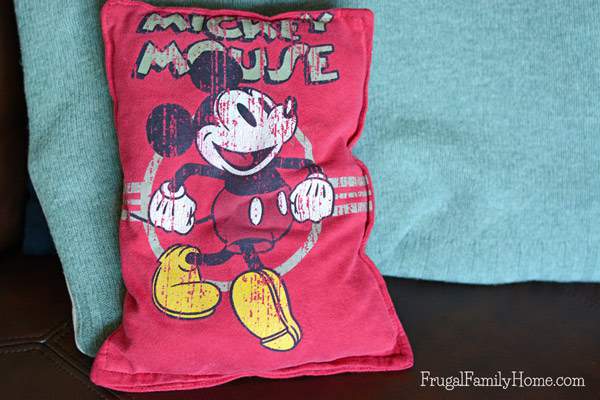 This t-shirt throw pillow project is such an easy sewing project the kids can help make it too. Making it even more loved by them.
What kind of things do your kids or grandkids like to hold onto?