If you have been following me on Instagram you may have seen some of the photos from our DIY bathroom vanity update. We plan on remodeling the full bathroom but that is going to take some time so I thought I would update on how the vanity turned out.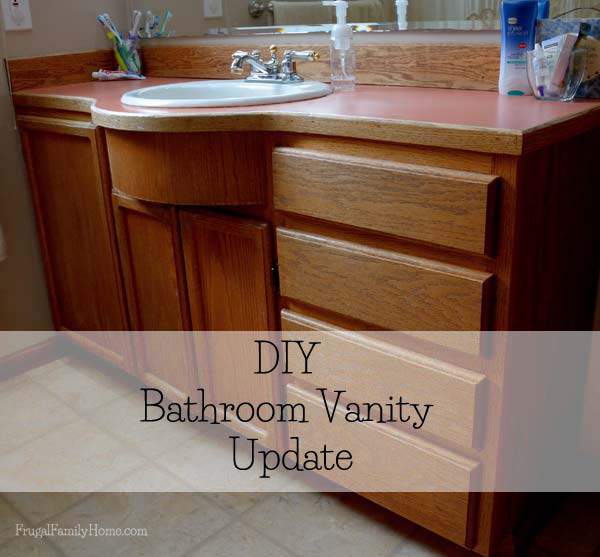 First I'll start with the lovely before photos. When we purchased our home the bathroom had dark blue shag carpet, blue wallpaper with white and olive green flowers on them. Which wasn't too bad in itself, but then we had a lovely peach countertop that really clashed with all the blue.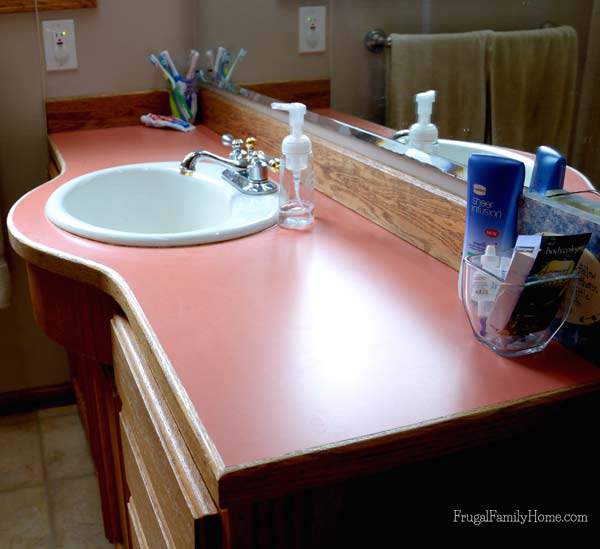 Why the peach countertop was there with the blue wallpaper I don't know. But my husband and myself decided we needed to do something about the bathroom countertop fairly soon when we purchased the house. Fast forward to 16 years later, yes 16 years and we still had that lovely peach countertop. Although the blue carpet and wallpaper were a thing of the past.
I just updated the colors to somewhat coordinate with the peach countertop and let it be. But this past year the wax toilet seal failed and we had a leak. That leak lead to some swelling in the floor around the toilet. We knew we would have to take up the floor and so we decided early this summer to just remodel the bathroom.
Since the summer was quickly fading away, we decided one weekend just to start working on the bathroom so there was no turing back. Our project was finally underway.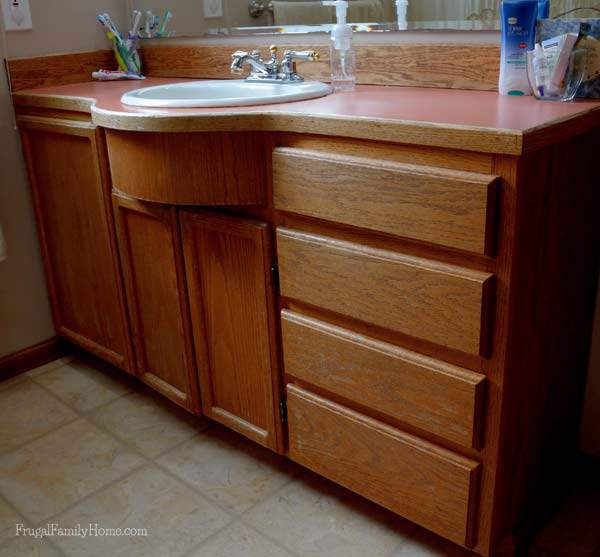 Not wanting to tear up our most used bathroom too much at a time, we decided to start with the vanity and work our way around the bathroom.
The vanity is a really well-built one. So well-built we had trouble removing the plywood under the counter. The family before used a lot of nails to hold it in place I think we counted over 20 in just one side of the counter. That countertop was definitely firmly attached.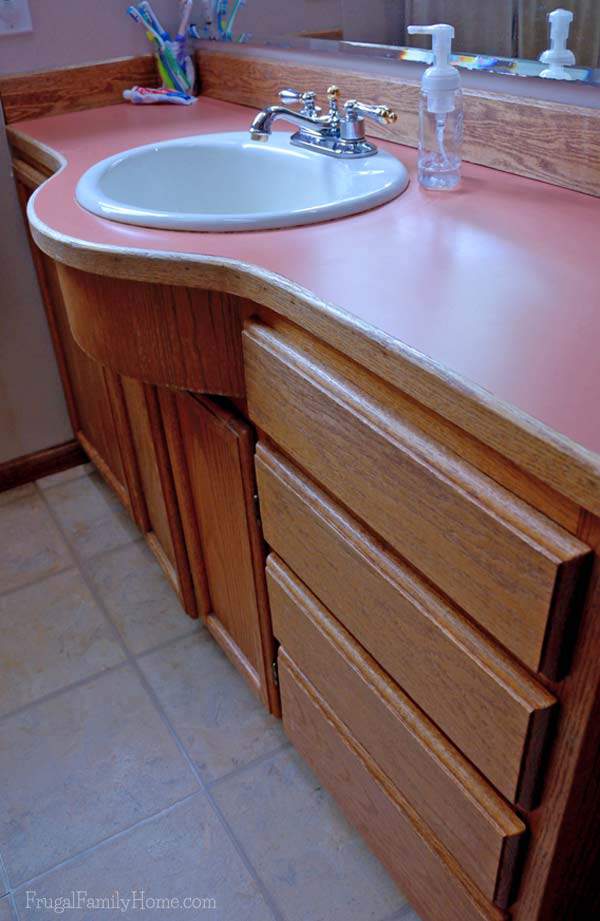 Now if our vanity had been a more normal sized one we could have purchased a ready made granite countertop to install ourselves. But our has a curve for the sink and is set back a bit on the sides so we had to have it custom made. We also paid to have it installed after they told us, if it broke while we were installing it, we would have to pay for a another one to be cut and made to fit or we could pay to have it installed and be done. If they broke it while installing it wouldn't cost us any extra.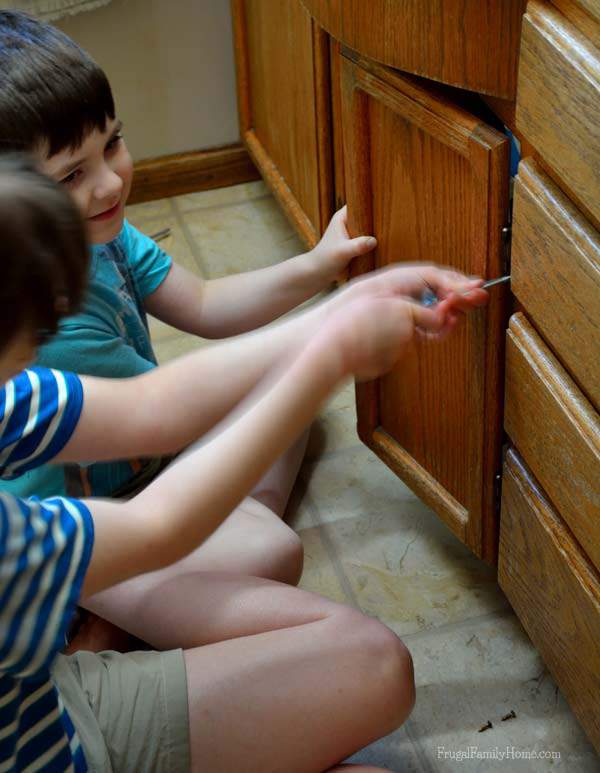 While we were waiting on the counter top, the kids helped me remove the doors and drawer fronts and remove all the hinges. Our hinges were worn and they needed to be replaced. Plus the brass color just didn't go with the updated fixtures we had installed a few years back.
After the doors, drawers and hinges were all removed along with the trim around the door, window and floor it was time to sand the varnish off. What a job that was! It took me three days with our palm sander to get all of it off. I'll be writing a post about how I did the varnish removal soon.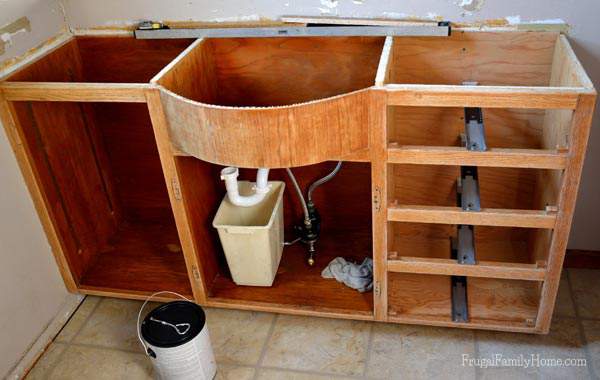 After the doors, drawers, and trim were all nice and smooth, we took one of them to the local paint store to get advice of how to go about painting the wood. You see the wood is a nice solid oak, very sturdy but we wanted a new look. So, we decided painting was the way to go.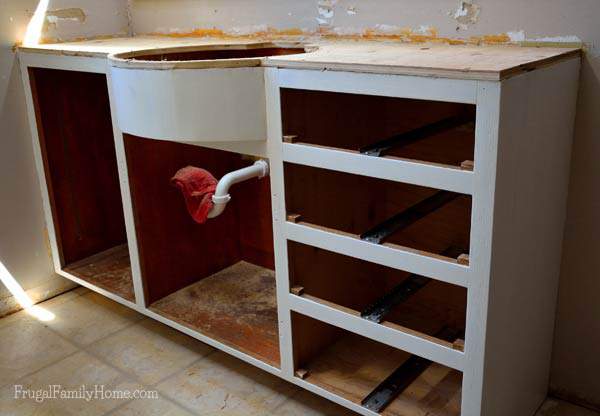 The lady at the paint store said I did a great job on sanding the wood. Almost too good! She suggested that I buy a special extra sticky primer to make sure it would stick well. This primer was true to that claim. I was scrubbing primer off of me for days. It kinda just had to wear off.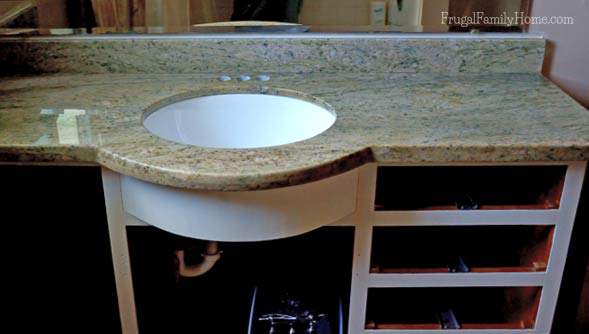 Here's how the vanity looked with the new countertop and the vanity painted with primer,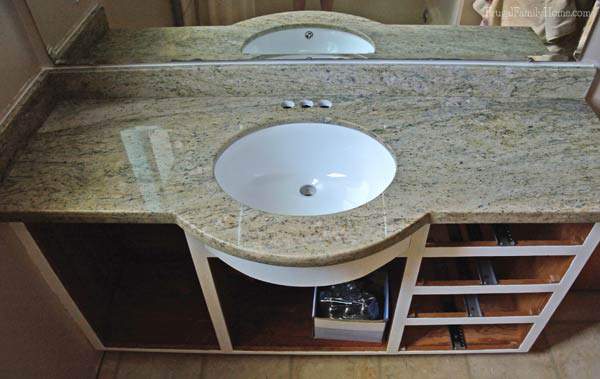 Ok this post is getting a little lengthy, so I'll finish it up tomorrow. Be sure to come back to see the finished project!
[signoff]