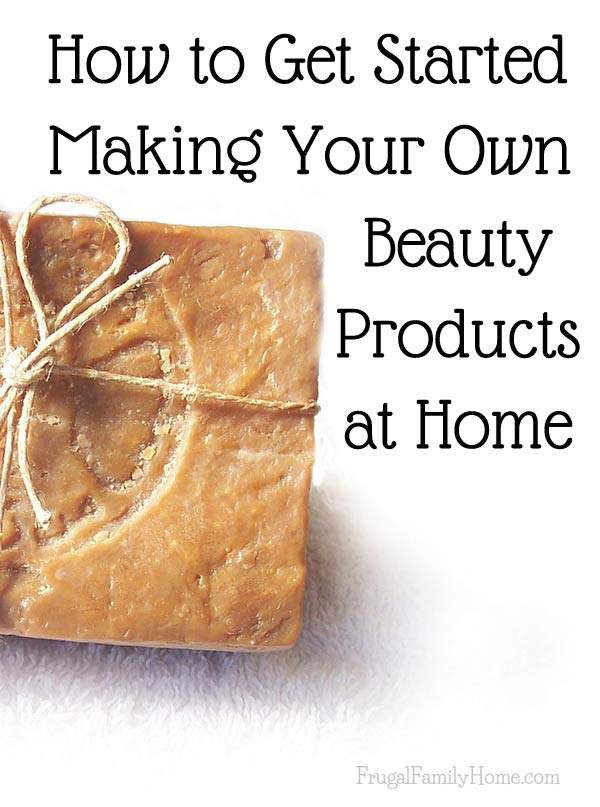 With Thanksgiving almost here and Christmas right around the corner, it's time to get serious about Christmas gifts. I know I like to make a few gifts each year. There is just something about getting a gift someone has taken the time to make you that makes the gift that much more special.
I love to get gifts but lets face it, our homes have limited space and some of the best gifts can be the consumable ones. Being consumable doesn't have to mean edible either. My friend Sandra, from The Sensible Mom, joined me to share some tips on getting started making your own beauty products.
Not only would making your own beauty products be great for you and your family to save money and eliminate chemicals,  but these also make a great gift too. Watch the video below for Sandra's 5 tips. Or if you would prefer to read them scroll down.
Tips for Getting Started Making Your Own Beauty Products
Determine What to Make
Check and see what beauty products you use and determine which ones you would like to get started making yourself. Beauty products can contain chemicals you might not want to be putting on your skin. By making your own you know exactly what is in the products.
Find Recipes
Once you have determined what you would like to make, do a search for recipes online. There are lots of recipes online. Be sure when you read the recipe to look over the comments or reviews. Then choose the recipe that you want to give a try.
Make an Ingredients List
Once you have your recipes picked out, it's time to round up the ingredients. Make a list of the ingredients you will need to make each recipe. Most of the homemade products, like toothpaste or deodorant don't take many ingredients. You might find most of the ingredients in your cupboards. But there might be a few speciality items you will need to shop for. Be sure to make a list.
Get Started Slowly
When you have everything you need, it might be tempting to jump right in and make a bunch of recipes at once. But it's better to make just one recipe at a time. Also don't double or triple a batch the first time you make a product. Wait until your family has tried the recipe and likes it before making a big batch.
Label Your Products
Be sure to label your homemade products well. You hate to mix them up. You can label them with a sharpie pen right on the bottle or with a sticky label. Or if you don't want to label them, just use a distinctive bottle for each product. Be sure to add the date too.
I hope these tips help you feel more confident on getting started making your own homemade health and beauty products at home. If you want to see some of Sandra's homemade health and beauty products recipes you can visit her blog or the links below to some of her recipes.
Brown Sugar Body Scrub Recipe with Video
Brown Sugar Face Scrub Recipe
Homemade Deodorant Recipe with Video
Homemade Peppermint Sea Salt Foot Scrub Recipe
Sandra also has an ebook with health and beauty recipes, purchase the PDF!
Do you make you make your own health and beauty products? If you do, please share your favorite recipe below, I would love to try it out.