I have this tiny little bottle of rose oil and it was expensive to purchase. But I do love the scent and use it sparingly but I wondered if I couldn't make my own homemade rose oil.
You can make your own rose oil at home and it's not as hard as you might think.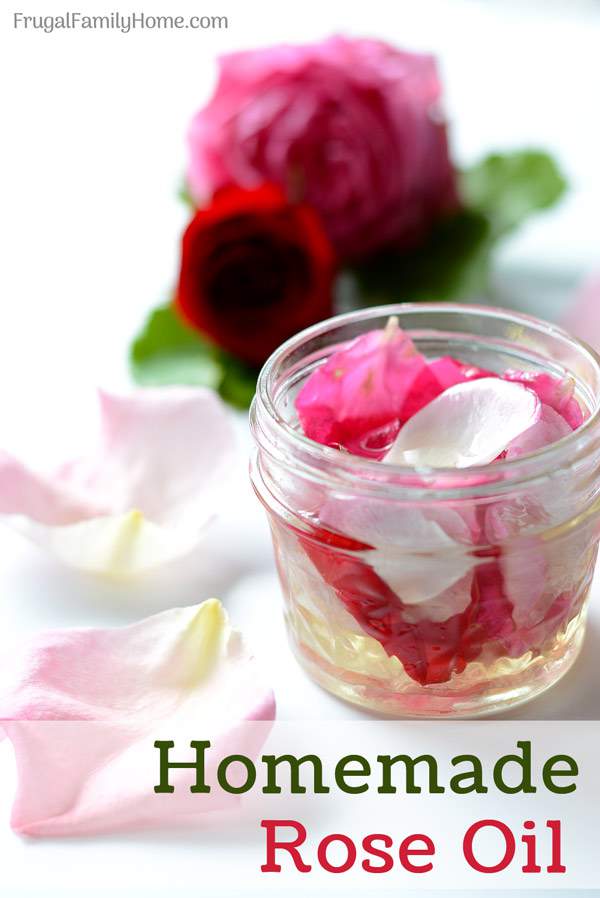 A while back I shared how to make rose water and that was a big success so I thought I would try making my own rose oil too.
Now the homemade rose oil didn't turn out as strong as the store bought variety. I'm sure the store bought rose oil is steam distilled but this method did produce a nice rose scented oil.
I think if you have really strong smelling roses it would work really well. I had a variety of roses I needed to prune off my rose bushes and since I hate to compost them, I decided to make rose infused oil.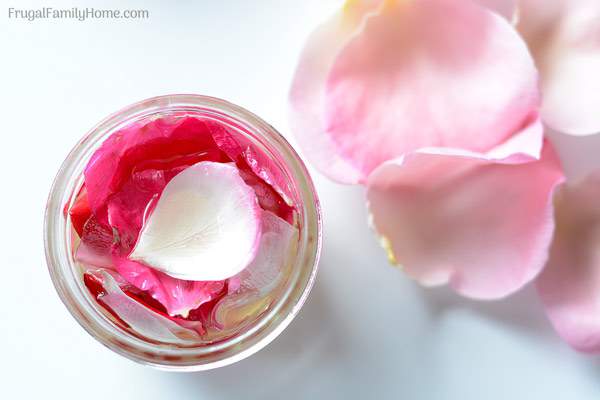 What You'll Need to Make Homemade Rose Oil
Oil, see my suggestions below
Rose Petals, from organically grown roses that smell strong
Jar, a small jar with a lid
Pot of water
There are a lot of methods out there to make rose oil. But this method I gave a try was easy and worked pretty well. One thing you need to do is to use an oil that has little to no scent at all.
Yes, my first batch didn't turn out great because the oil I used was way too strong.
My second try I used a vegetable oil, one because it's inexpensive and two I knew it wouldn't have a scent. But in my research, you could use grape seed oil, olive oil (a light scented one), canola oil, vegetable oil, or even sunflower oil.
How to Make Rose Oil
I made a quick video to show you how to make rose oil at home. It's an easy process but there are a few tips to make it turn out well.
Tips for Homemade Rose Oil
✳︎ Use organically grown roses. When you are making beauty products or products you'll use on your skin make sure the flowers are organically grown. We grow our own roses organically but if you don't splurge and purchase organically grown roses for this recipe.
✳︎ Use the most fragrant roses you can find. I used a few of my really fragrant heirloom tea rose petals but I mixed them with a few other roses that don't have as strong of a scent. I think my oil would have had a stronger scent if I had used only the stronger scented roses.
✳︎ Shred or crush the rose petals to help infuse the oil easier.
✳︎ Like I mentioned above make sure any oil you use is lightly or not scented at all. My first try at this was a disaster because I used a strong smelling sunflower oil and all I could smell was the sunflower oil.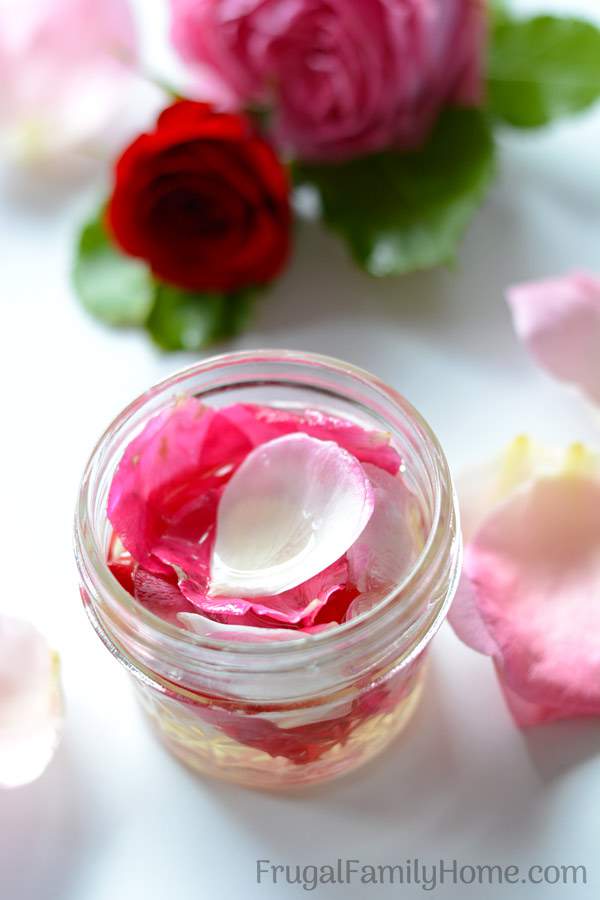 ✳︎ Let the rose oil sit in the warm water for quite a while. I left my jar in the pot of water on the stove for 4 hours. You don't want the water to simmer, you just want the water warm enough to heat the oil inside of the jar.
✳︎ Once you are done heating the oil in the pan, remove it from the water bath and let it sit on the counter for a day or two. It will help intensify the rose scent.
✳︎ When your oil is ready, strain the rose petals out.
✳︎ After the oil is strained, you can do the whole process over by adding more rose petals to the oil and water bath them again and strain to help intensify the scent if you wish.
✳︎ Store the oil in a cool dry place.
✳︎ If you have more fresh rose petals you can add them into the oil to help intensify the rose scent. Plus it makes the rose oil look pretty in the jar too. But this step is optional.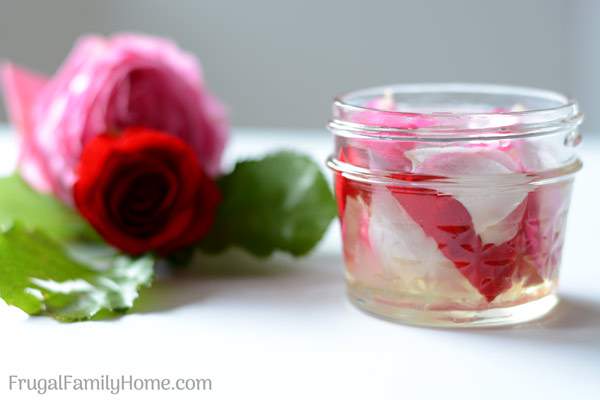 Ways to Use Rose Oil
Add it to beauty recipes like rose scented sugar scrub.
You can add a few drops of rose oil to a foot soak to help soften dry feet.
Use rose oil as aromatherapy if you like the scent.
You can use rose oil for massage.
That's how to make homemade rose oil at home. It's not too long of a process at all and if you have organically grown roses in your garden you can make some whenever you have blooms to harvest.
I think the next time I need to prune my roses, I'll be making another batch but doing the process a few times to see if I can get the scent a little more intense.
What would you use your homemade rose oil for?