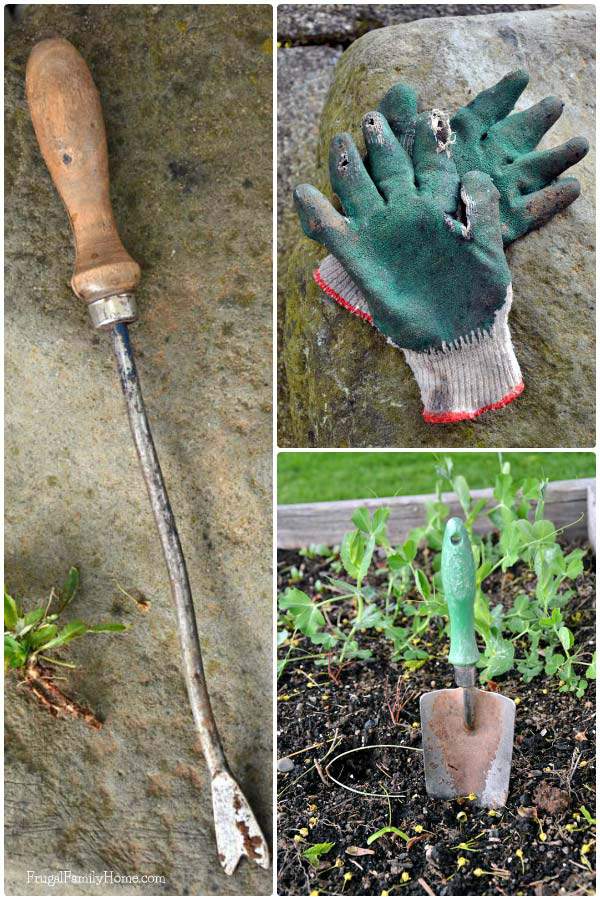 I have quite a few gardening tools, I realized the other day I don't use many of them regularly. But there are a few that I use often. I thought it might be fun to share which garden tools I use the most and to hear from you what your favorite gardening tools are.
This might also give you some ideas for Mother's Day if you have a mom is who is gardener too.
Some of the links below are my referral links. Which means as an Amazon Associate I earn from qualifying purchases and when you purchase through them I can make a little money at no extra cost to you. Thanks! See my disclosure policy for more information.
1. Garden Claw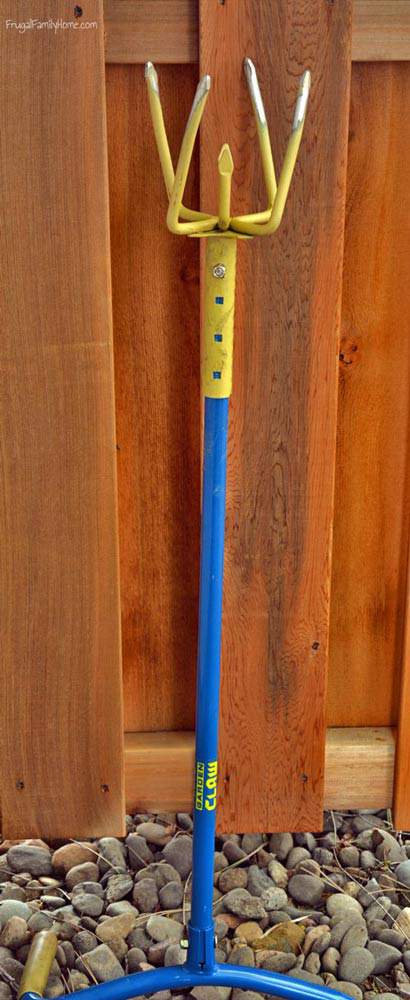 This first tool is one that was given to me by my family. I had wanted a Garden Claw for a while, but had just never purchased one. I'm a person who can want an item for a while but just never get it and then forget about it until the next spring when I need one again. Such is the case of a heating mat for my seedlings. One day I will get one.
The garden claw is great for breaking up dirt. Last year I broke up all of the dirt in our garden with it. It was a workout but I got it done. We used the rototiller this year but in a pinch the Garden Claw works great.
It not only works great in the vegetable garden but also in the flower beds too. It's great for loosening up the soil to make weed pulling easier. It helps to aerate the soil too. I can use it around the plants in the garden without harming them at all.
2. Weed Puller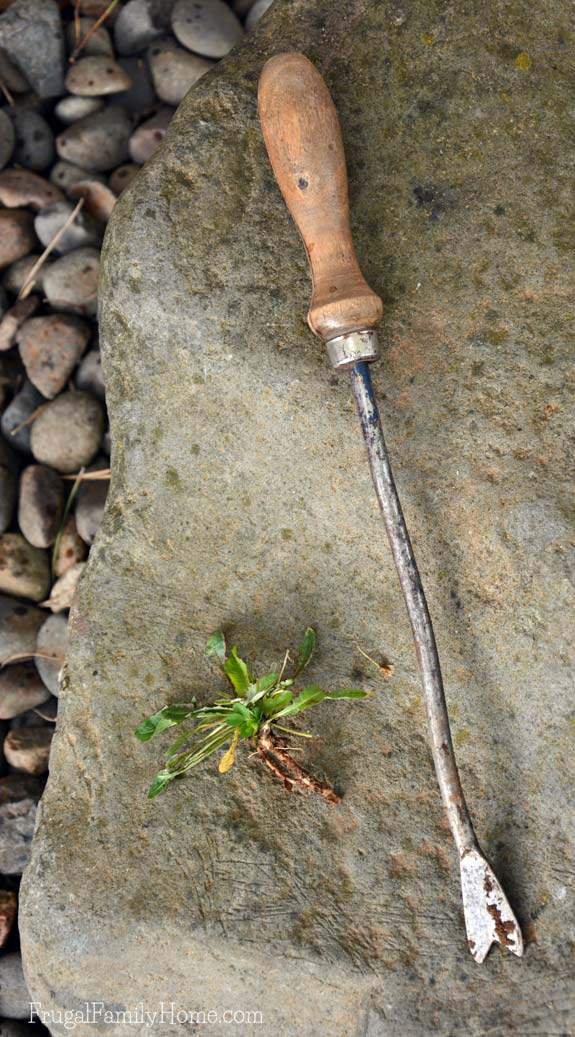 This little tool was left behind by the previous owners of our first home. At first, I thought it wouldn't be a very good tool. But this hand weeder has turned out to be really great at pulling the weeds, roots and all.
To use it, I just stick the blade next to the weed and then pop the weed out. I know this is a tool I never would have bought for myself but I'm so glad I own it.
3. Garden Pruners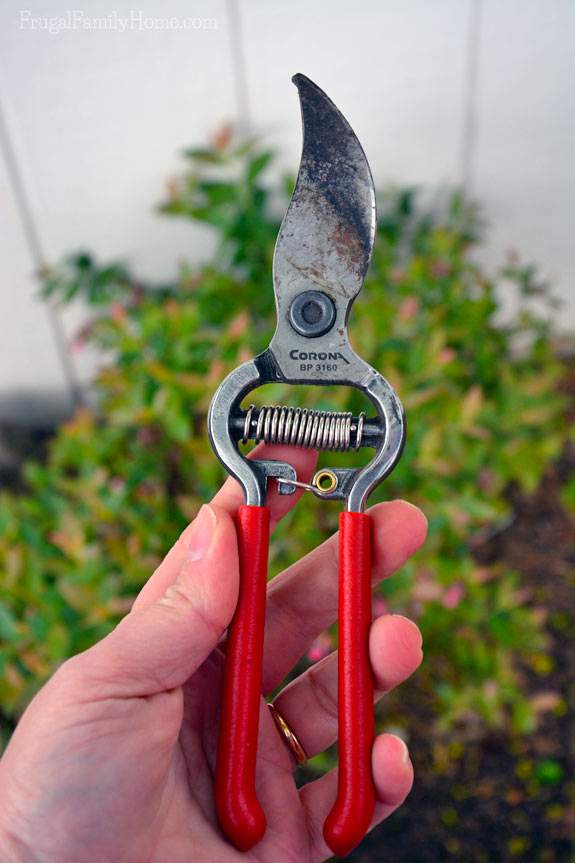 Having a good quality pair of garden pruners is really important. I had always used kitchen scissors until recently, when I purchased a nice quality pair of pruners. They are so nice and sharp and actually cut the branches instead of bending and splitting them.
Having a good pair of shears can really keep your plants looking good. I used to think that a good pair of pruners would cost a lot but the ones I have are quite reasonable and work really well.
4. Garden Gloves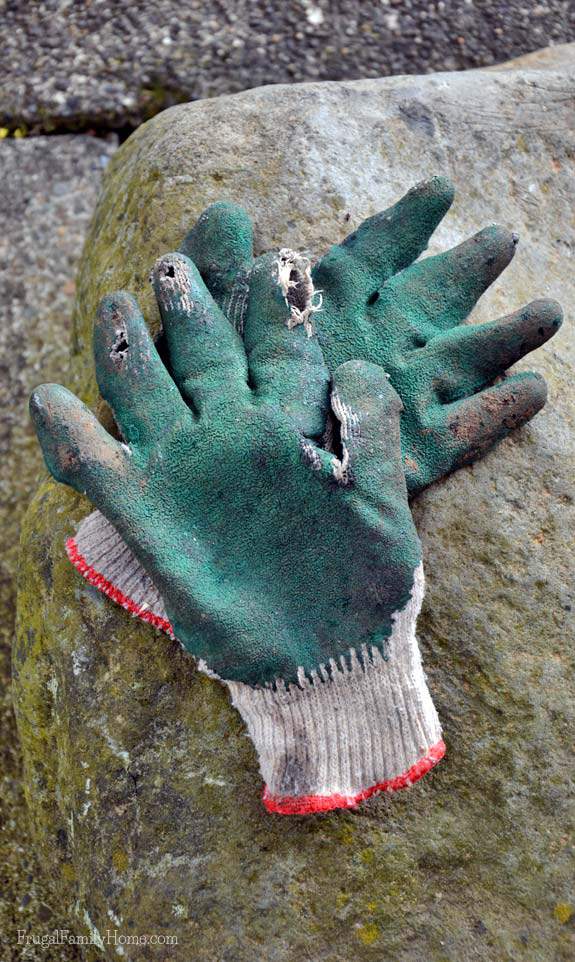 Garden gloves are so important to protect your hands while working out in the garden. From rose thorns to prickly  weeds, gloves help to keep my hands protected. I used to have a nice pair of leather garden gloves until I cut a hole in one of the fingers with my garden pruners.
Lucky for me, I just caught the glove and not my finger. Right now I have a pair of gloves that are latex coated. As you can see from the photo above I really need a new pair. I have worn out so many of the fingers in my current pair.
5. Hand Shovel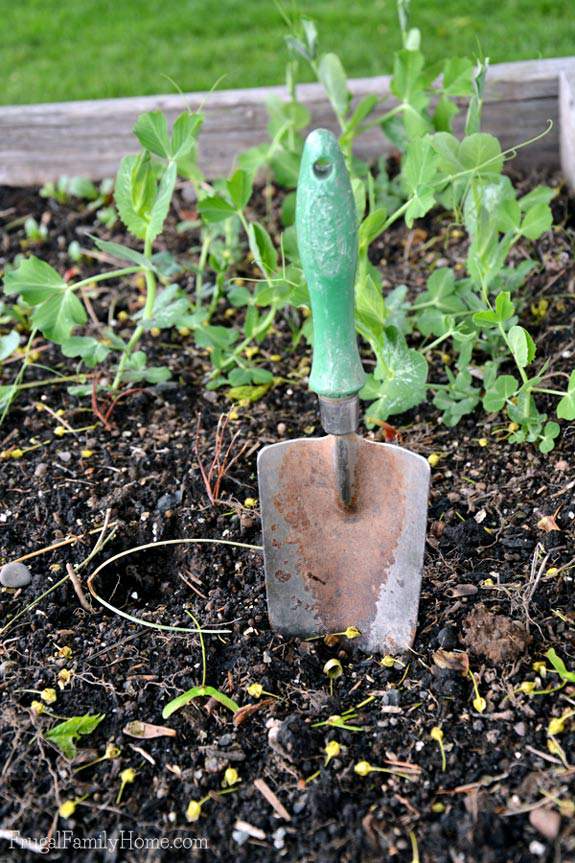 Since, I have a raised bed garden, I use my little hand shovel often. I usually keep one actually out in the garden the whole season long. So, if I see a plant that needs to be moved or a weed that needs to be pulled I always have my hand shovel near by.
I also like to turn over the soil by hand, right where I am planting a new plant and the hand shovel works great. You can tell by the photo that this little shovel has been around for a while but it still works great.
6. Garden Sprayer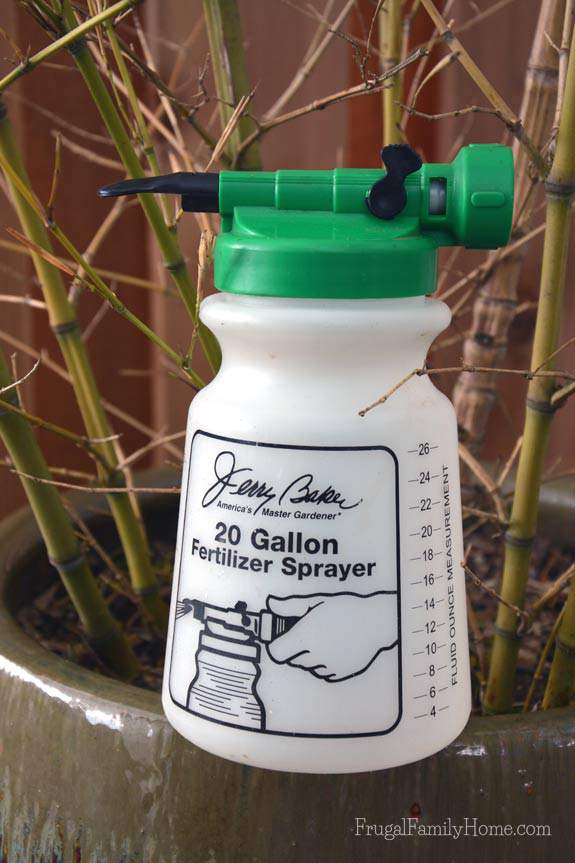 A few years ago I picked up a book from the library written by Jerry Baker, on garden solution recipes you can make make yourself. I purchased this garden sprayer to apply those solutions and it worked really well.
My garden thrives when I take the time to make up my own garden solutions. That reminds me I need to be gathering supplies so I can make my own garden tonics this year.
7. Harvesting Apron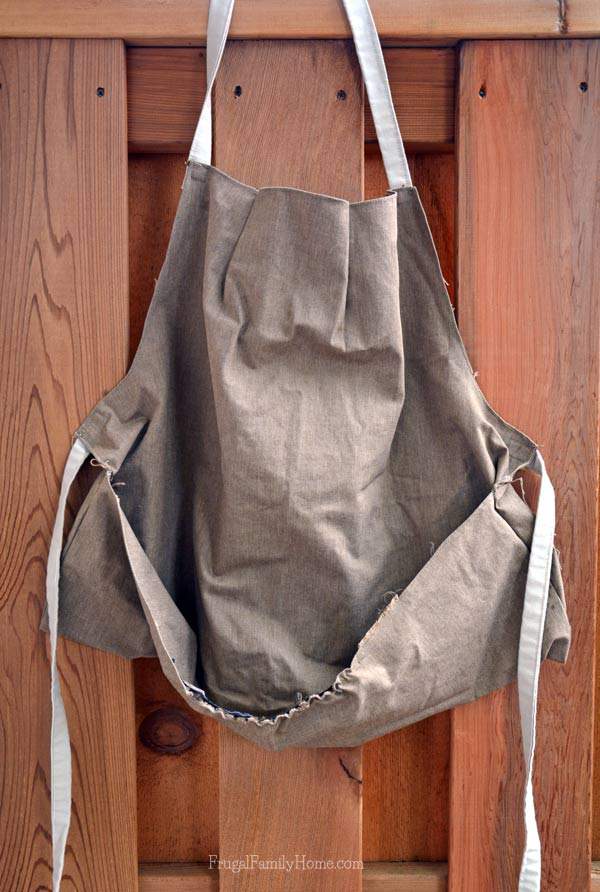 While this item really isn't a tool at all, it is great to use in the garden and at the u-pick fields. I made my daughter and myself one of these harvesting aprons when we used to go berry picking. It's a basic apron with a large pocket on the front.
The pocket is large enough to hold 2-3 quart size freezer containers. The apron allows me to use two hands to pick berries, making the task go faster than if I had to hold the container in one hand and pick with the other. The apron also helps to keep my clothing from getting stained.
I use the apron, when I remember, in the garden when I go to harvest my vegetables. The pocket has elastic to help it expand to accommodate bigger produce like zucchini but it also is deep enough for smaller items like tomatoes and green beans or peas.
That's my favorite gardening tools. What's a gardening tool you can't live without? Let me know down in the comments below. 
Looking for more gardening ideas? Head on over to the gardening page for more gardening ideas and inspiration.
Get the Companion Plants List
When you join the gardening email list, you'll not only get gardening tips sent to your inbox, you'll also get the companion plants list too.