Celery is one of those vegetables that can contain pesticides if not purchased organically grown. So when I spotted a deal, a while back on organic celery hearts for just $.25 a package, I snatched up 4 packages. In hindsight I should have grabbed much more if I would have remembered how easy it is to freeze or dry.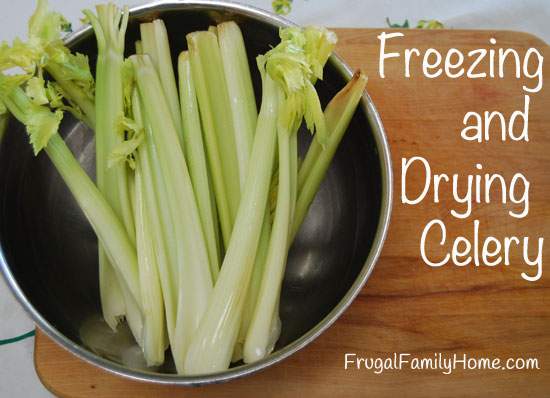 So today I am sharing the process, well it's not really a process, the way I freeze and dry celery. Just so you will know how to preserve celery in case a great buy on organic celery comes around your way. I know I have heard of people purchasing a years worth of celery and freezing it for later use. If I would have only thought of that when I found that great deal on celery but oh well, maybe next time. 🙂
Freezing Celery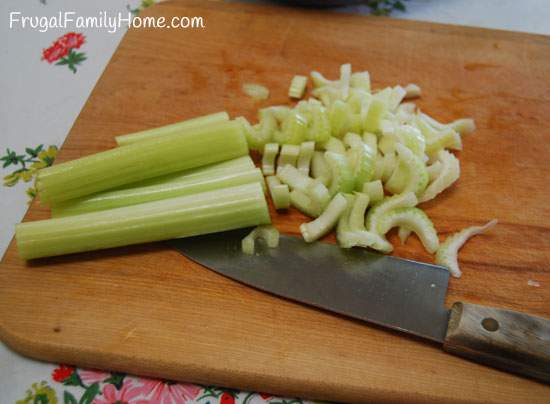 This is really hard to do, not really just joking, it's one of the easiest vegetables I freeze. I like to remove all of the stocks from the celery root and then give them a good scrub. I also like to remove any brown spots and the ends. If you like to use the leaves leave them on. Then I just slice the celery and bag it into 1 cup portions. I use sandwich baggies and then add all the sandwich baggies to one large gallon sized bag so I can locate them in the freezer more easily. Because sometimes my freezer is not that organized, but that's a whole other post.
Drying Celery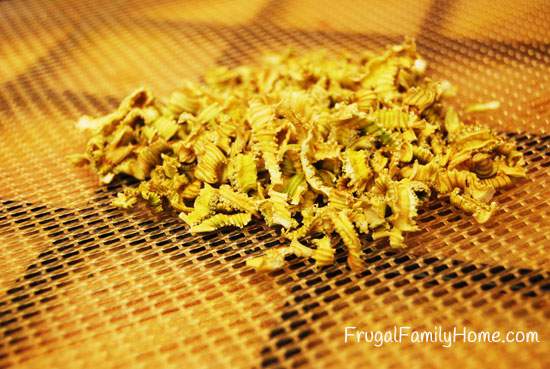 While I wish, long, and hope for another freezer, it's probably not going to happen as we just don't have the room for another one. So when I want to store more than my freezer can hold I turn to drying foods in my dehydrator. Celery dries really well and is fairly easy to do. If you slice the celery thin then just place it in the dehydrator to dry. You can do this with the leaves too. If you want a little thicker sliced celery just blanch the celery for 1 minute then cool it down under cool running water, before adding it to the dehydrator. I usually just slice it thin to save the extra step.
To Use the Celery,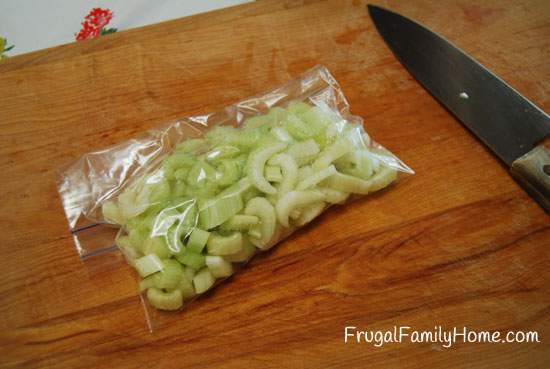 I like to use the frozen celery in stir fry, casseroles and some of my stove top dishes. I just thaw slightly and use the frozen celery as I would the fresh celery in the recipe.
The dried celery works well in casseroles and soups or stews the best. It is also good in slow cooker recipes. I usually don't bother with rehydrating the celery before I add it to the recipe. Usually there is enough liquid in the dish to hydrate the celery as it cooks.
Have you ever tried freezing or drying celery before?
[signoff]
Looking for more gardening ideas? Head on over to the gardening page for more gardening ideas and inspiration. 
Get the Companion Plants List
When you join the gardening email list, you'll not only get gardening tips sent to your inbox, you'll also get the companion plants list too.