Where we live, we have a nice sized garden. I always wish it was bigger, but it's much bigger than what we used to have. I remember when we were first married we lived in a mobile home court. We had a small strip of grass on each side and a small patio. That was it.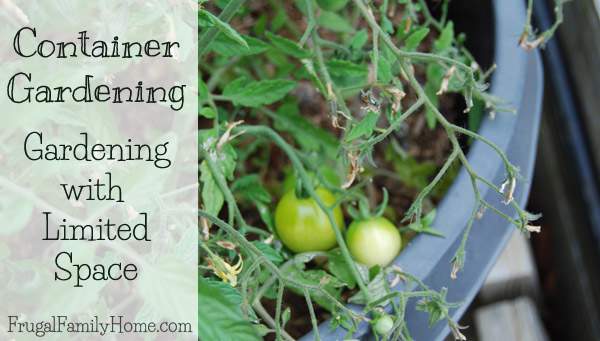 Even though my space was limited, I still had a few flowers in the front of the house and a strawberry pot with strawberry plants. It wasn't much but I loved my little limited garden.
Now, if I had known how easy it was to grow so many vegetables in containers, I could have grown so much more. Container gardening is a great solution if you want to grow some of your own food but don't have much space.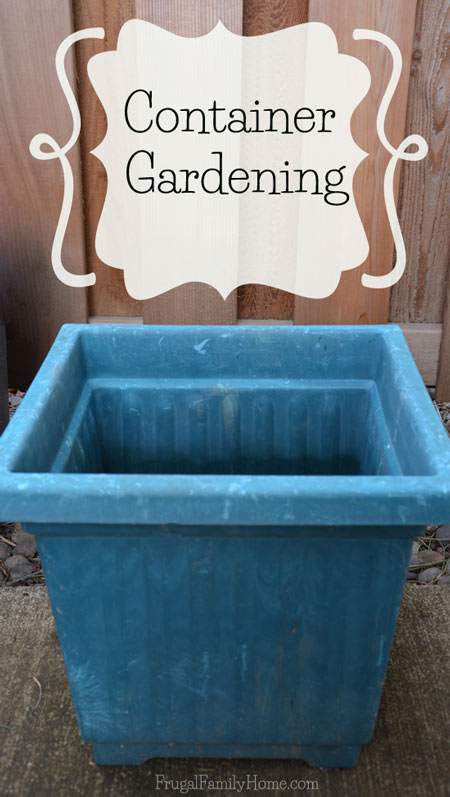 Containers to Use
When I was young our neighbor across the street from us had a small garden that was fenced. It worked great for most vegetables they grew but it had a little too much shade for their pepper plants. Living here in Oregon it's not always easy to grow hot weather crops.
Our neighbor used to grow his peppers in a 5 gallon bucket. He could move them to keep them in the sun all day long. He also would paint the buckets black so the soil would heat up faster.
You can use any container you have to grow many different types of vegetables. 5 gallon buckets, old kids swimming pool, wooden planter boxes, just about any container that will hold the soil and has some drainage holes will work.
What to Grow in Containers
I've grown lettuce, tomatoes, peppers, carrots, radishes, raspberries, strawberries and artichokes in containers before. I've even seen people grow corn in a pot. The main thing to consider is, how deep you need the soil to be in order to grow the vegetable or fruit.
Carrots and radishes will grow better in a deeper pot, since they are a root vegetable. Lettuce, herbs and spinach will grow well in a smaller container. If you live in a cooler climate, like I do here, it's good to have a darker colored pot to grow the hot weather vegetables in. The peppers and tomatoes do much better if they are in dark colored pots.
We have grown strawberries in a strawberry pot and in a hanging planter. I didn't have too much success with the hanging planter, I think it was because it was a very wet year, the year I tried the hanging planter.
We started our raspberries in a large plastic pot with a tomato cage for support. As it grew we added a trellis to hold it up. Finally it was just too big for the pot and we transplanted it to a garden area. It took about 4 years for it to outgrow the pot and we would harvest quite a few berries each year.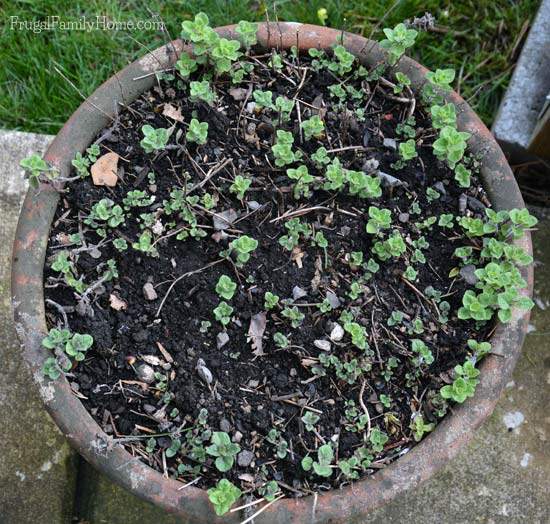 Soil to Use
I like to blend a few different things to make a good soil to grow in. I will add some topsoil or potting soil to the pot along with some compost and peat moss. Make sure the pot has a drainage hole too. You don't want your plants becoming waterlogged. If you live in a very hot dry climate you might want to purchase the water retention potting soil which helps to keep the soil moist longer.
Where to Plant
When you are using containers you're not limited to where you plant. Hot weather plants will need more hot sun than the lettuce will. So if you have shade and sun around your house be sure to position your containers according to what the plant needs.
By using containers to garden in, you can get the best spot for each crop you are growing. Or even move them as needed during the day to give them more sun or less depending on the plant.
If you live in an apartment or have a small yard, don't let that stop you from gardening. You just might have to think outside the box or maybe I should say inside the pot to get your garden growing.
Have you ever tried container gardening? What did you grow?
[signoff]
Looking for more gardening ideas? Head on over to the gardening page for more gardening ideas and inspiration. 
Get the Companion Plants List
When you join the gardening email list, you'll not only get gardening tips sent to your inbox, you'll also get the companion plants list too.