Fall is soon to be here, but that doesn't mean you have to quit gardening. Fall is the time to plant garlic. And if you haven't grown garlic before these tips for how to grow garlic in your backyard garden can help.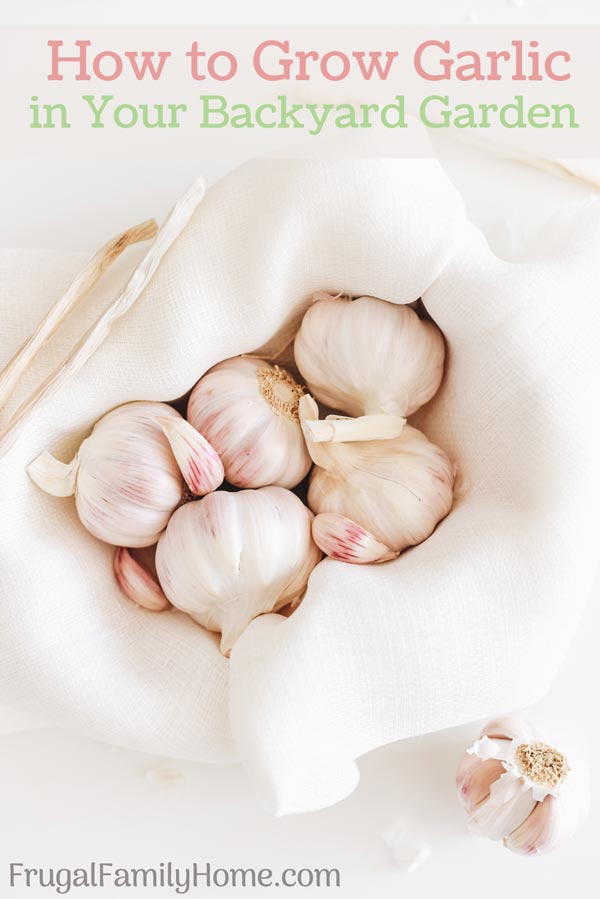 This is the second Tuesday of the month and it's time for Tuesdays in the Garden. Be sure to scroll down to the bottom to find more fall gardening tips and ideas from my gardening friends.
I've grown garlic in the past and homegrown garlic is so different from the garlic from the store. It's much stronger in flavor. Plus, you can grow a lot more varieties than are available at the store.
The problem is, I often forget to get my garlic in before a freeze sets in. But this year I'm planning ahead and I will grow garlic in our garden.
Now if you haven't grown garlic before you might have a few questions about it. Let's clear those up first and then get down to how to grow garlic.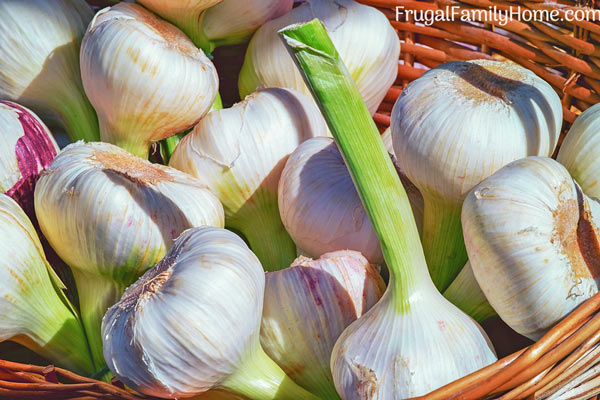 A few answers to questions you might have about growing garlic…
Can You Grow Garlic from the Grocery Store?
You can plant garlic from the grocery store and it will grow but it may not be the best type for your area. If you purchase seed garlic, you'll have a better quality to grow. You can pick the type you want to grow and it's likely to be more disease resistant.
Can You Grow Garlic From a Clove?
You can, the end portion will sprout roots and the upper pointed portion will sprout the leaves.
Can You Grow Garlic in Containers?
You can, this is a great idea if your gardening space is limited. Garlic has shallow roots but needs room to grow.
Choose a pot that is 18 inches deep and about 12 inches wide to give it enough space to grow. Make sure your pot has drainage holes and place it where it will get 6 hours of sunlight a day to ensure good growth.
If you have more questions about growing garlic, I hope I will answer them below. If not, leave me a comment and I'll do my best to answer it.
How to Grow Garlic
Garlic is fairly easy to grow. It's not fussy like some plants but there are a few things you should know before you grow garlic in your backyard garden.
What Type of Garlic Should I Grow?
Like I mentioned above you can grow garlic with cloves right out of the grocery store but it's best to purchase seed garlic instead. And there are two main types of garlic to consider growing.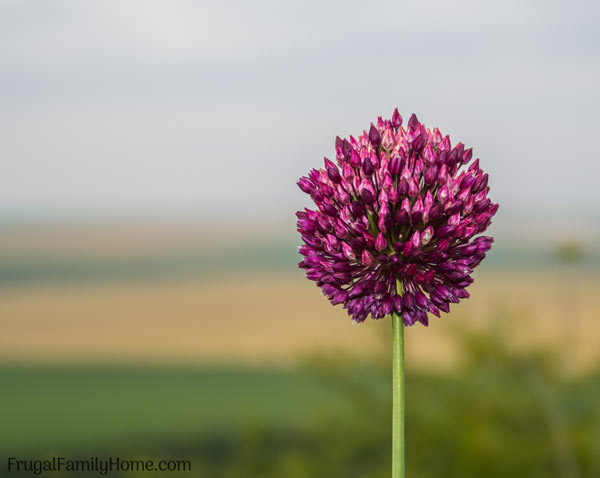 Hardneck Garlic
Hardneck garlic is good for growing in areas with cold winters. It will give you two harvests too. This type will produce a flower stalk that's called a garlic scape. When you harvest the garlic scrape, it helps the plant put its energy into growing the bulb. And the garlic scrape is edible too.
Softneck Garlic
Softneck garlic is better suited for warmer winter climates. It's more like the garlic you would purchase at the store. Softneck garlic doesn't produce a garlic scrape but the leaves are softer and suitable for braiding after harvesting the garlic. It also keeps well.
When Should You Plant Garlic?
Garlic should be planted in the fall as early as 6-8 weeks before the first fall frost or as late as 3-4 week before the first frost.
You can plant garlic directly into the garden in the fall. It can be planted in the spring but it's best to plant it in the fall if you can remember.
Garlic takes about 9 months to mature so pick a spot you'll remember where you planted it so you don't disturb it in the spring.
You can plant garlic in containers like mentioned above. Just make sure your pot is big enough.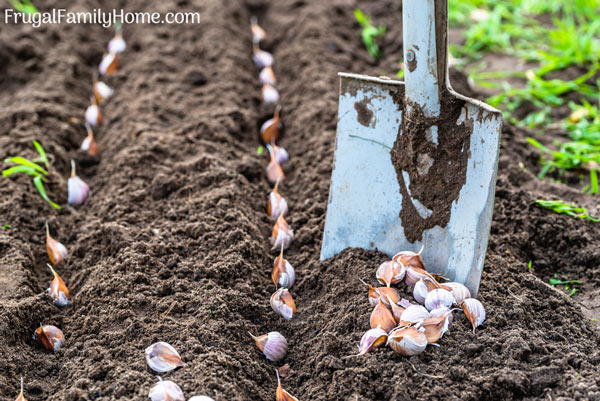 How to Plant Garlic
Once you've decided what variety you'll grow it's time to plant. You can plant garlic in pots or in the garden bed either will work well.
Break apart the head of seed garlic but leaves the skins intact. Don't peel the cloves. Also break apart the head of garlic two days before planting.
You'll want to plant your garlic cloves in well-loosened soil about 1 to 3 inches deep. Garlic needs a little space so keep the rows about 5 inches apart. If planting in a pot give each clove enough room to grow.
Place the cloves in their upright position with the widest portion down.
Make sure the soil is damp but not soaked. It will take about 14 days for the cloves to sprout leaves.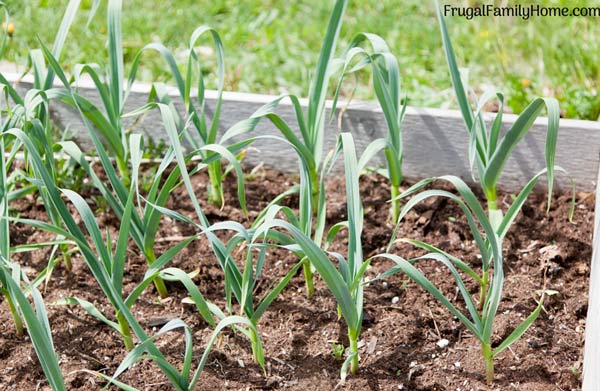 Caring for Garlic Plants
Once planted you can add a layer of mulch to keep weeds down and help hold moisture in. This will protect the shoots in the winter too.
Remove the mulch in the spring. Fertilize the garlic if you see the leaves yellowing. Water every 3-5 days in the spring and taper off watering in mid-June.
When to Harvest
For fall planted garlic you'll harvest somewhere in July to August. To know when to harvest you'll want to watch the plants.
When the plants yellow and fall over it's about time to harvest. But don't wait until they are completely dry.
When you suspect the garlic is ready, take a sample. Dig up one garlic head to see how it looks. The garlic head should be plump with nice sized cloves. The outer covering should be thick, dry and be like paper.
If your garlic sample looks good. It's time to harvest. You'll want to dig the garlic instead of pulling it up. Using a garden fork or spade and dig the garlic up.
Then carefully dust off the extra soil from the bulbs.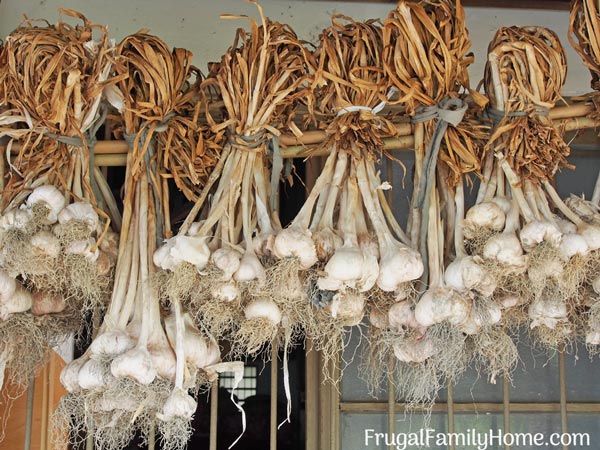 How to Cure and Store Garlic
To cure the bulbs, you'll want to leave them out in a well-ventilated area in the shade for two weeks.
You can hang them upside down on a string to make sure all sides get air circulation around them.
Be careful not to bruise the heads of garlic or they won't keep well.
Once the bulbs are dry, it's time to get them ready to store. You'll want to trim off the leaves and roots. Keep the wrappers on, only removing the dirtiest wrappers.
Store in a cool, dry, dark place. If stored properly they should last until the next harvest. Remember to keep some to plant again in the fall for the next years crop.
That's how to grow garlic. If you are looking for more fall, gardening ideas keep on reading!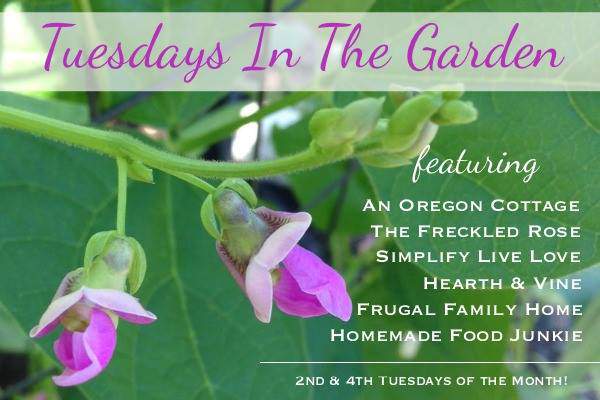 Want more fall gardening ideas? Look below, the other Tuesday in the Garden bloggers are sharing more fall gardening tips and ideas. Just click on the photo to be taken to their articles.
Find more garden inspiration by following this link. 
SaveSave
Get the Companion Plants List
When you join the gardening email list, you'll not only get gardening tips sent to your inbox, you'll also get the companion plants list too.