Mini Greenhouses
I like to reuse items as often as I can. So today's garden post has a recycled project twist. I have been saving our 1-lb strawberry containers for just this project, mini greenhouses. We filled the strawberry containers half full with seed starter soil, then added some seeds, instant greenhouse out of recycled items.
Since we seed save each year from our flowers and vegetables in our garden we had a variety of  seeds to plant. Today we decided to plant some flower seeds. My kids picked out Cosmos, Pansies, Delphinium, Dwarf Bleeding Hearts and Bachelor Buttons. They also decided to plant some herb seeds. We had Basil, Marjoram, Thyme and Flat Leaf Parsley.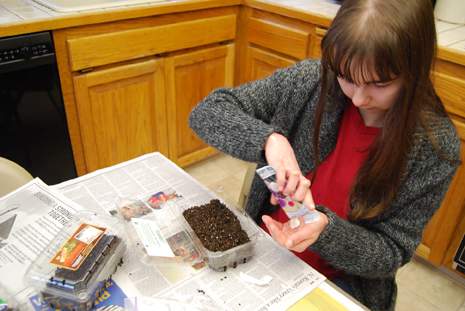 My kids had fun planting the seeds. My daughter will dig right in and get her hands dirty but my little boy doesn't like to touch the dirt very much so I helped him use a pencil to make wholes and recover the seeds.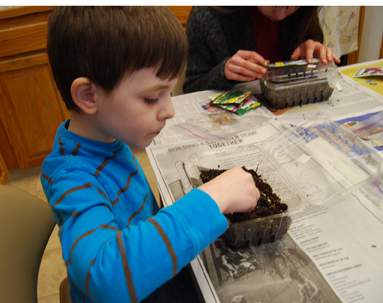 After we had the seeds planted I wrapped each mini greenhouse into a recycled bread bag. Then we lined them up on our refrigerator to keep them warm until they sprout. Once they all sprout we can put the mini green houses outside until the weather is good enough to transplant them.
Seed saving and starting our plants from seeds helps us to save on our annuals and vegetable plants each year. Have you ever tried seed saving?
[signoff]
Looking for more gardening ideas? Head on over to the gardening page for more gardening ideas and inspiration. 
I linked up at,
Get the Companion Plants List
When you join the gardening email list, you'll not only get gardening tips sent to your inbox, you'll also get the companion plants list too.