Do you want to start the elf on the shelf tradition with your kids but you aren't sure what it's all about? Do you need good elf on a shelf ideas for your elf?
I know it can be hard to come up with ideas for your elf each night, after a long tiring day. That's why I've put together these 25 good elf on a shelf ideas for you. Grab the printable below.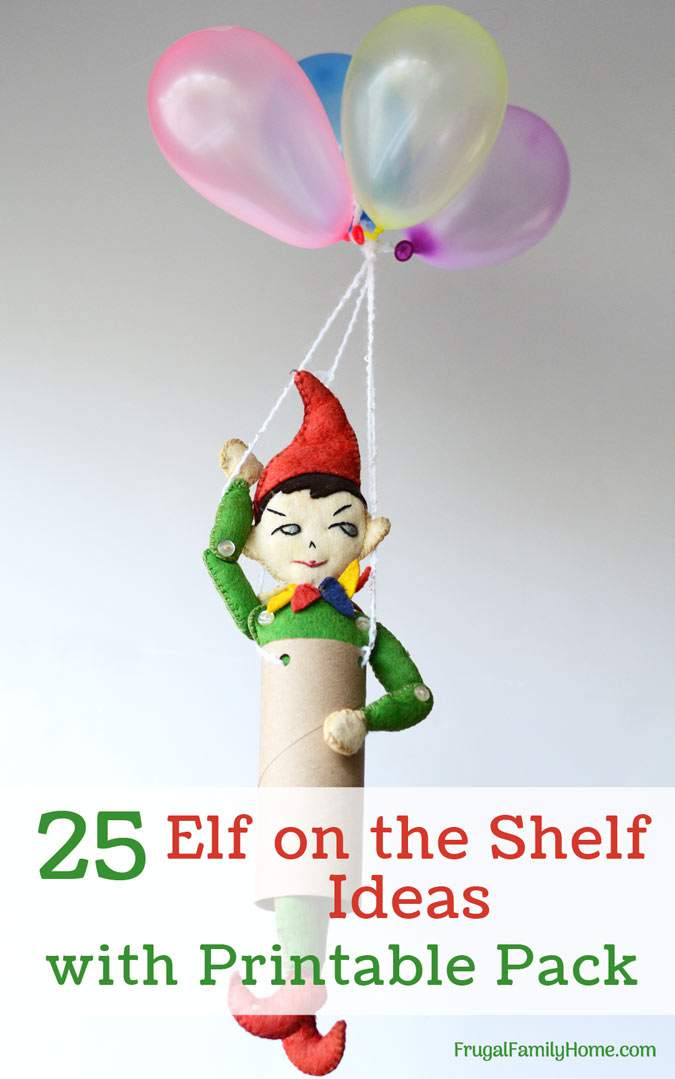 I've included referral links for your convenience. When you purchase through them I can make a little money at no extra cost to you. See my disclosure policy for more information.
What is Elf on a Shelf?
It's a Christmas tradition about how an elf comes to watch over kids so he or she can report back to Santa about who has been naughty and who has been nice.
You can get the book that comes with an elf at Amazon.com.
What do you do with Elf on the Shelf?
Each night during the Christmas season the elf is placed in a new spot for the kids to find the next day.
The elf shouldn't be touched by the kids, as it will lose it's magic to get to the North Pole to report to Santa who has been naught and who has been nice.
At the end of the Christmas season the elf is packed away until next year.
Good Elf on the Shelf Ideas
Now thinking of things to do with your elf can be hard when all you want to do is go to bed. That's why my kids and myself came up with 25 ideas of what to do with your elf each day.
Most are really quick and easy to do because I'm sure you don't have a lot of time to pose and put your elf in a new spot each night.
A few of these good elf on the shelf ideas take more time and those might be good to do over the weekend when you can get your husband to help.
But most are quick, easy, and fun to do. Plus I have a printable below to help you make a plan for your elf on the shelf with 25 ideas.
It also comes with an arrival note and a goodbye note as well as why the elf didn't move last night note for those nights you forget to move the elf to a new spot.
25 Good Elf on the Shelf Ideas
These ideas can help you have a plan for what to do with your elf on those days you can't think of anything.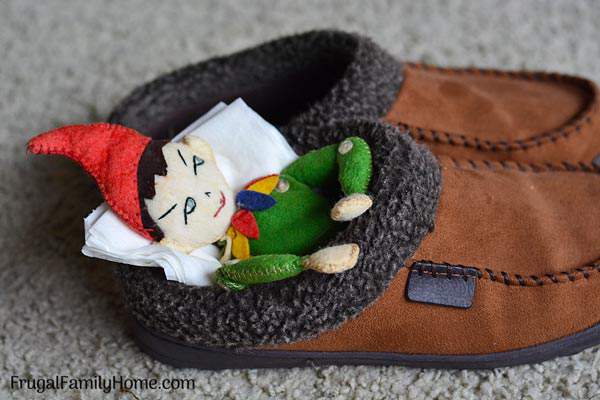 Have your elf…
1. take a nap in a slipper
2. make mini pancakes for breakfast
3. help by vacuuming
4. feed the cat or dog
5. drink cocoa (have elf drink out of a coffee cup filled with marshmallows)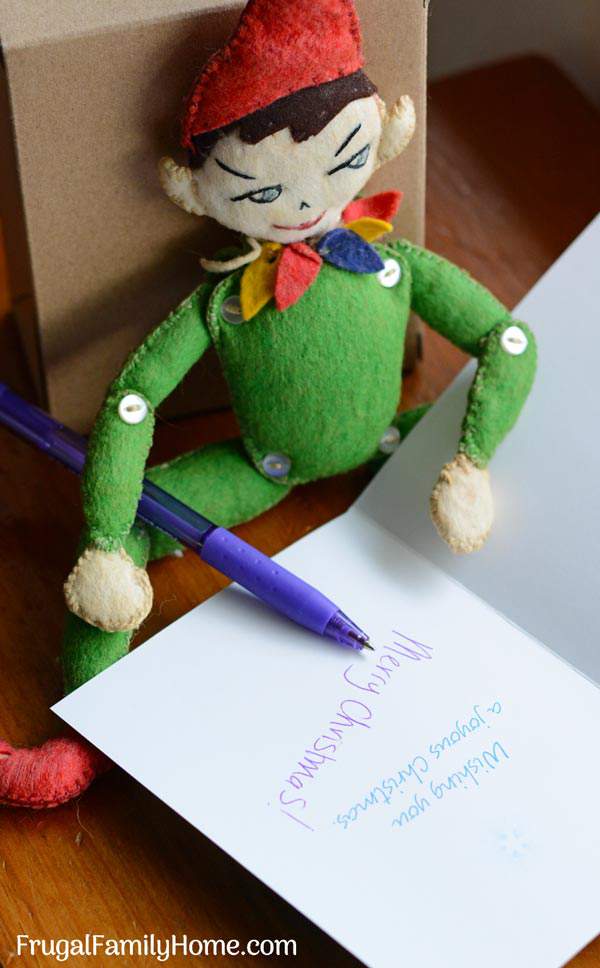 6. write Christmas cards
7. put toothpaste on the kid's toothbrushes for them
8. sit in the refrigerator door wrapped in a washcloth
9. wash the window
10. cut paper snowflakes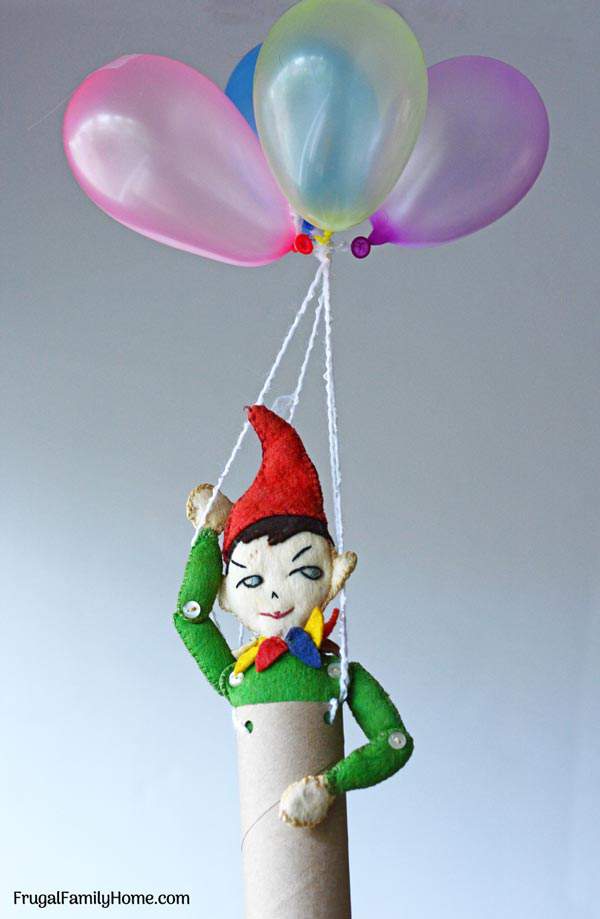 11. fly in an elf hot air balloon tie a toilet paper tube to balloon with yarn and place your elf in it. Hang from ceiling with clear string.
12. play an instrument (guitar, flute, harmonica)
13. play checkers with other toys
14. read the Bible
15. wrap presents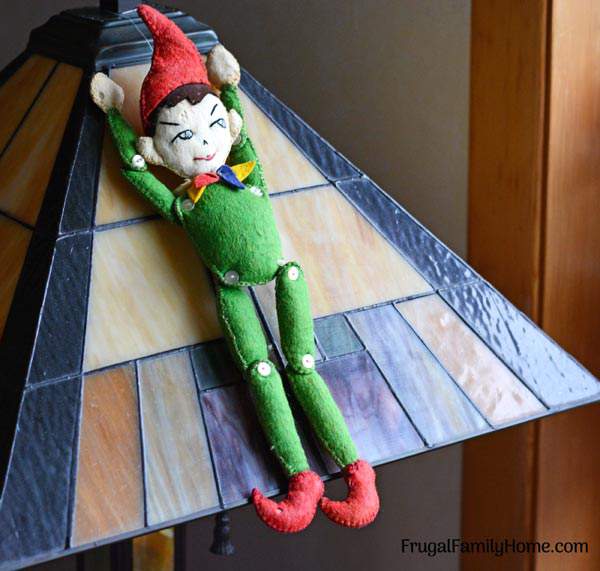 16. slide down a lampshade
17. eat elf cookies (place small cookies on a plate near the elf nibble on a few)
18. make a swing (place a string through a toilet paper tube and hang in a doorway)
19. peek over the lamp above the kitchen table
20. nap on the shelf on a toilet paper pillow
21. take a marshmallow bath in a bowl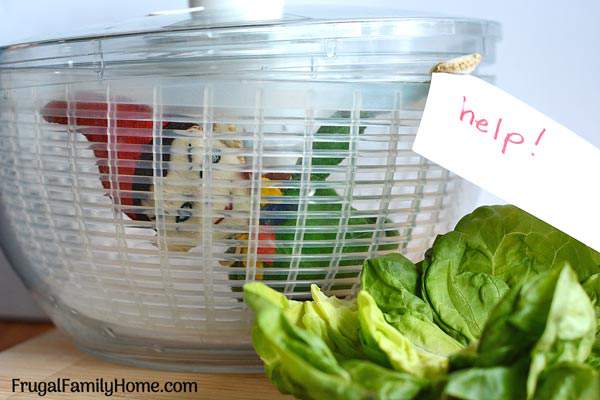 22. get stuck in salad spinner jail (place elf in a salad spinner with a help sign on the counter)
23. hide in the Christmas tree
24. Make an elf ball pit out of a basket and pom poms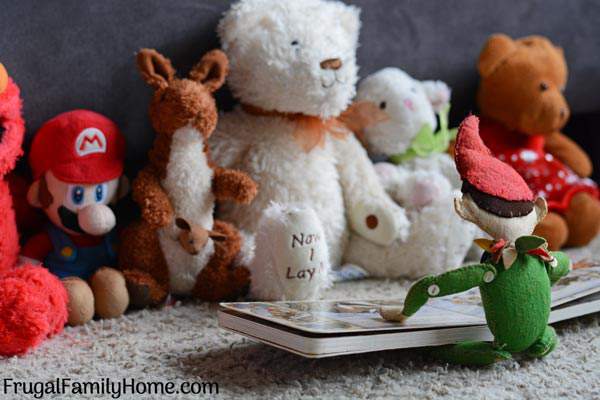 25. read a story to the other toys
Get these Good Elf on the Shelf Printables
In this printable pack, you'll find a list of the 25 ideas above. Arrival and goodbye notes as well as a note to print and put out in case you forget to move the elf one night.

There are so many good elf on the shelf ideas out there, I hope you found a new one or two to try with your elf.
What's your favorite place to put your elf on the shelf in your home?
Pin it for Later…