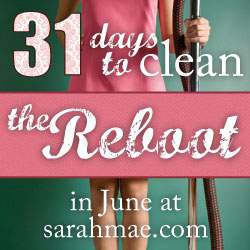 I have decided to follow along with Sarah Mae on her 31 Days to Clean the Reboot in June. I was very happy with how my house shaped up after following along with Money Saving Mom on her 4 Weeks to a More Organized Home. So I thought why not go for it. What do I  have to lose?
Here is today's assignment.
Today I will be doing
Martha Challenge-Cleaning my Closet. I already did the floor of my closet with 4 Weeks to a More Organized Home so I will be doing my hanging items and my shelves in the closet today. The kids will be helping me. Who knows they may decide to go through their closets too. This actually happened with the last cleaning challenge I did.
Mary Challenge-Meditate on Psalm 39:4-5. What is your biggest time waster? How many days do you have left, if you live until you're 75? How do you want to use those days?
The Mary Challenge is why I decided to do the 31 days reboot. I read this and it just struck my heart. I knew I needed to follow along.
So tomorrow I will post about how my day went today with these two challenges.
If you want to join in you can see Sarah Mae's post here about the 31 Days to Clean the Reboot here.
[signoff]