There is only one more day left after today for Money Saving Mom's 4 Weeks to a More Organized Home. Today's assignment was to clean the window blinds and/or window treatments. Clean the windows and do the outside too. The second assignment was to take 15 minutes to clean the window sills.
The first thing I did was to remove all the screens and give them a shower to clean them up.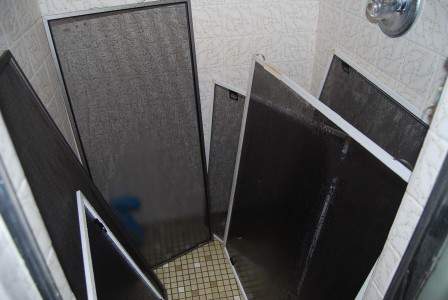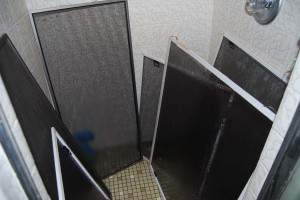 While they were drip drying in the shower. I decided to go ahead and get outside to clean the windows. It was not raining at the time so I got all of them cleaned while the kids did two science experiments today.
After the outside windows I took down all the curtains.
I have a total of four rooms with curtains so I got them down and threw them into the washer. While those were washing I got out my steam cleaner and warmed it up.
Then it was time to tackle the mini-blinds.
These blinds build up a lot of dust. The good news is I can clean them myself and don't have to pay someone to clean them like other window coverings. The bad news is I can clean them.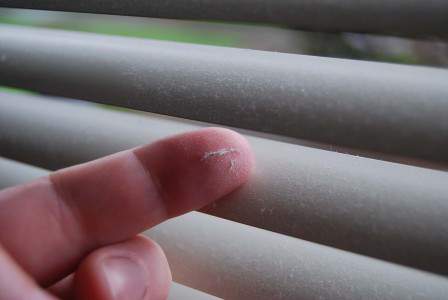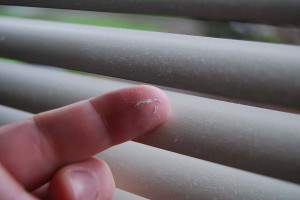 I used my steam cleaner to loosen up the dust that was stuck to them. Then I wiped each of the slats clean with a damp towel. It does goes quicker with the steam cleaner but it is still a lot of surface area to clean.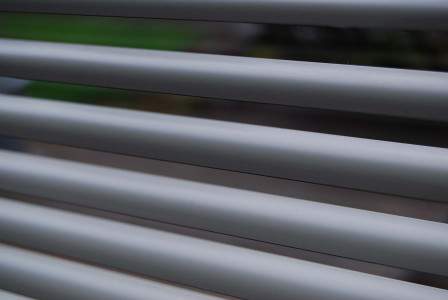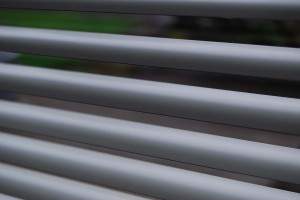 Now they are all nice and clean. I do vacuum them regularly but that dust just seems to adhere to them. So every 3-4 months they need to be scrubbed. The one blind in our bedroom had a piece break on it. The blind in the bathroom window really needs to be replaced. So I will be on the look out for a good sale. When I find a good price we will go ahead and get new ones for these two rooms.
I also did the window sills as I went along.
So every part of each of our windows are clean now. Well except for the second story windows outside. I will need to do those when my husband is home to hold the ladder. Well really he will probably do them for me. There is only three of them so it will be quick work.
Here are a few finished window with the curtains back up.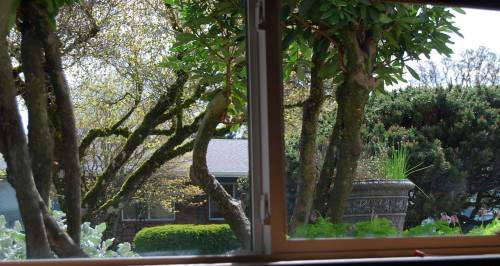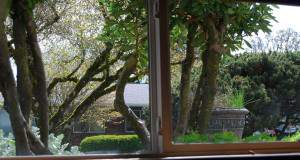 Our basement window finished.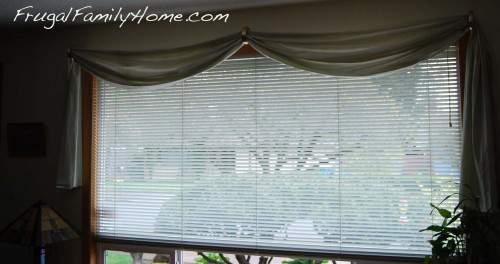 My living room window all done with the valance back up. There was a little color bleed from my daughters curtains onto this curtain. I had a shout color catcher but I didn't use it. 🙁 I will need to replace this valance, but it is up for now. I will wait for a sale on fabric and make a new one.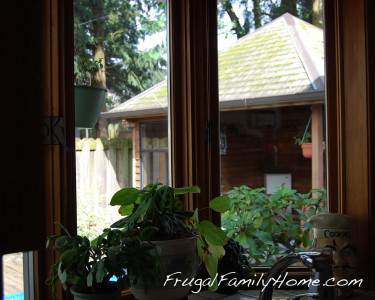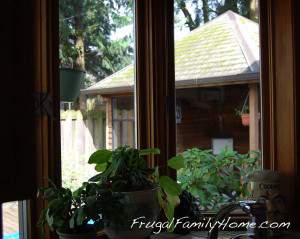 Here is my kitchen window all done too. Now I hope the birds don't run into it now that it is all clean.
7 things to purge
I did not get anything set aside to get rid of today. But over the last few days I have removed quite a few items so I will just count some items from the other day towards today.
I am sure the outside of the windows will need to be done again soon because we have so much pollen outside right now. But for now they look really great. I wonder what the last assignment will be?
[signoff]