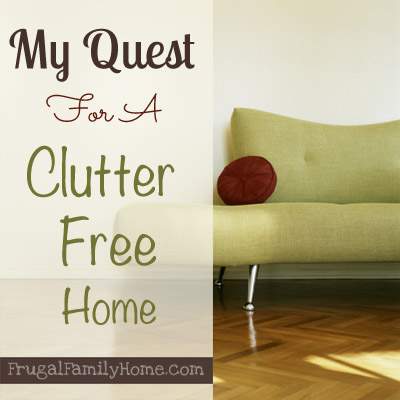 Clearing out the Clutter in the Living Room
This month is coming to an end and my living room decluttering is coming to an end too. I have made some great progress and the most used area of our home looks so much better.
I started out with the worst part of the room our small end table which had become a dumping ground for books and all the free magazine we get. The magazines were constantly slipping off the table and falling onto the heating vent. Which was a real fire hazard. I remembered we had a magazine rack from our old house that was holding just a few books downstairs. So I decided to put it to better use and brought it up to the living room.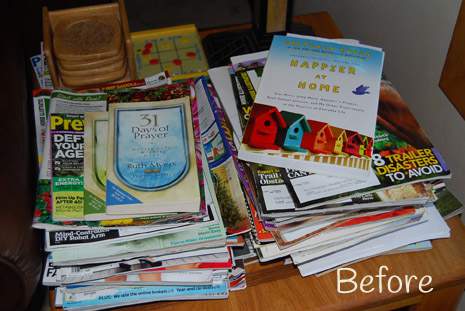 First I went  through all the magazines only keeping the two most current ones the rest were recycled. You have to love curbside recycling. 🙂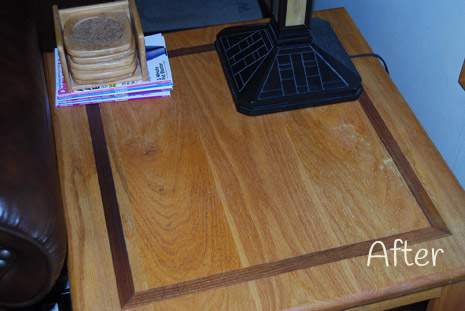 My next stop in the living room was under our china cabinet. I had shoved some old magazine and books under there quite a while ago. Well, from the year on the magazines it was in 2009. Can you see me blush? I took all the magazines from under the cabinet. Not one needed to stay. I also found some homeschooling books I had been looking for so I returned them to the bookshelves downstairs.
After the clutter was gone I set to work on finding a way to store all the dogs and cat stuff. I had one container but I needed two. So I just covered an empty box with some cute wrapping paper from the Dollar Tree and we were back in business. I love using things on hand so I don't have to go out to the store.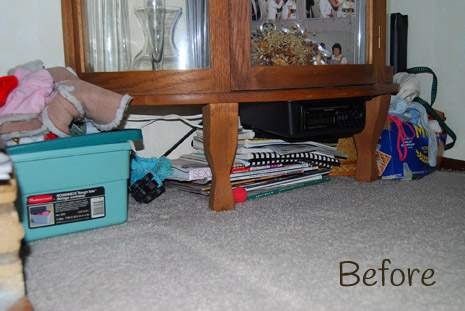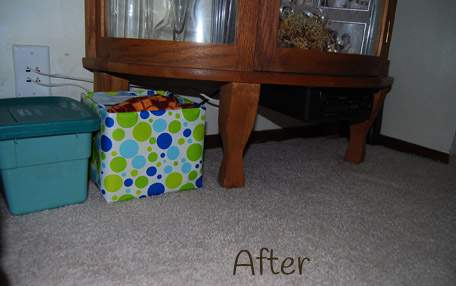 Here are all the items I was able to get rid of,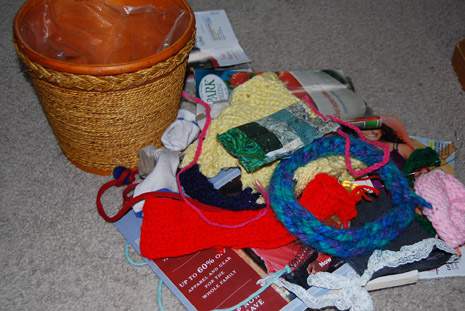 After tackling under the cabinet I looked at the top. Isn't it funny how all these items can just find homes on just about any horizontal surface? After distributing the kids stuff to them to put into their rooms I decided what must stay and go.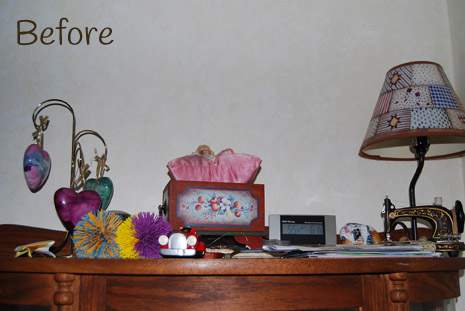 Now it looks so much better.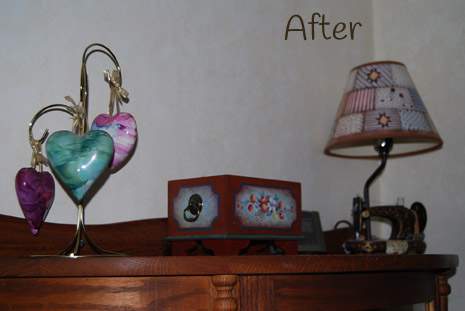 The mantle was my next stop. It had looked the same for a year or so. We had lots of candles and an air freshener that was past it prime up on the mantle. So I took everything off and only replaced the items we really like. I kept the clock I purchased for my husband at a garage sale and our photos.
When my husband got home he noticed right away and said it looked so much better. 🙂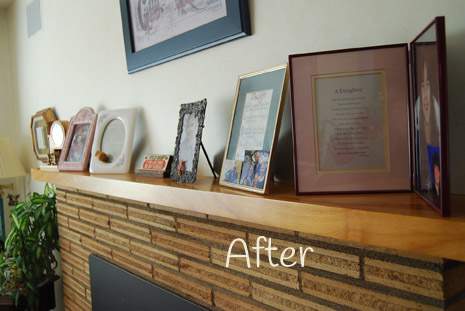 My entry is connected to my living room so I included that area too. The entry closet is constantly needing to be organized because of all the shoes. So to solve this problem I found some plastic shoe boxes on sale at Fred Meyer and each box holds a pair of shoes and the shoes we use the most sit on top. It helps to keep them from ending up under the vacuum or falling out when we open the door.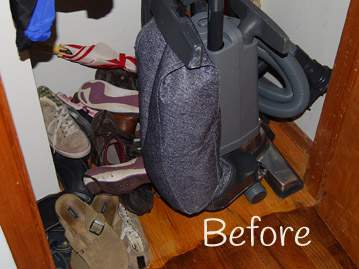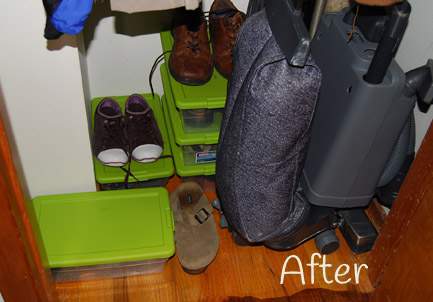 Now when we need a pair of shoes we just need to open the box instead of rummaging through a pile of shoes.
My only other area left in the room was the piano. It tends to be a catch-all for things that need to go upstairs or downstairs. I end up having lots of coupons on top, mail that needs to go out and other items just get put here. Most of the items I found just needed to be put in their proper place and everything looked so much better. Now the hard part will be keeping it clutter free.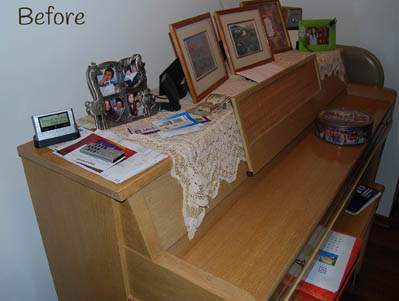 That is the end of my decluttering tour of the living room.
My room for next month is….
I think my next task will be the kitchen. I really don't want to declutter the kitchen as I have a feeling it is going to be the worst room out of the whole house. It is probably better to get the kitchen done and over with so all the other rooms will seem easy after it. Also having a whole month makes taking on the task a little easier. So look for that post next month. I will be doing an update post half way through the kitchen to keep you up on the progress I am making and to keep me accountable. 🙂
Have you been doing any decluttering at your home? How is it coming along? Please leave a comment to let me know about your progress.
[signoff]