Cleaning the Bathroom.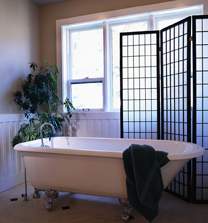 I would love for my bathroom to look like this picture above. My husband would love to have that claw-footed tub in our home. Unfortunately our home will just not accommodate one, otherwise we would have one. But I digress I was going to be writing about cleaning the bathroom. Not my longing for a different bathroom.
So I am all for quick cleaning when you can get away with it. I am not saying to do a less than superb job but I am all for getting the job done right in the less time. So when I can take short cut but get the same end result I am all for it.
One of the ways I save time while cleaning in the bathroom is by using less products to clean. The less you have to use the less the less time you will spend cleaning, well at least it works for me. I have a spray cleaner for the bathroom counter, sink, toilet and floor. I don't use a cleaner at all on my mirror and I use a spray cleaner for the shower/tub but not while I am cleaning.
When I am cleaning the mirror I have found that plain water works great to get it clean. So I skip the cleaners all together and clean this way with water. First I get a wash cloth or rag wet. Then I scrub the mirror with the wet rag. Getting all the toothpaste splatter and water spots off. Then I take a new clean and dry wash cloth or rag and dry. It is amazing how nice the mirror comes with a little water and a little scrubbing. No need for Windex here. If you are not sold on the idea of using water for cleaning the mirror you can see a couple of recipes for window cleaners on yesterday's post.
After the mirror is clean I will remove all the items from the counter. This is where the less clutter you have on the counter the faster you will be at cleaning it. (note to self get some of the stuff off the bathroom counter) Then I spray my cleaner on the counter, sink and on the toilet to let it sit and get working. While the cleaner is sitting I then remove the bath mat and vacuum or sweep the bathroom floor. Am I the only one who is stunned by how much hair is on the bathroom floor?
After the floor is vacuumed or swept. I move back to the counter, sink and toilet and clean them all up. Don't forget behind the faucet. Now I will replace everything back to the counter. Then I spray my cleaner on the floor and wipe with a rag to clean. I have found this is faster than mopping and I can get into the corners and around the tub more easily than with a mop. Don't forget to clean around the toilet and base of the toliet too.
Then I will replace the bath mat and I am done. Now you may be thinking wait one minute here. You never cleaned the shower/tub. And you would be right. I don't clean the tub/shower anymore when I am doing my bathroom cleaning. Once a week I clean it while I am showering.
It is so much easier to clean while you are in the shower. Just spray your cleaner a few minutes before you jump into the shower. Turn on the shower and hop in. I scrub the walls and get into the corners with a little brush or scrubber sponge. I don't have to worry about staying dry or leaning over the tub because I am in the tub. I also get the benefit of a longer shower this way without any guilt. If you haven't tried cleaning the shower this way you have to try it at least once.
Right now I use scrubbing bubbles for my bathroom cleaner but I recently found this recipe to give a try. I have heard it works as well as the scrubbing bubbles so I will be trying it out as soon as I run out of my old cleaner.
Here is the recipe in case you are looking for a new bathroom cleaner yourself.
Bathroom Cleaner
Vinegar
Dawn Dish Soap
Spray Bottle
Fill the sprayer bottle about half full with vinegar and heat it up in the microwave until quite warm. Then add the same amount of dawn dish soap. Shake to combine and use when cleaning the shower.
Find the original recipe here.
I am really excited to try this recipe but the frugal girl in me won't let me try it until I am out of my old cleaner. I also like that the ingredients are some that I already buy so nothing new to put on the shopping list. So if you have tried this recipe let me know how it worked for you.
Comet type cleanser
Sometimes I need more cleaning power than just a spray for the sink and toilet bowl. So at these times I will use a comet type cleanser. But the bleach in it can really stink and dry my hands out. Not to mention how it can spot your clothing if not careful. So I found a new powdered cleaner recipe to try, as soon as I run out of the store-bought one. Again the frugal girl in me strikes.
Homemade Powdered Cleanser
1 cup Baking soda
1 cup Salt
1 cup Borax
Mix together and use as you would any house cleanser like comet.
See the original recipe posted here. 
Now you have my basic routine for keep a bathroom clean. Do you have a favorite recipe for a homemade cleaner for the bathroom or a cleaning tip? I would love to have you share it.
[signoff]