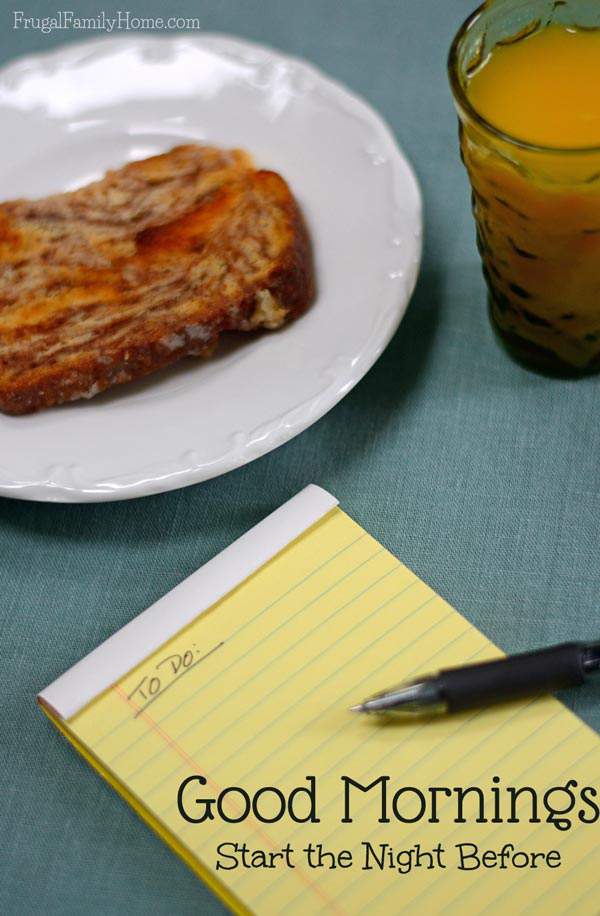 Everyone wants to have a good morning. If your morning usually start with getting up late. Then quickly getting everyone ready for their day and on their way. The stress can be too much and set the tone in the wrong direction, for the whole day.
Wouldn't you love to get up and have the day just go smoothly? No rushing, no urging to be quick, but just a nice and relaxed start to your day? I know when I do a few easy tasks before going to bed, my mornings are so much better. Not to say all my morning go smoothly. We all have those days that just don't work out but these tips help to keep most of them good starts.
5 Good Morning Tips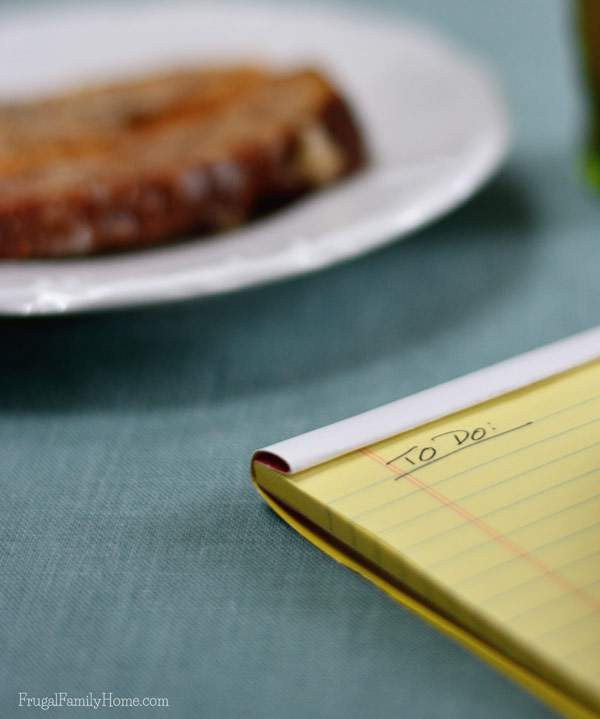 Get Clothes Ready
Lay out the clothes you will be wearing along with the kids clothes too. Or better yet have them lay out their own clothes. If you have a child who has a hard time deciding what to wear, this can be a real time saver in the morning. Plus as a parent you can check out their choices and make adjustments as need. Shorts just don't work when there is snow outside. 🙂
Clean the Kitchen
There is nothing that makes me happier in the morning then having a clean kitchen to wake up to. The night before bed be sure to do the dishes, so your kitchen will be welcoming. It's so much easier to get breakfast underway if you clean the kitchen the night before.
Make Your To Do List
Before bed look at your calendar and see what you have scheduled to do for the day. Then make a list of things you need and want to do. Be sure to note the must do items and get them done early the next day. If there is a task you really don't want to do, do it first. The rest of the day will be so much better when you get the harder tasks done first.
Set a Bedtime and Stick to It
When you go to bed at the same time each night, you get into a good sleep pattern. Which in turn helps you sleep better and wake up more refreshed. I have a set time to be in bed each night and I stick to it. It makes a world of difference in how I feel in the morning. If I get to bed just a half an hour late and it can really throw me off.
Avoid Electronics Before Bed
This is the one I struggle with the most. I will usually watch television or work on my computer or tablet right up to bedtime. It's better to read a book or listen to music right before bed. If you have trouble falling asleep be sure to turn off the electronics early and curl up with a book instead.
Just a Note to Keep in Mind
Even if the morning isn't going smoothly, you get to decide how you will react. Will you get up tight and start pushing to get everything done? Or will you keep calm and do what absolutely needs to get done and get on with your day? So even when a morning doesn't start really great, you can still set the tone for a good day.
What tasks do you do the night before to make for good mornings the next day? Scroll down and share your tips in the comments below.
[signoff]
See all the posts in this series,