As a homemaking you have so much to remember, so much to do, and it all usually lives in your head. Am I right?! But holding all that information in can be taxing. Let it all out and keep the information where you need it in your own homemaking binder.
You can create your own custom homemaking planner. It doesn't have to be fancy. And it can be perfect for you and your family.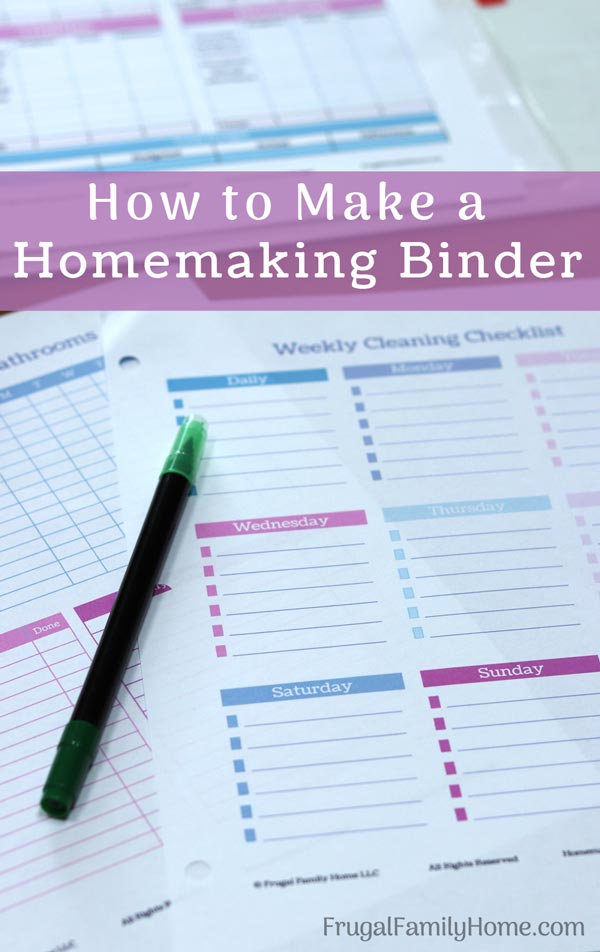 What is a Homemaking Binder?
A homemaking binder is one spot, usually a notebook or binder where you store all the information about your family and household. It's like mom's brain in a book.
It can be as elaborate or as simple as you like. Because it's your very own homemaking binder. You get to decide what goes in and what doesn't.
Ideas for What to Include in Your Homemaking Planner
There are so many pages you can include in your homemaking planner. From meal plans to the grocery list. Medical pages for your family to emergency numbers.
That's what I love about making your own custom homemaking planner. You can decide what your family needs to track.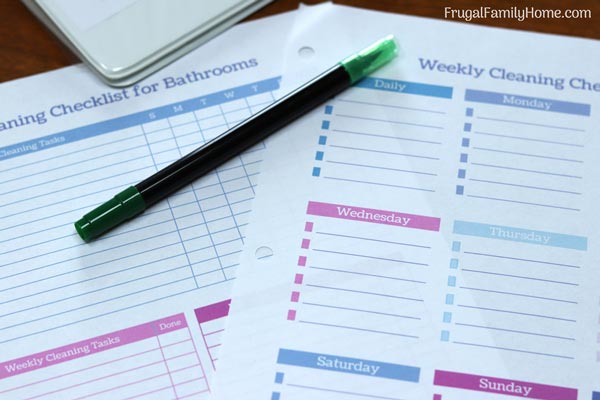 Cleaning Task in Your Homemaking Binder
Take, for instance, cleaning. I don't track our cleaning schedules at our home. We have a set routine and we stick to it. But for those items that only have to be cleaned once or twice a year, I make a list.
Things like cleaning the windows outside. Pressure washing the house and fence. Staining the deck. Those tasks I don't think about much and could get left behind for years if I didn't have them written.
But if you are training your kids to help with cleaning, you'll want a checklist for each room and the tasks they should be doing. It will help them learn how to clean and what to clean too.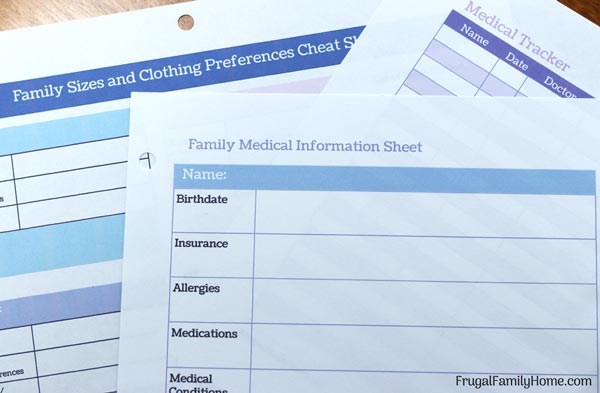 Family Tracking in the Homemaking Binder
Having a few family tracking sheets can be really helpful to have in your homemaking binder. Make a sheet with sizes of clothing for each member of your family can be helpful when you are thrift or garage sale shopping.
Tracking when the kids went to the doctor last and what needs to be followed up on is great to have written down. Also include a health page to track notes from the doctor, medications, and allergies too.
Having this important information written down is important so you don't have to rely on your memory.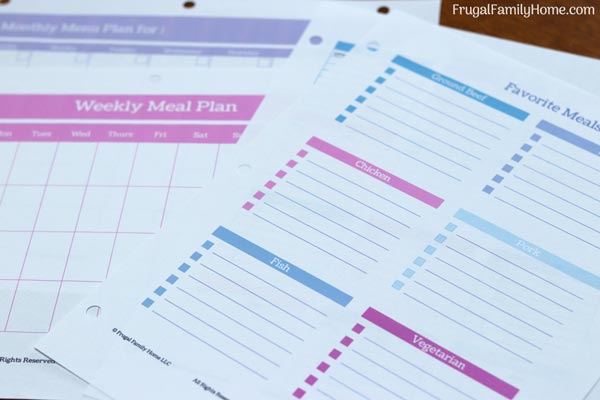 Quick Reference for Meal Planning
Not only is a homemaking planner good for tracking your families health and cleaning but it can help you get your meal planning done quicker.
If you have a page of favorite meals for your family written down in your planner, it's easier to meal plan.
Instead of staring at a blank meal planning sheet you can look over your family's favorite meals and add them in.
You can also print and file new recipes you want to try in your binder so you don't have little pieces of paper floating around to be lost.
Or even categorize meal plan ideas by the main dish protein. So when you find a great sale on chicken or other protein source, you'll have recipes in mind to use it in. Planning your meals around sales can really help save you money too.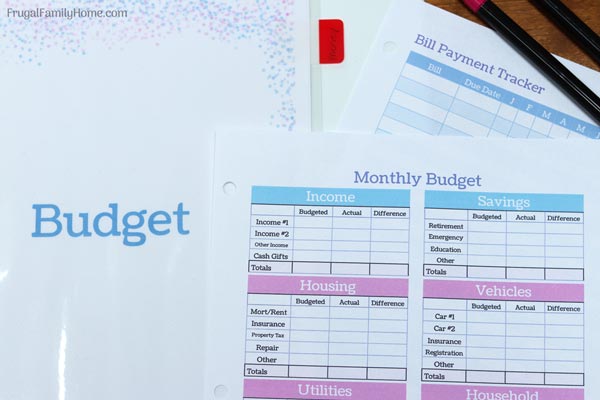 Homemaking Binder, Peace of Mind in a Planner
Because we are moms, we take on tracking everything for everyone in our family. Am I right?!
But what if something happens and you have to be away? Tending to a sick extended family member? Can your family get by and know what to do?
If all the information is locked up in your own head and your head isn't home, how will your family access it?
That's where a homemaking binder can help. It's like having mom (you) right there to guide them with what needs to be done even if you aren't there. It can give you peace of mind that your family can access what they need when they need it.
Or it can give a babysitter or caregiver when you are away, information they may need. It's a like a back up for all that information us moms carry around.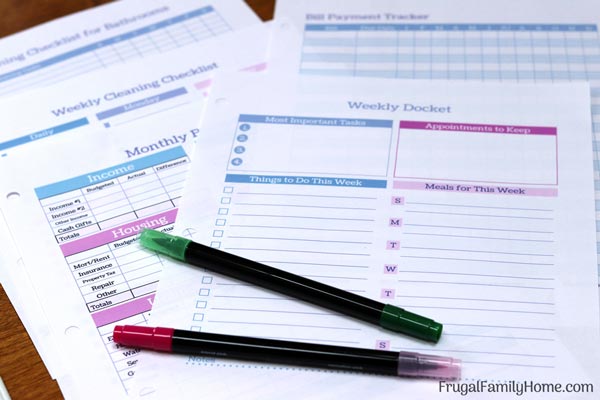 How to Make a Homemaking Planner
Making a homemaking planner doesn't have to be a time consuming process. With my homemaking binder I add a little here and there as I need to.
You can start out with just one page of written emergency numbers. Then add a page with facts about each member of your family. Their health stats, medicines, allergies. Then branch out to their sizes and preferences.
Once you have your family's most needed emergency info down, then branch out into the more mundane things like a calendar to track what needs to be done. A special days page for birthdays and get together.
Each time you menu plan add a few more of your family's meal ideas to your favorite meals page. Write down your monthly or weekly meal plans so you can use them repeatedly if you want.
You can build a few pages here and there as you have time, like waiting in line to pick up the kids from school. Or when you are all watching television at night.
I like having everything in a binder because the pages can be moved or they can easily be replaced as needed. Because things change.
Having printable pages as a template to write in can be helpful too. But you don't need printable pages, you can make your own with lined paper too. Use what you have and don't worry about how pretty it is. It's most important to get the information in the binder.
I hope this has inspired you to start making your own homemaking binder. Getting all that information out of your head and onto paper can really be helpful to your spouse and family.
A Printable Homemaking Binder
If making your own pages is more than you want to do. If you'd like to have templates pages to start with have a look at the homemaking planner.
It has two version one that is printable and you write in your information in after it is printed. Another editable version allows you to type in the information and then print the pages. I do some of both for my homemaking planner.
Have a peek and see if it's right for you.
I'd love to know what you are planning to keep in your own homemaking planner? What pages do you feel are necessary and which would you leave out? Leave me a comment below and let me know.