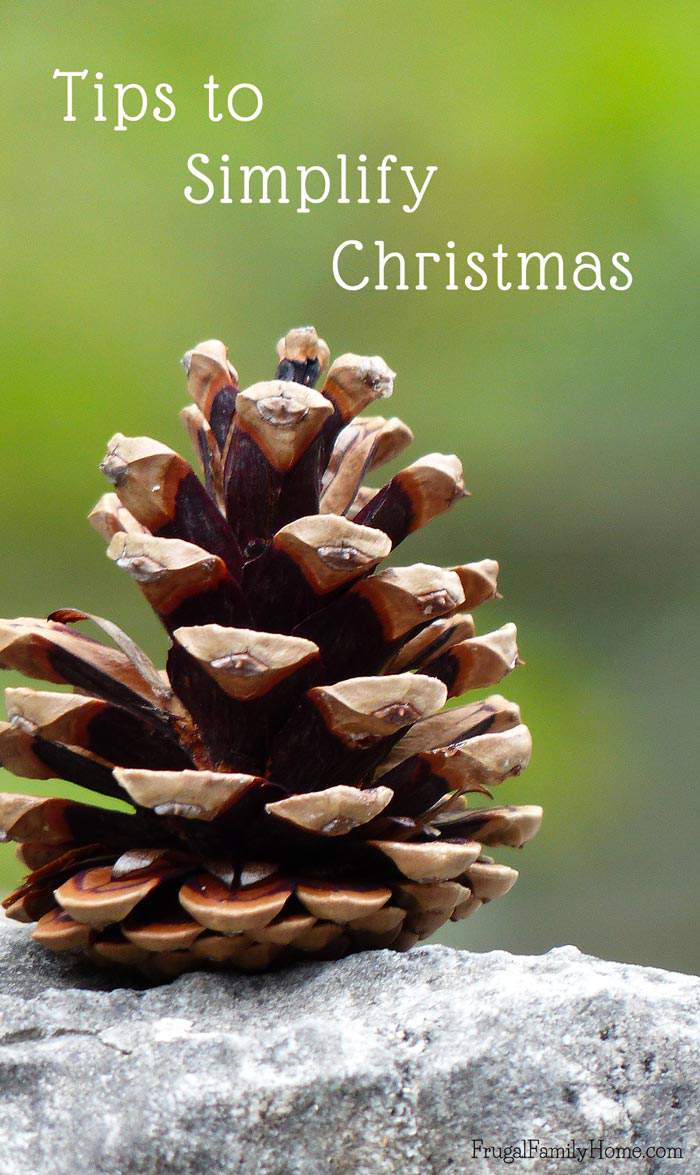 Christmas is coming soon. I can't believe we are already at the end of October. I was on Periscope this morning sharing a few tips about simplifying Christmas. If you missed the live broadcast you can view the video below and I've also typed out the tips below if you don't like to watch videos.
Christmas can be a stressful time of year. Instead of enjoying the time with family and friends you can end up running around trying to find the perfect gift for everyone. Make the perfect dinner and attend a bunch of Christmas parties. But simplifying Christmas doesn't mean, Christmas will be less special, it might be even more enjoyable.
I know last year was the first year we didn't do gifts with my extended family. We had our usual Christmas dinner together and the kids received presents, but us adults didn't exchange gifts at all. I have to say it was the most relaxed Christmas I had in a long time. I didn't have to go out and shop for everyone. We spent less money and had more time to do things as a family. Which is what Christmas is really about right?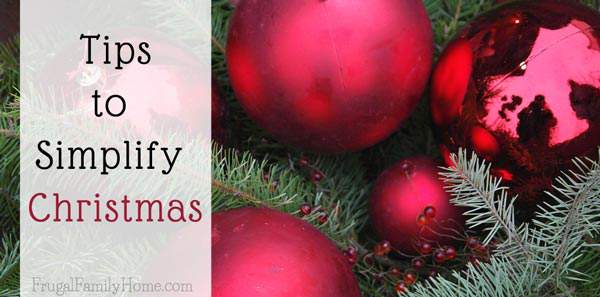 If you want to simplify your Christmas this year I have a few ideas that might help you do just that.
Focus on People
I know it's great to give gifts but often what our friends and family want the most is to just spend time with us. Make time to spend with those you love and forget about the gifts. Let them know that the best gift they could give is to just come over and spend a little time with you. It will take stress off of them and you'll get to reconnect too.
Do Away With Gifts or Scale Back
Like I mentioned above we did away with giving gifts at Christmas last year and it was wonderful. We were able to enjoy watching the kid opening their own gifts and the adults did have to shop for each other. We all spent less and had a great Christmas.
If going present free is too much for you and your family. Why not try to scale back by picking names. For years, the adults in our extended family would pick names in September or October and buy for only one person. We all received a gift or two, but the task of shopping and spending was greatly reduced.
Give Consumable Gifts
Giving consumable gifts are a great way to show someone you care about them but not if those gifts clutter up their home. Giving a gift like a present filled with pampering items like lotion, shampoo, soap or candles is great. You can make them yourself or purchase them, either way the person who receives them gets to use the gift but not have clutter left when it gone.
Another great consumable gift is to make a candy or cookie plate. I make homemade candy and cookies each year to give to our neighbors and friends. It's more special to get homemade candy than store-bought and less expensive to make too.
Give the Gift of Your Time
Helping others when they need it is such a great gift. Going to help clean an overflowing gutter for an elderly neighbor or relative is such a big help. Or offering to babysit a child so the parents can have time to do something together is always appreciated. If you want to give the gift of time you can print out these cute coupon cards to fill out for love ones to redeem at a later time.
Share in Holiday Meal Preparation
Making the holiday dinner can be a little stressful. If you are making the holiday meal, ask for help or have others bring a dish to share. I usually make the main dish and a few sides and then other guests bring things like a salad, or dessert to go with the dinner. It takes the full cooking responsibilities off of me and lets everyone contribute to the meal. Making for a more enjoyable time for everyone.
Those are my ideas for simplifying Christmas. What other ideas could you add to the list? I would love to have you share your tips in the comments below.
[signoff]
We are almost to the end of this series if you missed any articles you can find all of them by following this link.