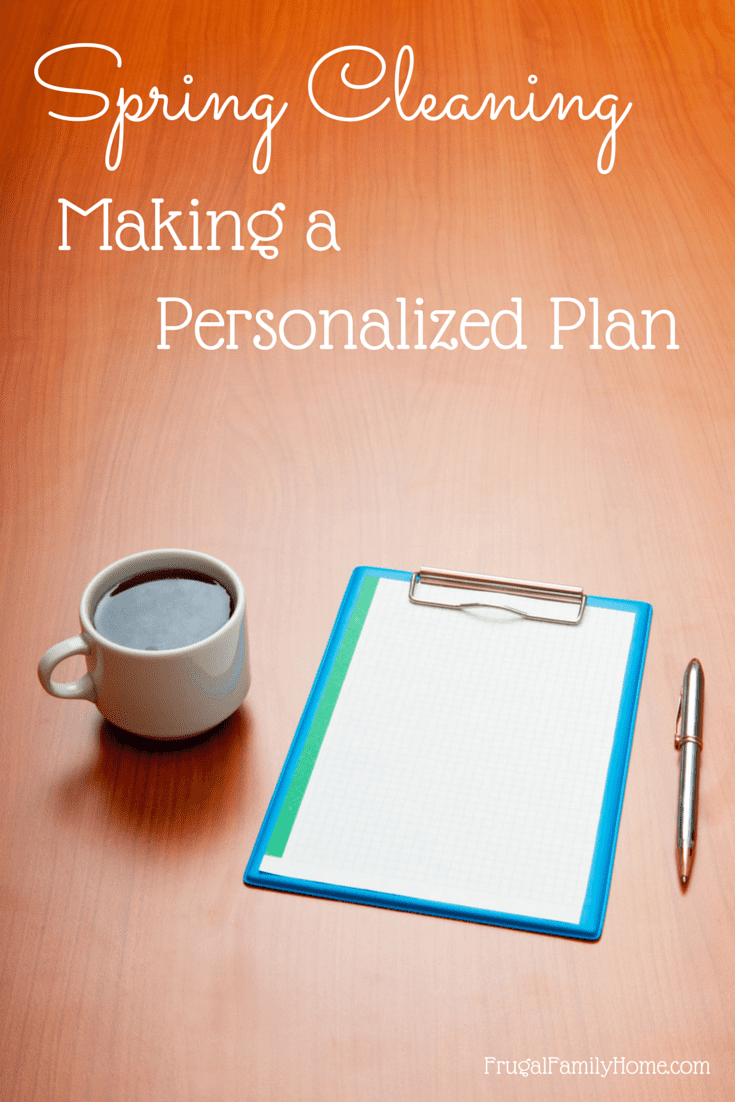 Spring is in the air. With spring comes spring cleaning. Whether you love spring cleaning or hate it, it's nice to have a clean refreshed home to start the new season. Here' s how to do spring cleaning, to get started you are going to need a plan.
I know I talk a lot about having a plan for this or a plan for that. But really having a plan does really help. Plus if you have a plan or a list of tasks, you get to mark them off as you go. Which helps you can see you are really making progress. Having a plan can be really motivating, especially if the task is a little less than exciting to you.
How to do Spring Cleaning, Making your Plan
I know there are lots and lots of checklist out there for what to do for spring cleaning. But I think having a personalized plan, you made yourself, can be most helpful. After all, your the one who can see what really needs to be done around your house better than anyone else.
Let's get started on making your own plan. I"ll go through, step by step, showing you how I make my own plan. If you follow along by the end you'll have your own personalized plan for spring cleaning your home.
Look at each Room, carefully
This I think is the hardest part of making your plan for spring cleaning. It's easy to overlook areas that need to be cleaned when you look at them everyday. Things just don't jump out at you, that's why it's important to look over each room carefully, with a critical eye.
Look over your home as if you are getting ready to sell it. Look closely at the walls, do they need new paint, are there lots of little finger prints and marks or are they in generally good shape.
Look at the baseboards. Are they growing their own layer of dusty hair? Or do they look pretty good. Pull out the furniture and take a peek. You might be surprised at how much dust and dirt can build up under there.
Take Inventory of What Needs to Be Cleaned
As you go through each room, write down any areas that really need to be cleaned well. Make sure to include any regular tasks you do for this room each week, like dusting and vacuuming. Also include things like cleaning the light fixtures and ceiling fan blades.
Write each task you would like to do for each room. It doesn't matter in which order they are in right now, just jot them down so you know what tasks you want to accomplish in each room.
Order your List of Tasks
Now that you have your tasks for each room, it's time to order them. What I mean by order them is, the order in which each task will be done for each room.
You'll want to work from top to bottom. So if dusting the ceiling is on your list, then it should be number one, then comes cleaning the light fixtures, dusting photos on the walls as your remove them, then maybe wiping down walls and finally dusting the baseboards. Just make sure your list of tasks has you working from the top of the room down to the bottom.
I also like to start at the doorway of the room and work on each task around the room. Then start the next task at the door again. It helps me to remember where I was, just in case I need to stop and come back to the task later.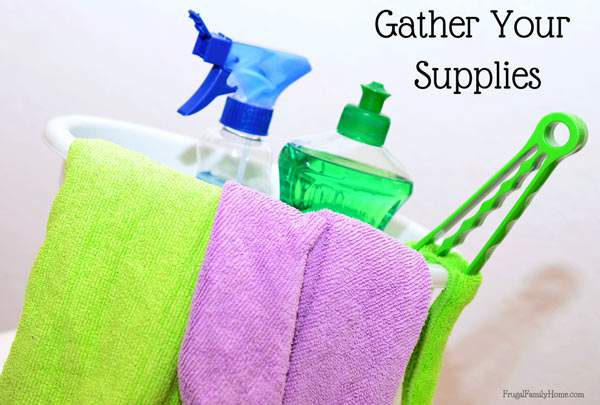 Gather Your Cleaning Supplies
Now you have your ordered list of tasks for each room, it's time to gather the cleaning supplies you'll need for each of the tasks on your list. It can be nice to have a caddy, apron or plastic container to carry your supplies. By having what you need gathered and with you can save quite a bit of time running for one item then another.
Working Your Plan
I like to spread my spring cleaning out over a month. By taking my time to spring clean, I find I do a good job in each room without getting burnt out on cleaning. Maybe set aside a couple hours a week to work on your plan. Then decide on your first room and start. Set a timer, put on some music and work your plan. When the timer goes off you can decide if you have time to work more that day or if you'll have to work on your room more the next day or later in the week.
Reward Yourself with Each Room Completed
I think I like this part of spring cleaning the best, make sure to reward yourself with something a little special, with each room you complete. It might be a nice bubble bath or a little time spent doing something fun. Make sure to allow yourself a little reward with each room. It will help keep you motivated to do the next room and the next until it's all done.
Be sure to take time to just sit and admire your work, once a room is done. Enjoy the new look and feel of the fresh clean room.
Whether you love or hate spring cleaning, having a personalized plan, can help you get the cleaning that needs to be done, completed. Once done your home will be fresh and clean and ready for spring.
What tasks do you do each year when you spring clean? I would love to have your share your spring cleaning plan with me in the comments below.
[signoff]