I find that when I clearing out the clutter I like to just get rid of it as quickly as I can. But sometimes you come across an item that might be worth it to sell. When I declutter I try to categorize my items into three categories, trash, recycle or donate, sell. But you really need to decide whether you want to take the time and effort to sell clutter or not.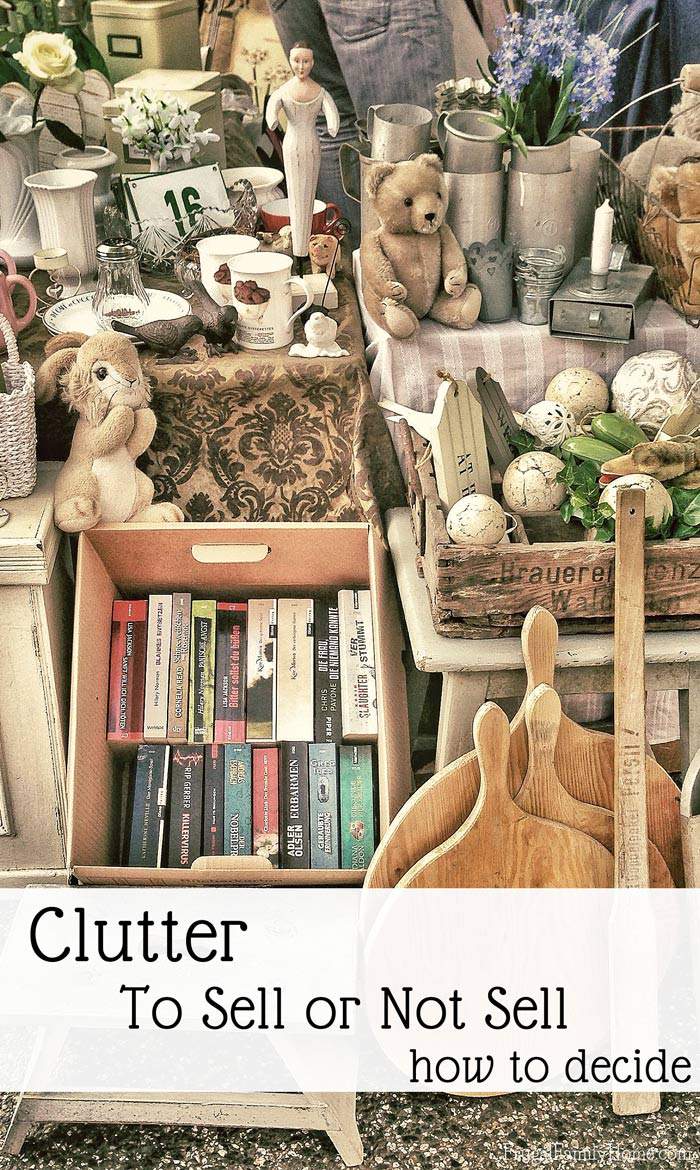 Real Value
When considering if you want to sell clutter or not think about a few things. How much will I get if I sell this item? Take a peek at Craig's List, and Ebay. Is the item you are wanting to sell worth enough to put forth the time and effort. You might find something you thought was really valuable, just won't sell for much and it might be better to just donate it.
Space to Store Items
You also have to consider storage for the items you want to sell. You'll need a place to store them until you can get around to listing them for sale. If having the items sitting in your basement or in the corner of your living room for a while is too much, then just let them go and donate them. If you have space and want to try to sell the items get them organized so when you have time to list one or two items it's an easy task to tackle.
Set a Sale Deadline
It's easy to procrastinate and say I'll list that item tomorrow or next week. But then you never quite have the time to actually list it. When selling items give yourself a deadline to meet. If you've tried your best but just can't get the item sold by your deadline just let it go. It's better to let the item go and get rid of the clutter than to keep in hopes that someday it will sell. By making a deadline, you also give yourself a set time to let it go. Clutter is only worth the amount it will sell for and your time is valuable too. If it just isn't selling it might be best to donate it.
Where to Sell
Ebay and Craig's List
We have had success selling our unloved item on Craig's List and Ebay. It does take time to take good photos. I've found the better the photos and more accurate the description the fewer questions are asked. It takes time to answer texts, emails, or phone calls. Craig's list is great for bigger bulky items that are hard to ship. Often the prices the items sell for is more than at a yard sale or garage sale.
Yard or Garage Sales
These are work for the days the sale is running but may actually take less time than listing them online. Since you only have to really work the hours the sale is actually active. There is also the ability for shoppers to offer prices a little lower than asking and you can get a few bucks and sell clutter too.
If you don't have a lot of stuff to sell, you might consider recruiting neighbors to hold a sale with you or at the same time to draw more people to the sale.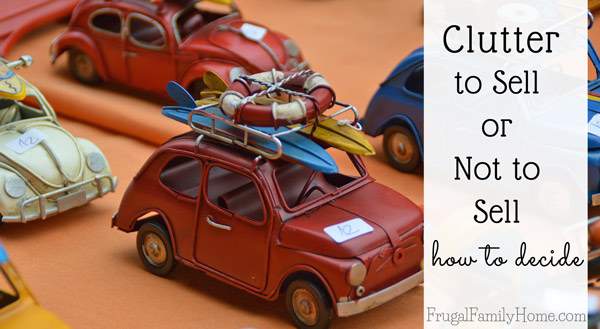 Resale Shops or Consignment
If your town has resale stores or consignment stores you might consider taking items there instead of holding your own sale. You'll need to drop off the items and keep track of any items on consignment. There will be a time you'll need to pick an item up again if it doesn't sell. Stores like used game stores are great for reselling kids video games they don't use anymore. You can get a little money and get rid of the clutter too. Don't overlook them. We have a quite a few clothing and kids consignment and resale stores in our area. Stop in when you are going by to see what kind of items they take in and see if they purchase outright or consign items.
Facebook Groups
Local buy and sell Facebook groups are a good resource to get rid of items locally. You don't have to ship the items and can answer questions right on Facebook so others can read them. This way you're not answering the same questions over and over again.
Ask Friends First
Be sure to inquire if friends can use items you are getting rid of. You might find a friend who could really use the item you're considering selling and want to buy it. Or they might know someone who is interested. Making it easy to sell your items without too much trouble.
Be sure to consider whether you want to take the time and effort to sell an item. Then once you decide to sell be sure to set a deadline of when it needs to be gone so the clutter actually gets moved out. Be sure to search out the best avenue to sell your items to make the best use of your time and to get the best price. Always ask a friend first, you might be able to sell the item without much effort at all if you do.
What I another way you could add to sell clutter to make a little money on your decluttering efforts?
[signoff]
Have you missed any posts in the frugal simple living series? See them all by following this link.
I love it when readers share. Scroll down to use the social media sharing buttons to make it easy to share this with friends and family. Thanks so much for sharing.