It's almost spring so, it's time for me to do a little spring cleaning, or should I say it's time to organize? Maybe it's a little of both. I'm joining in with Crystal from Money Saving Mom to organize my home. If you want to follow along be sure to grab Crystal's free ebook.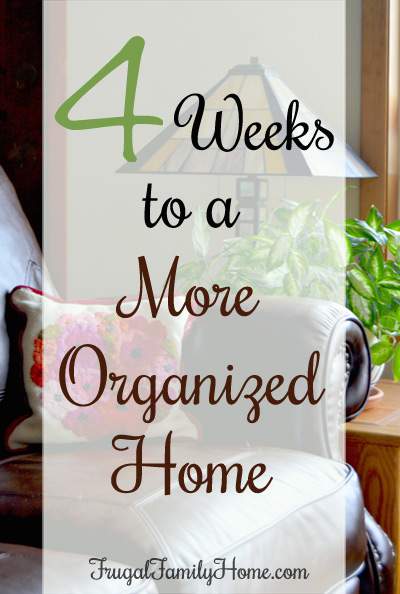 Today I decided to do the complete list for the challenge. There are two options for the challenge you can do the full list or the shortened version. It's all in the free ebook, did you grab it yet?
I'm not sure if I will be able to do all the tasks each day of the challenge, but my goal is to get at least the shortened version done each day.
Here's the tasks for today,
Get dressed.
Make a list of 5-10 goals for the week, see my goals for this week.
Complete your Morning Routine
Set a Timer for 15 minutes and pick up the main living areas of your home.
Find 7 items to get rid of today.
Clean out your purse
The first three are things I do each week anyway, so those tasks were easy for me to get done. Here's how the rest of my tasks went, along with the before and after photos,
Living Room Clean Up
My living room was a little messy from the weekend. We usually pick up each night but that task just didn't get done last night. Does that happen to any of you too?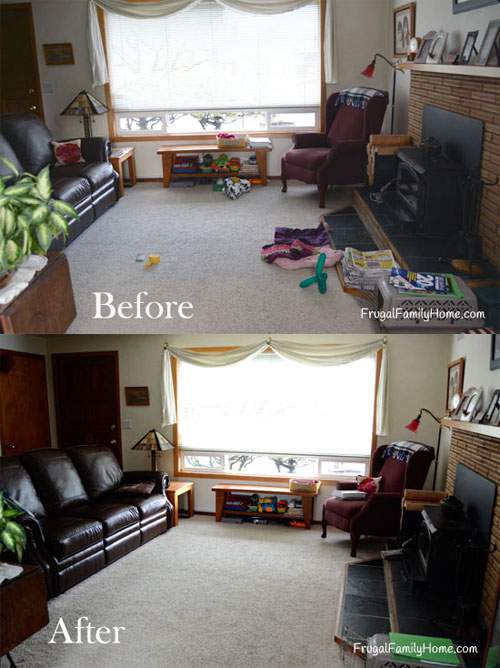 It only took about five minutes to get the toys picked up, popped the balloon animal since it was dying a slow death anyway. I also took out the recycling and did a quick lint/paper pick up.
7 Items Purged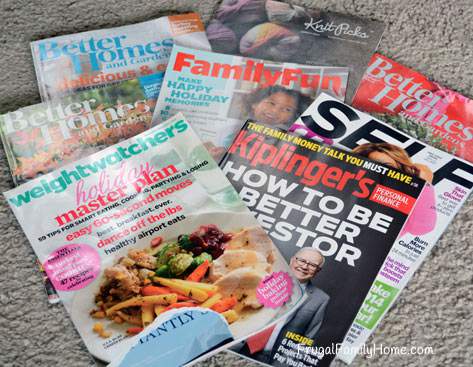 I decided since I was working in the living room I would go through the magazines in our magazine rack. It was getting way to full so, I knew some of them had to go. I found 7 magazines to pass onto other family members and one sales catalog to recycle.
Purse Clean Out
This task should have been a quick and easy one. I don't really keep too much in my purse at all. I was shocked at what I found as I started going through my purse.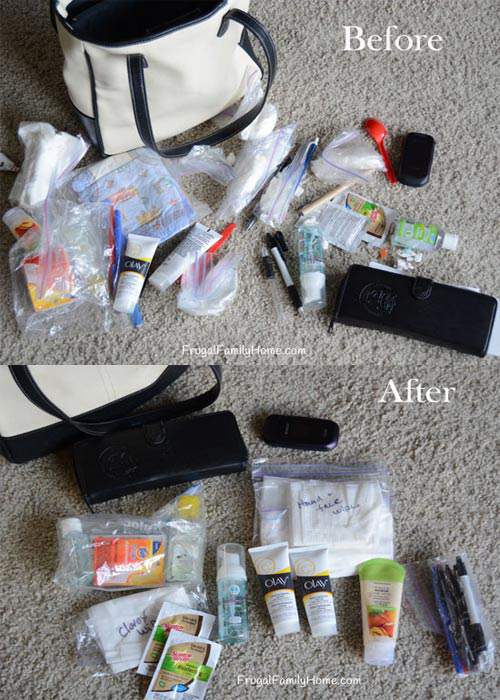 I found a pen or what was left of the pieces of a pen, a bunch of baggies with dried out wipes and crumbs in the bottom. There were so many crumbs I had to grab the vacuum to get them all out.
The biggest shock was a ping-pong ball that had been lost since Christmas. The mystery of the missing ping-pong ball was solved it was in my purse. I can't believe I never notice it was in there. The things you can find in your purse when you clean it out.
Tomorrow, I will be working on doing a quick kitchen clean and taking on the refrigerator.
Are you joining in the challenge? 
[signoff]