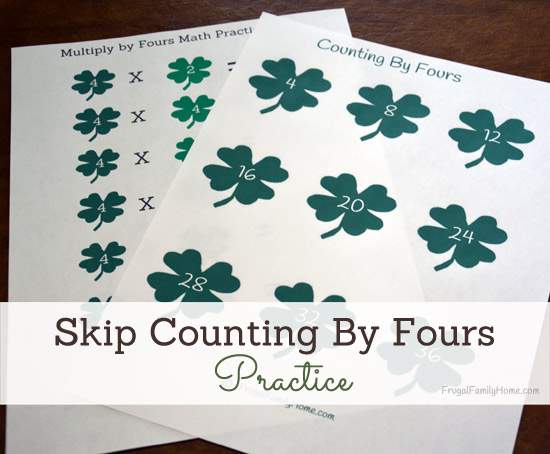 Since St. Patrick's Day is coming soon I thought I would create a homeschool freebie to go with the holiday.
What better but a skip counting by fours sheet with four-leaf clovers.
I created two sheets to use with your child. The first sheet is a sheet to laminate or print out on cardstock paper to practice each day.
I not only sing/count the numbers on the sheet but also talk about what each number represents.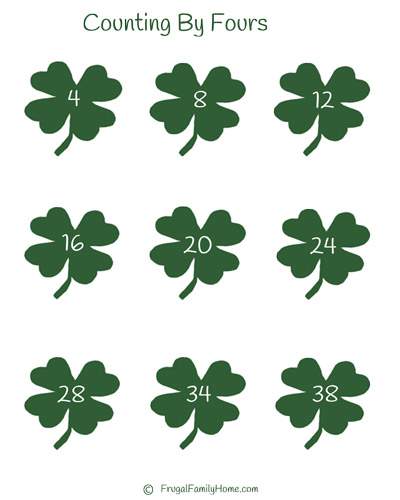 So for the first number I might say, "one four is?" As I'm pointing at the first clover with the number four on it. Then the child knows it's four. I would go onto the next saying, "two fours are?" and so on to get through all of them.
It helps to build the child understanding of what they are learning from the start instead of just chanting a list of numbers.
I also made a math facts practice sheet, that has some of the multiplication facts for the fours. The second sheet helps the child to apply what they have learned when practicing the skip counting sheet.
I like to have my child practice many times with the skip counting sheet before trying to apply what they have learned.
If the child is familiar with the math facts before tackling the practice sheet they are less likely to try to just guess.
I also let my kids use the skip counting sheet when they first start the math practice sheet. I want it to be fun so they will want to do it over and over.
By having both sheets in front of them they get a chance to really think about how to find the answer, using the knowledge they have.
Doing this task over and over helps to build the facts into their memory correctly. Soon they will know the math facts so well they won't even be looking at the skip counting sheet.
You can download the Skip Counting By Fours Math Pack I created for free. I hope your kids enjoy using it.
See more of my homeschooling posts and freebies.