We all need a little time off now and then. Time to just relax and have a break from work or everyday life tasks. But it's so easy to get carried away while on vacation and spend too much. If you do a little planning you can stay on budget while vacationing.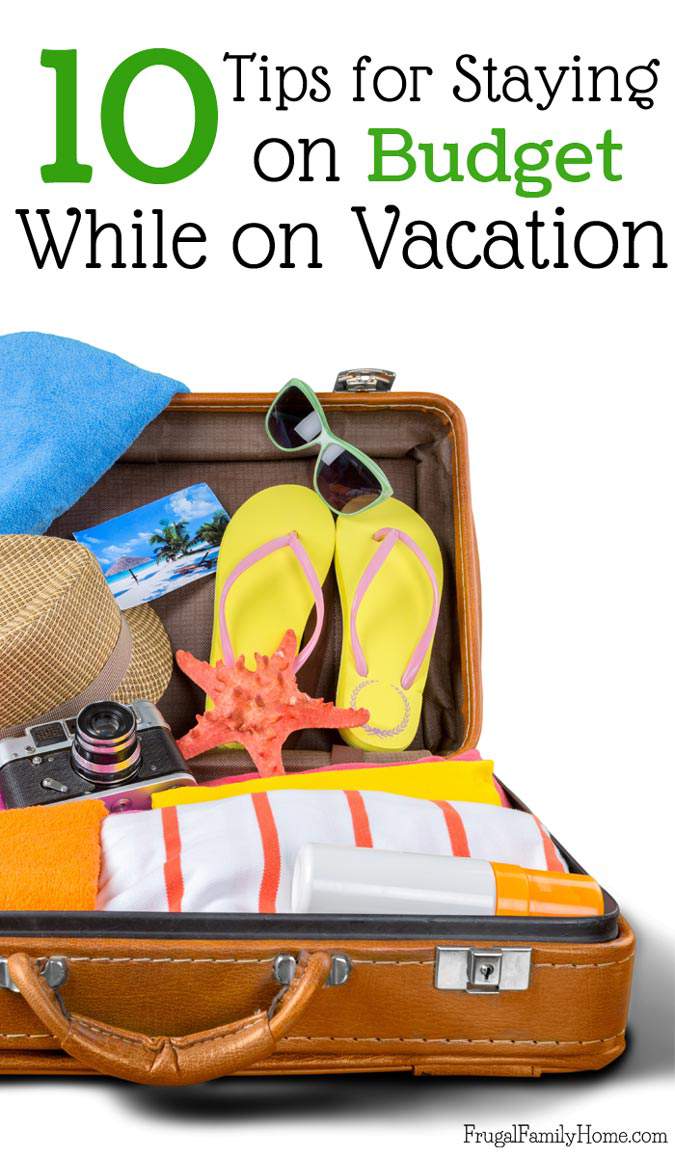 In this week's Frugal Family Home's podcast, I'm sharing 10 tips for how you can stay on budget while vacationing. It takes a little planning, but you can have a great vacation and come home with money still in hand.
Podcast: Play in new window | Download | Embed
Subscribe: Apple Podcasts | RSS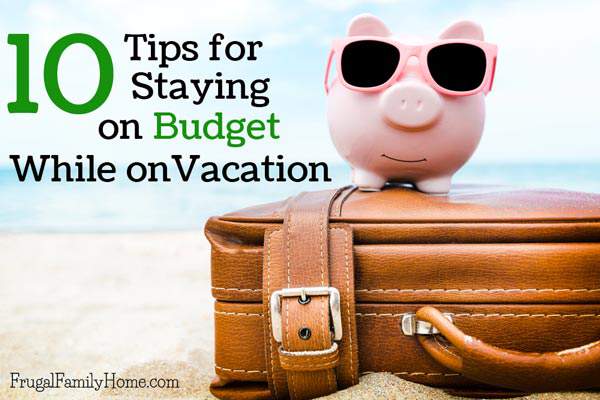 A Quick Recap of the 10 Tips for Staying on Budget While on Vacation
Make a Budget, you can't stay on budget without writing your budget first.
Track Your Spending, if you won't be using cash or can't use cash be sure to track what you are spending on your phone or write it down so you can stay on budget and not overspend.
Search for Cheaper Ways to Travel, be sure to keep your options open for traveling to your destination. Often a slower way of reaching your destination can be cheaper. Also, plan in advance and watch for the best prices on airfare.
Be Flexible with Your Lodging, Look for alternatives to high priced hotels. Consider staying with friends or family or consider a hotel in a nearby smaller town. If traveling with a group of people vacation rentals might be a better way to go.
Go Grocery Shopping, Once you arrive look for a grocery store to get snacks and food you can prepare in the room. Even convenience foods are cheaper than eating out.
Eat Out Sensibly, avoid the high cost of meals at the hotel and ask locals where are the best places to eat nearby. You'll be likely to find some great recommendations and get a good meal for less money.
Bundle your Vacation or Travel with a Group, when you buy a vacation package you can get deals on the lodging, entertainment, and travel, be sure to check into this option. Also, ask for group discounts when booking if you are traveling with a group.
Go During the Off Season, if your destination has a busy tourist season go during their off season. It will be less crowded and you can save more.
If Your Budget is Limited, if your budget is limited consider shortening your vacation from a full week to a long weekend to save. Or consider a staycation instead, I know we have lots of fun day trips we could take close to home and I'm sure you do too.
Plan Time for Rest, during your vacation, be sure to plan time to just sit by the pool or hang out in the room. You can save money on entertainment and have time to rest and relax too. Instead of coming home from vacation feeling like you need a vacation.
What other tips could you add to my ten tips for staying on budget while vacationing? I would love to have you share them in the notes below.
[signoff]