Inside: Find 5 tips to Simplify your Holiday Meal. With these tips you can spend less time in the kitchen and more time with your family.
Does making a holiday dinner send shivers up your spine. Do you envision a disaster in your kitchen while your family is waiting to be fed? Holiday dinners can be stressful. But you can simplify them so you can actually enjoy the holiday too.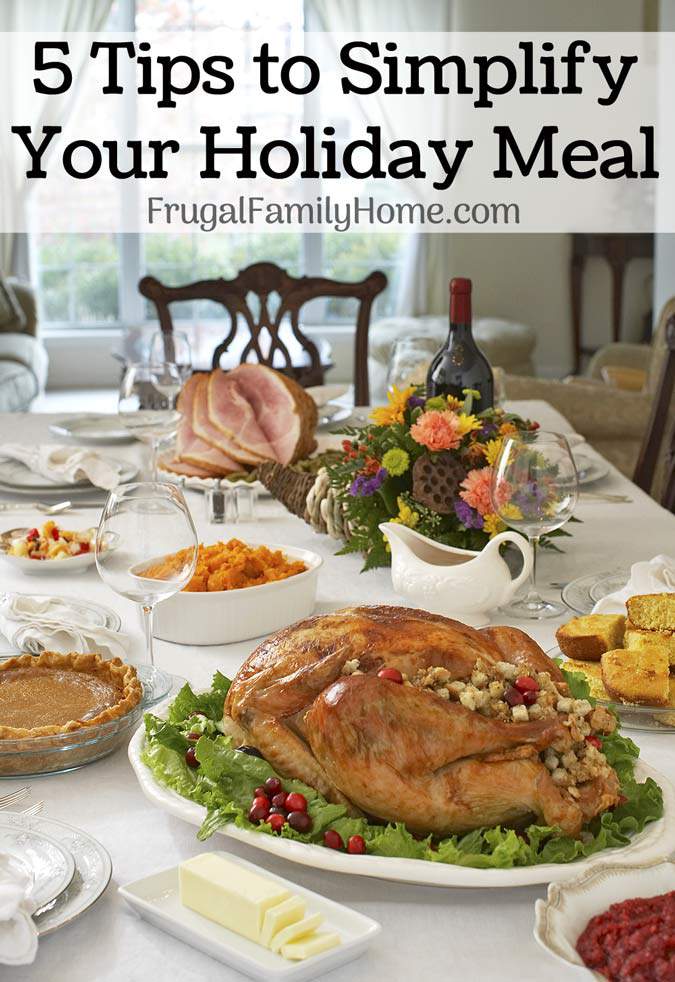 In this episode of the Frugal Family Home podcast, I'm sharing a few tips to help simplify your Thanksgiving. Think of these tips as permission to let go of things that stress you out and call on others to help, whether that be the stores or other family members.
Because holiday diners shouldn't be about the stress it should be about spending time with family and friends thinking about all you have to be thankful for this year.
Podcast: Play in new window | Download | Embed
Subscribe: Apple Podcasts | RSS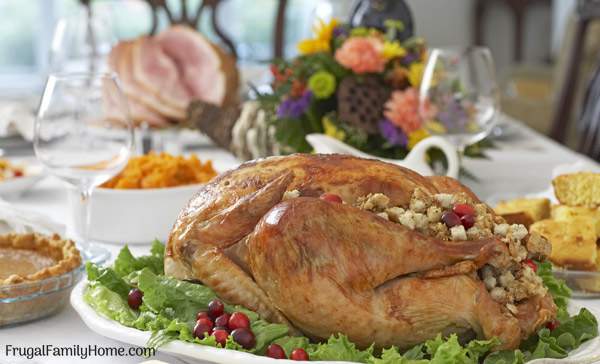 Tips to Simplify Your Thanksgiving
1. Leave the guilt behind. Maybe your mom or grandma used to cook a full Thanksgiving dinner from scratch, but you don't have to. I know growing up our Thanksgiving dinner was a family affair with my grandma, my mom and sometimes even my great-grandma in the kitchen all helping. So don't feel like you have to do it all.
2. Make the main dish or turkey and ask others to bring the rest. When I'm hosting the holiday dinner I'm always asked what can I bring. If you have people ask, let them bring something. It will be one less thing for you to make and they will get to contribute their favorite dish to the meal.
3. Pre-Cook or Freezer Cook Part of the Meal, Make as much as you can ahead of time. Bake the rolls and freeze them. Make the mashed potatoes the night before and then reheat them. Assemble the stuffing and sweet potatoes so all you have to do is cook them. Make the turkey the day before. Do as much as you can before Thanksgiving, so the actually day your not stuck in the kitchen.
4. Feel Free to Skip Baking, If you don't like to bake or don't want to make one more thing, then bag the baking. Pick up your rolls and pies at the bakery at the store. Or from your favorite restaurant. It will save space in the oven and save your sanity too.
5. Simplify Your Meal, If making a turkey is too intimidating, make chicken breasts instead or a whole chicken. Make simple side dishes like a side salad and mashed potatoes. Don't feel obligated to make complicated recipes. Put that energy into enjoying your friends and family instead.
How do you simplify your holiday meals?