Inside: Stretch your Back to School Supplies dollars with these 7 money saving ideas. Get organized now and save with all the back to school sales.
Can you believe that it's almost back to school sales time already?
It seems like it gets earlier each year. But when you take advantage of the sales, even if they are in the middle of the summer you can really save a bunch on back to school supplies.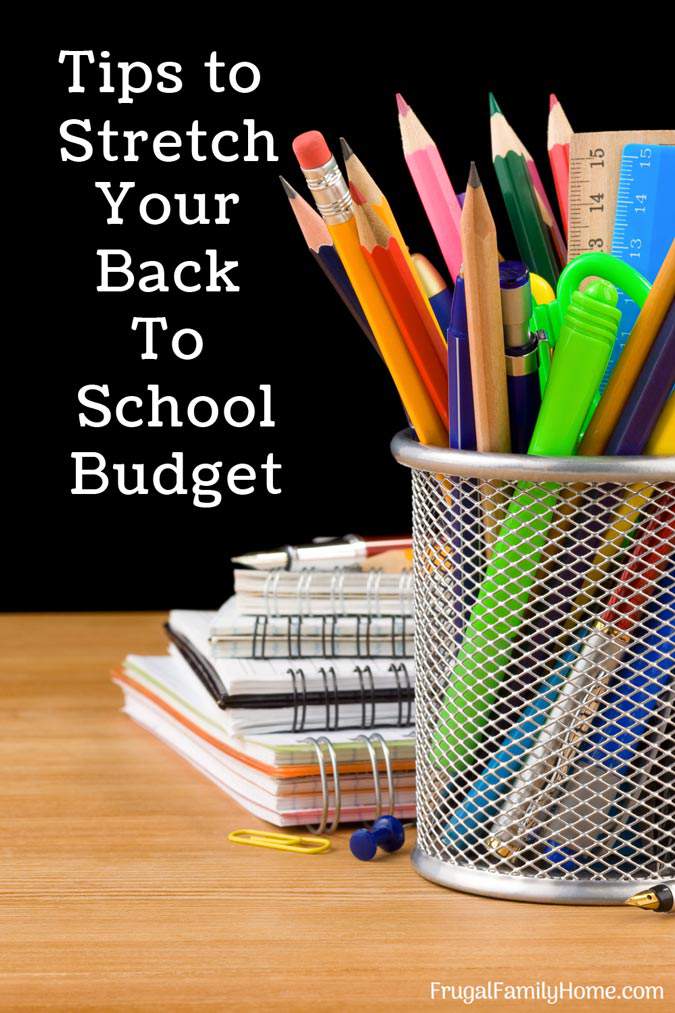 In this episode of the Frugal Family Home podcast, I want to help you get intentional about saving money on back to school items.
To make the most of your back to school dollars I have 7 tips to help you stretch your money, to stay focused on what you need, and to stay on budget.
Listen to the podcast below, or if listening isn't your thing, scroll down to see the 7 tips below.
Podcast: Play in new window | Download | Embed
Subscribe: Apple Podcasts | RSS
Resources Mentioned in this Episode
Free Printable Back to School Price List
Get Organized for Back to School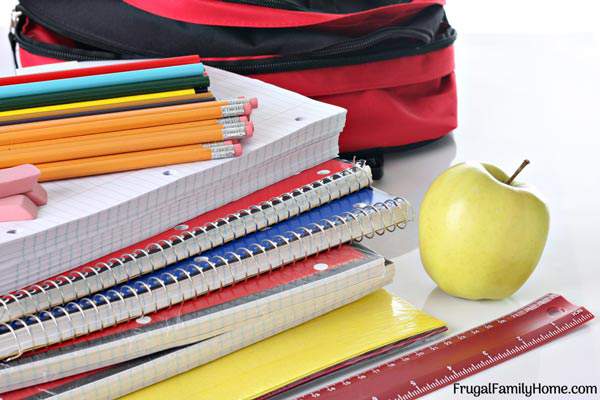 7 Tips for Back to School Sales
1. Take Inventory Before You Shop
Take a moment to see what you need and make a list before you set out to do your shopping.
2. Don't Shop One Store for Everything
Be sure to shop around to get the best deals on office supplies and back to school items. Don't limit yourself to Target and Walmart. The office supplies stores have great deals for back to school too. Also, drug stores like Walgreens, CVS, and Rite Aid have great deals on school supplies too.
3. Don't Do All Your Shopping at Once
Each week retailers will have rock bottom prices on some items. If you plan to shop each week to pick up those rock-bottom deals you can save the most money.
4. Clip Coupons
During back to school sales, you're sure to find coupons to match many items. Be sure to check for printable coupons and Sunday paper coupons. Print or clip the coupons for items you know you'll want to purchase. Keep them in an envelope in your purse so you'll have them on hand when you go shopping.
5. Shop the Dollar Store
The dollar store has lots of school supplies and more at really good prices. If you don't want to bother shopping the sales shopping a dollar store is a good option for inexpensive school supplies.
6. Stock Up
Don't purchase just what you'll need for the beginning of the school year, really stock up. The best prices of the year are during the back to school sales, so be sure to purchase enough to last all year long until the next big sales season.
7. Use Cash
With so many great deals to be had it's easy to get carried away and overspend your budget. Make a budget now and use cash when you shop so you can avoid overspending.
I hope these 7 tips help you to stretch your money during the back to school sales.
What tip do you use that we could add to the list? I would love to have you leave it in the comments below.