You'd like to eat better. You really would but making changes is hard. It takes a lot of effort, or does it? You can use these easy steps to learn how to eat better with the time and money you have.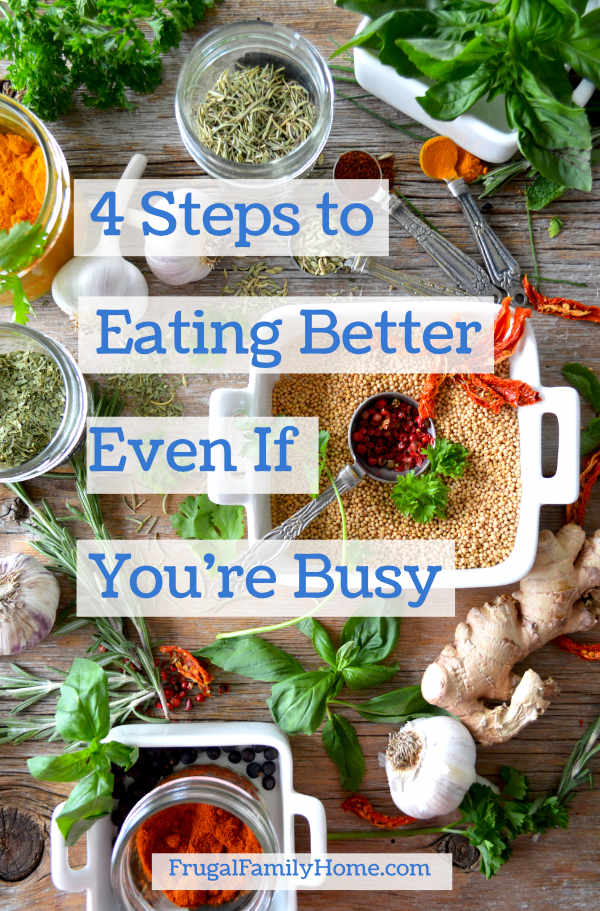 Your not a health fanatic, you just know you could eat better. Less processed foods and more real foods. Not only for yourself but for your family.
But between your already packed schedule, the kids complaining about anything new that looks different, and the fact you have a limited budget for food, it's easier to stay the course and not make a change.
Because you don't want to buy a bunch of new food to find out your family won't eat it, you don't have time to prepare it, and you end up wasting money, you don't really have to spare.
But it doesn't have to be like that. You can make changes, eat better, and have your family enjoy it too. All without dramatically changing your food budget or spending all day in the kitchen. These 4 steps can help you do all of that.
Better Eating Tips in This Podcast
In this episode of the Frugal Family Home Podcast, I'm sharing 4 easy steps to eating better. Small changes you can make to start eliminating processed foods from your diet without dramatically increasing your food budget or the time to make meals.
If this sounds good to you have a listen to the podcast. You can also read the show notes below. It's kinda like the cliff notes version.
Podcast: Play in new window | Download | Embed
Subscribe: Apple Podcasts | RSS
4 Steps to Eating Better
Eating better can be challenging. It's easy to get stuck in a rut and eat the same things over and over. Even if you have a desire to make better food choice.
Things that are familiar often win out when we are short on time or don't have a detailed plan to make a change.
But change can happen if you…
1. Make Small Changes and Build on Them
Make a plan for making small changes over time.
Plan for what changes will be the easiest to get you started on eating a little better. Don't make big changes right away, it almost always leads to failure.
Instead, let's set you up to succeed from the beginning. I want you to find one thing you can change with your eating or your whole family's eating that is doable. Then practice it for a few weeks to a month. Get used to it when it seems just natural to you then add something else.
Making those small changes one on top of another makes it so much easier to make big changes just one little bite at a time.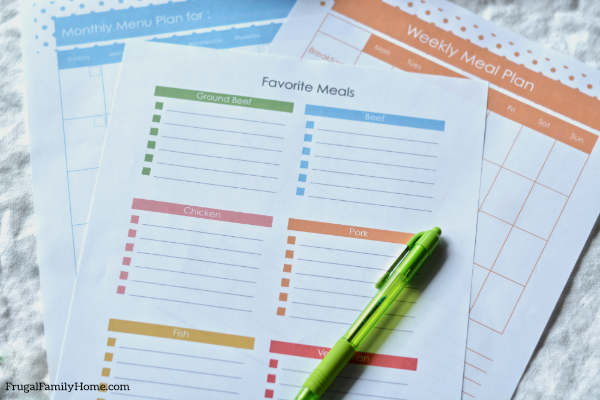 2. Plan for Meals
When you are hungry isn't the time to think about what you'll make to eat. It's probably the worst time if you are trying to make changes and eat better.
Because your hungry brain will only think about things, you already have established as habits and if you want to eat better, it's better to have a plan.
With a plan you have more control. You can sit down and think it through when you're not hungry. When you can put your goals into the planning process.
Pick your meals for that week. Be sure to include any new food you are switching out to eat less processed foods. Make your list and go shopping. It's really that simple and easy.
 But what if you have picky eaters or kids who don't want change?
3. Make Substitutions for An Easier Transition
If you are used to driving through the drive-thru for dinner almost every night or picking up ready prepared foods regularly. Then switching to cooking at home every night might overwhelm you and your family.
Cutting out processed foods doesn't have to be an all-or-nothing thing. Making progress even a little is better than no progress at all. And you should be happy with each little change you can make.
If you eat out often and want to cut that back. Try picking up ready-made items at the store.
If you are used to using packed, frozen, or pre-made items from the store, try making some of those yourself or switching them out for healthier less processed versions.
Small little changes, can keep the family happy and you can feel better they are eating better. And it won't take you much more time either.
Small substitutions on foods your family already loves, can help make the transition to eating better more easily done.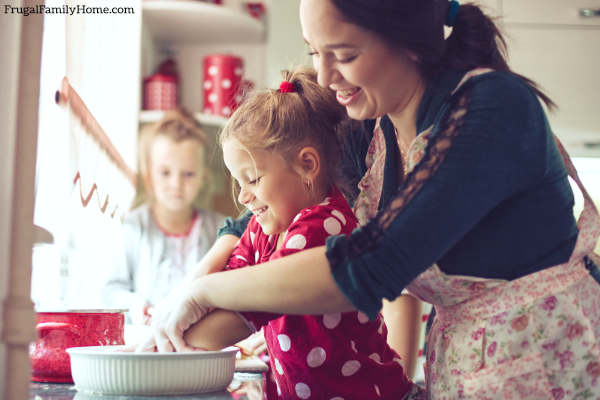 4. Get Everyone Involved with Cooking
Once you are used to making substitutions without your family revolting. And they have gotten used to making adjustments. Try making a better quality dish of food but have them help make it.
The quickest way I know to get kids or any family member to try something new is to have them help make it.
Yes, at first the kitchen will be messier, but you'll end up with a family that can help you make meals.
Which in the long run will do two things.
One, you'll have help with making meals from your family.
Two, people don't normally complain about the food they make themselves.
So you can eliminate two problems by having your family help with meals. It will be quicker for you. Because many hands make a task easier.
And you won't have wasted food, because very rarely will someone decide not to eat something they made themselves. Well, unless they really have an aversion to it. But that's understandable.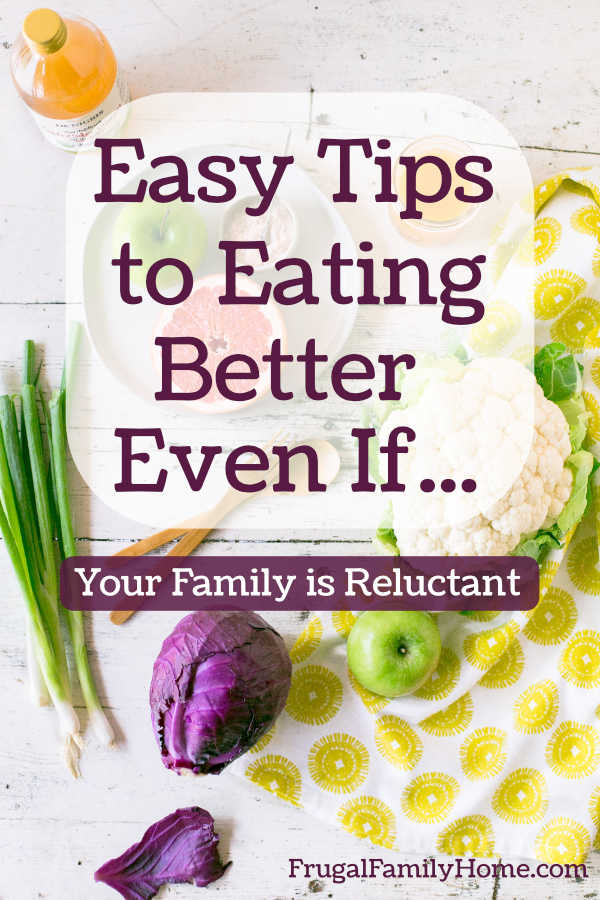 Those are my 4 steps to getting started eating better. When you make small changes, have a plan for those changes, make substitutions that aren't drastic and get everyone involved in the cooking you can succeed in making these changes stick. 
I'm working on making something to help with transitioning from processed foods to less processed food. 
I'm call these meals, transition meals.
Meals that you can use to transition your family from more processed food options to less processed food options. If you are interested in finding out when it's available, click the button below to sign up.