We have come to the end of 2020. And boy I'm glad it's almost over. It's been quite a year. If you feel you are stuck in a perpetual bad day these tips can help.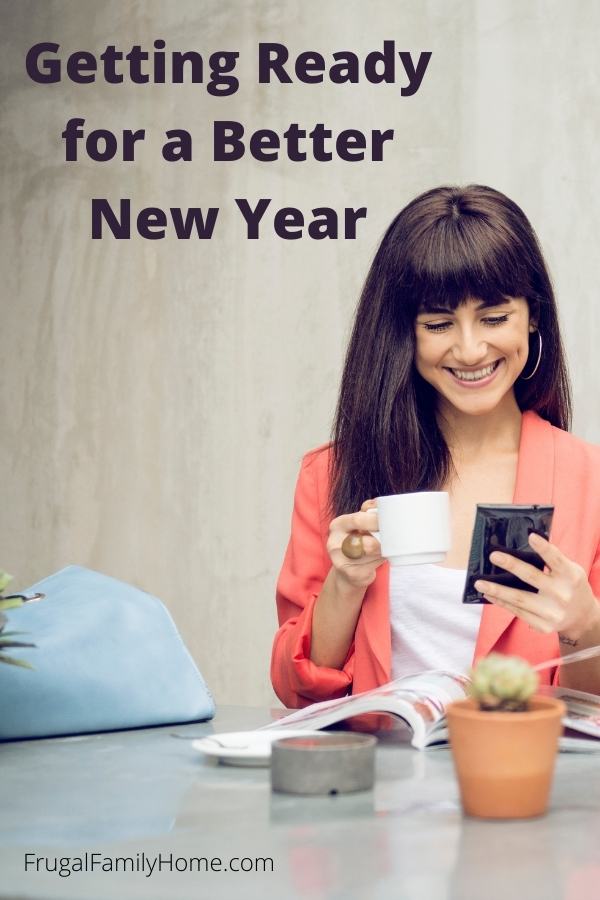 The new year comes with the promise of a new fresh start. After the year we just had, I'm sure you are ready for a fresh start.
To make that fresh start you need to change your thinking. Especially if you've been caught in a rut of stress and anxiety over this past year.
I hoping this podcast can give you a few ways to turn your thinking around to get ready to embrace the new year and beyond.
Podcast: Play in new window | Download | Embed
Subscribe: Apple Podcasts | RSS
Get the Chaos to Calm Life Planner
Show Notes
Let's face it 2020 started out with a lot of promise. But in a few months everything changed and it all went downhill from there.
It was easy to fall into survival mode and barely get by for weeks or months on end. And living like that is no fun at all.
After this year you may just be hoping for a better year, a more stable year and I hear you. I'm looking forward to it too.
And there are a few things you can do and think about to get to that place of peace and stability again. Changing your mindset is the first step in making change.
How to Change Your Mindset
These 5 small steps can help you change your mindset and make the new year the best year. And after a year like this year, we all need a fresh start.
Stop Dwelling on the Bad
It's easy to get stuck in a rut with our thoughts. Each day comes with a new promise. You wake up with hope and excitement and then the day starts.
And the thoughts start. Racing in your mind. And let's be truthful those thoughts aren't usually happy thoughts about how great the day will be.
They are usually thoughts of all you have to do. All you needed to do yesterday and everything that could go wrong.
When those thoughts well up in your mind, it's time to turn them off. And to do that can be as simple as turning around those thoughts in a positive way.
Instead of saying, I have so much to do today, I'll never get it done.
Try saying, Wow I have a lot to do, I wonder how much I can get done.
Spinning those negatively phrased thoughts around can make a big difference in how we feel. And what we can accomplish.
Find Stability Where You Can
When it seems the whole world is upside down. Take refuge in traditions. Make a special meal that reminds you of family.
Get on the phone and actually talk to people. Texting is fine but when you are feeling isolated, actually hearing a persons voice can make a huge difference.
Or if you are able get on a video call with friends. It's not the same as being with them but it's nice to be able to see their faces and hear their voices and share about everyday things.
As boring as that can be. The boring normal things can help bring a sense of stability.
Give Yourself Permission to Grieve
I know it may seem weird to grieve about the loss of a year to a pandemic. But you need to acknowledge this year was hard.
It was unlike anything you've experienced. And so many things had to change. You had to let go of so much.
Let that grief come. Express it as you need to. Maybe by talking about it. Maybe by journaling. Or maybe by crying. Or maybe by doing all of these.
I'm a person that doesn't like to acknowledge grief. I'd rather throw myself into being busy than stop and let the grief come. But that is not good.
You need to find a way to let go of it so it doesn't follow you into the new year. So you can truly have a fresh start.
Give Yourself Permission to Dream
Like all things this crazy time will come to an end. Things will get better, eventually.
And when you are stuck in a rut of downward thoughts, it easy to just stop dreaming.
Right now is a great time to look back over the year and find the good. What happened that when you think about it, was good.
Did you get to spend more time with family? Did you discover you really don't mind cooking? Did you discover a sense of getting by with what you had?
I'm sure if you think about it you can discover something you learned that if this year hadn't come to pass you wouldn't have slow down enough to discover it.
Of those good things, what do you want to make time for in the new year? Make a plan now to set aside time to do those things.
And then take time to just sit quietly and dream. What would your perfect new year look like? What would you do away with and what do you want to do more of?
Sitting and dreaming about what might be, can really give you hope to pull out of the downward spiral. And look up to something new and wonderful.
Make a Plan
Now that you've thought about those dreams and you've thought about the things you want to continue to do even into the new year, it's time to plan.
It's time to make a plan so they can happen. Because as the year starts, and things get back to normal it easy to let those dreams and hopes slide away without action.
It's important to make your plan. Commit it to paper. And then step out those plans into easy to do steps, day by day, week by week, and month by month.
The only way to make dreams become a reality is to do the work. Big dreams don't get done in one big step it is all those little steps that build into that big dream being accomplished.
You can do it with a plan.
And if you need something to help you make those plans and step out those goals. Take a peek at the Chaos to Calm Life Planner. It has goals sheets to step out those goals.
It has weekly and daily planning sheets as well as many other sheets to help you get your life organized one sheet at a time.
I hope with these 5 tips you can be encouraged, find the good in this awful year, and make your plan to have the best year ever. You can do it!
If you found this podcast helpful, I'd love it if you could share it with someone. Share it on social media or email the link to a friend. Thanks so much!