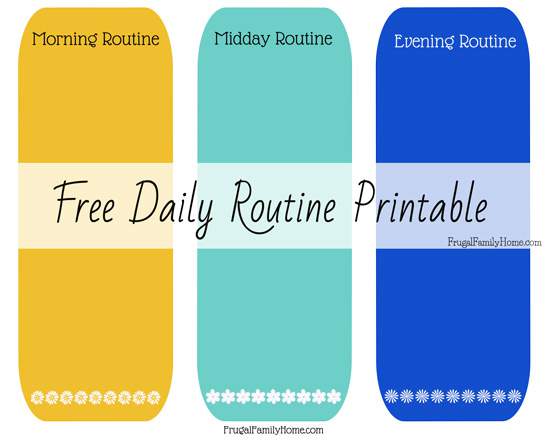 Andrea, wrote to ask about my time management. She wanted to know what a regular week looks like for me. Today, I'm sharing what a usual week at my house would look like.
It's not all Productive Days and Sunshine
To be truthful, some days I feel like I'm just spinning my wheels and getting very little done, with lots of effort expended. Others days, by the end of the day I feel like I got a bunch of tasks accomplished. I think that's how it goes for most of us.
I've started this post three times, each attempt trying to figure out just how to word it . I want this post to not only share about my week, but also to give others some tools and information. Here's some tips and my weekly routine plus a Daily Routines printable.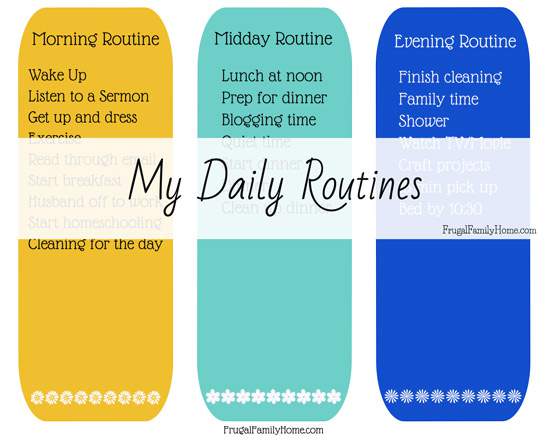 Establish Routines
Routines drive my days. I like to have routines that fit into blocks of time during the day. Having a time schedule just doesn't seem to work for our family. I tried it a few times but just couldn't make it work for us. Instead I use blocks of time with routines.
Having blocks of time with three to five things in each to accomplish, helps to give more flexibility. It also gives me a little buffer time three times a day, which often I need. Routines also seem to be good for my kids. They know what to expect each day and when they will have free time. This helps with resistance I might get from my little one.
I know having a morning routine has made a big difference in the amount of tasks I can get done each day. Having a set routine I follow each morning, helps to set the tone for my day. I also have a set time to go to bed and get up. 
Getting enough sleep is very important. Establishing a regular sleep pattern is essential to having the energy you need to meet your day. I go to bed at the same time each night and get up at the same time each morning. This really helps me get the rest I need.
Doing little things to help during busy times really helps me stay on track. My routine of cutting up vegetables and getting dinner items started at lunch really helps me, get dinner ready on time. Not to mention, I save a little time on clean up at dinner since the mess is a little smaller.
If your day seems to run you, instead of you running it, you might give using the block of time schedule a try. Here's how I fill my blocks of time.
My Morning Routine
Wake up at 6
Listen to a Sermon
Get up and dressed by 6:30
Exercise and read through email
Start breakfast at 7
Get my husband off to work by 7:30
Start homeschooling by 8
Get my cleaning done for the day
My mornings go fairly the same each weekday. We usually homeschool from 8 until 11, sometimes until lunch if there is more to do. I fit my cleaning in each day, either between school ending and lunch or in little bits of time while I'm waiting for the kids to complete a project or subject.
Mid Day at our House
Once mid-day hits I like to have most of my cleaning out-of-the-way and our homeschooling done. I have discovered my kids learn best in the morning. So, we get our school done early. It's best to adapt to what works best for your family.
What the middle of day is like for us,
Lunch around noon
After lunch clean up and prep for dinner (cutting veggies, making sauces, things that make getting dinner on the table easier)
Blogging time while the kids do their own activities (about 2 hours)
Quiet time for all of us, I usually sit with my son or even take a nap depending on the day
Between 4:30 and 5 I start dinner
Serve dinner between 5-6
What our Evenings are Like
After dinner is the time for us to hang out as a family. Sometimes my husband will work with the kids on the classic car project they have going on. Other nights we might just hang out together, watching television or just being together. Once a week we will go out and run errands that need to be done.
My Evening Routine
Finish cleaning, or tasks that I didn't get done earlier in the day
Spend some family time together after dinner
Shower
Watch television or a movie and have a snack
Work on sewing, knitting projects, or get some social media time in while watching television
Quick 15 minute clean of the kitchen and living room
Bed by 10:30
Our weekends are usually filled with errands or projects on Saturday. Sundays are filled with church and relaxing with family. 
That's how most of my days go around here. There will be times we need to go out, but most days we are home all day. I have found to get the things I feel are important done, means I need to be home most days. It's just what works with our family in the season of life we are in. 
I've made a printable with my daily routines. I also have a blank one that you can use to fill in with what's important for you to get done in each section of the day. Every family is different, you have to find what works best for your family.
Remember to embrace whatever season you are in. Take time to enjoy the season, as it will soon be over and a new season will be starting. Take advantage of little moments of free time and make time for what is most important.
Please leave a comment below, sharing what works best for you.