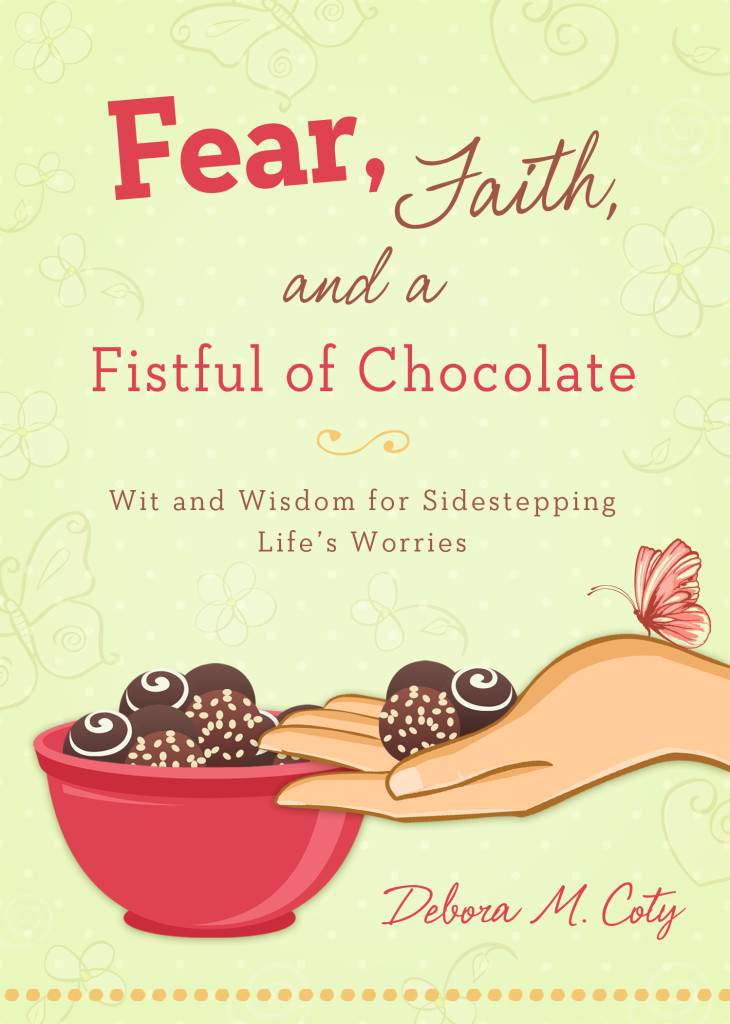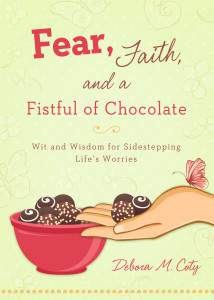 I saw the title of this book and it really caught my attention. I have been a person who worries for most of my life. At least as long as I can remember. My mom used to call me a little worry wart. She would often use the phrase "don't make a mountain out of a mole hill". I was always  a kid who would "what if" things to death. Being concerned about things and worring about them before they even came to pass.
Since I am a person who worries out of habit now, I thought this book might just be a great book for me to read and I was right. Even though I don't worry near as much as I used to, I still worry about things more than most people do at least I think I do.
As I read through Fear, Faith and a Fistful of Chocolates I loved how the author used stories of people with those fears and how they deal with them. Not only are the stories great but the author has a great sense of humor and I found myself laughing out loud at time over some of her sayings. At the end of each chapter there are a few question or things to ponder. These sections are called "More Pluck, Less Chicken".
In the books she address pretty much any fear that you might have and gives advice on how to work through those fears. She has many references to scripture throughout the book. She also has a whole section of the book on Protecting yourself with the armor of God.
If you have fears and you want to start on the path of leaving them behind please do pick up this book. Not only do I believe this book would be helpful but I think you will find it also very entertaining and at times really funny.
Just so you know I was given this book for free to review. But the opinions expressed are all my own. Here is a little more about the book and be sure to RSVP for the Facebook party and Kindle Fire giveaway!
About Fear, Faith, and a Fistful of Chocolate
Are you ready to strip fear's power over you and become the confident woman you were meant to be? Have you found that tolerating your personal fear monsters only makes them growl louder?
Okay, sister – take my hand and let's boldly step up and yank the masks off those shadow-lurking, anxiety-churning, worry-generating beasts.
With her own brand of off-beat wit and wisdom, inspirational humorist Debora Coty addresses heart needs of women worn down by everyday fears – financial, health, relationships, loss, pain, the unknown, the what ifs …
With fresh spiritual insight, Debora shares hope, true life stories, scriptural lifelines, and a few LOL's along with simple, practical tips for sidestepping fear with faith. And a fistful of chocolate!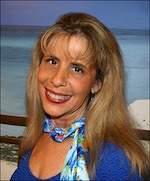 Meet Debora:
Debora Coty is an occupational therapist, a piano teacher, and a freelance writer. She's also involved in the children's ministry at her church and is an avid tennis player. Debora began writing to fill the void when her last child left for college, and it has since become a passion. Debora has a real knack for getting across sound biblical concepts with a refreshing lightheartedness as attested in her monthly newspaper column entitled "Grace Notes: God's Grace for Everyday Living."
Enter Today – 2/14 – 3/6!

Celebrate the release of Fear, Faith and a Fistful of Chocolate with Debora Coty by entering her Kindle Fire Giveaway and RSVPing to the March 7th Author Chat Party on Facebook!
One "sweet" winner will receive:
A Kindle Fire
A Debora Coty Library (Fear, Faith and a Fistful of Chocolate, More Beauty, Less Beast, Too Blessed To Be Stressed, and Everyday Hope)
Chocolate (Every good thing begins with chocolate!)
Enter today by clicking one of the icons below. But hurry, the giveaway ends 3/6/13. Winner will be announced at Debora's "Fear, Faith and a Fistful of Chocolate" Facebook Party on 3/7. Debora will be hosting an evening of chat, fun trivia, laughter, and encouragement – bring your friends! She'll also be giving away some GREAT prizes: gift certificates, books, and a book club prize pack! (Ten copies of the book for your small group or book club and a live chat with Debora via Skype.)
So grab your copy of Fear, Faith and a Fistful of Chocolate and join Debora and friends on the evening of March 7th for an evening of fun. (If you haven't read the book, don't let that stop you from coming!)
Don't miss a moment of the fun, RSVP today. Tell your friends via FACEBOOK or TWITTER and increase your chances of winning. Hope to see you on the 7th!