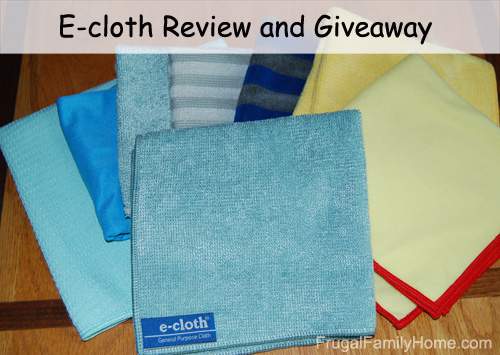 E-cloth, Cleans with Just Water
Have you heard about E-cloths? They are microfiber towels that clean with just water. I had heard about  microfiber towels that clean with just water but I was a little skeptical. How can a towel and water clean better than a chemical cleaner or even vinegar cleaners I make up myself?
While I was doing the 30 Day House Cleaning Challenge I was given the chance to try out one of these magic cleaning cloths called an E-cloth. Just so you know I was sent one to review and I was given one to giveaway. You can read my disclosure policy for more information. I also purchased a few other E-cloths just because I was so curious to see just how well they worked.
Before I received the E-cloth to give a try I did a little reading on just how an E-cloth works. Now you may have heard of Norwex Cleaning cloths and may be wondering how they compare. I have never tried a Norwex cleaning cloth before so here's a link to compare the two. Now if you are interested in knowing just how the E-cloth works take a look here. E-cloth also has the Real Simple magazine endorsement.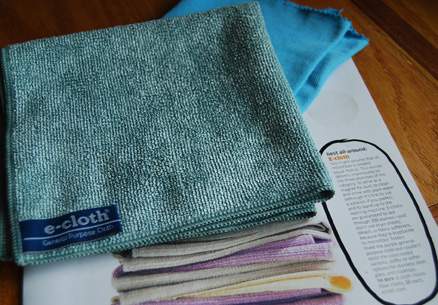 My experiences with using E-cloths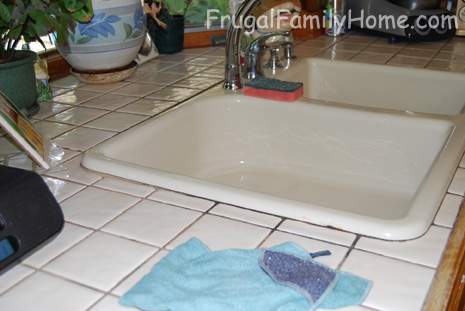 I was really excited to try the E-cloths out. I know it sounds a little crazy getting excited about something you clean with but anything to make cleaning the house easier is something I want to try out. Throw in these cloths clean with just water and how could I resist trying the E-cloth.
For my first cleaning task I used the all-purpose E-cloth on my kitchen counters that are tile. Again I was skeptical at how these could really clean with just water. But after using the all-purpose E-cloth, I followed up with the glass polishing towel, my counters were just as shiny and clean as if I had used the chemical or my homemade cleaner on them.
So I just had to give them a try on my microwave. I have a microwave hood combination and even though I don't cook with oil much there always seems to be a sticky and greasy residue. I usually use kitchen cleaners on it and they do remove most of the grease but I really have to rub and scrub on it.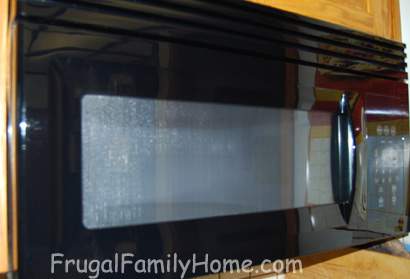 When I started the microwave had a thin greasy film on it. I just wet the all-purpose E-cloth with warm water and wiped the microwave off. Then I followed up with the polishing towel and it was sparkling clean. Without any chemical cleaner at all. I was really impressed. It was so clean it was squeaky clean.
Since I purchased the home set of E-cloths I also had the window cleaning E-cloth to try. I have a little boy who loves to touch the windows and the glass slider. I often find lots of fingerprints to clean. Since my slider was once again covered with fingerprints that was the next task. I just wet the window cleaning E-cloth and wiped the window down and then dried it with the polishing cloth. The glass was sparkling clean without any streaks at all. The polishing cloth is different from the other cleaning cloths. It has a rubbery feel to it and you use it dry instead of wet,  to buff the surfaces dry and shiny, think of it as a cloth squeegee.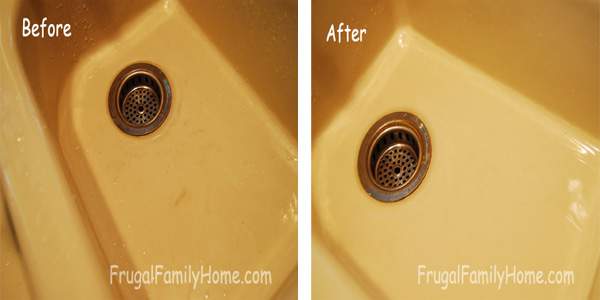 I also used the kitchen cleaning E-cloth to get my sink in the kitchen sparkling clean and the stainless steel cloth to clean the sink drain catchers. They both worked wonders and the sink really sparkled. It looked as clean as when I use a chemical cleaner on it.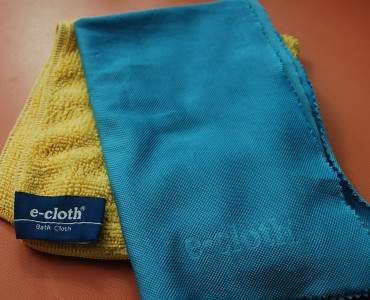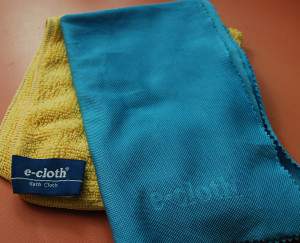 I was most impressed with the bathroom e-cloth. I was thinking the soap scum would be hard for this cloth to take on but I was wrong. It is a little thicker than the other e-cloths and when I used it to clean the shower it really stripped off the soap scum. I could see the yucky soap scum on the rag. The tile was squeaky clean when I was done.
I am so glad I was given an E-cloth to try out for this review. All the opinion expressed here are my own and I would let you know if I didn't like them but I really am impressed with the E-cloths. My husband was also very impressed with how well the window cloth and the glass polishing cloth cleaned the car windows that I am thinking I will need to keep an eye on them as they might just disappear out to the garage. 🙂
What about the cost?
Now you might be thinking these great cleaning cloths would be expensive but they are really quite budget friendly considering they last wash after wash.
The E-cloths are priced very reasonably. If you were to purchase an all-purpose cloth and a glass and polishing cloth you can clean almost every surface in your home for $16. For light cleaning jobs just rinse the e-cloth when you are done cleaning and air dry. For more dirty jobs just wash after use. I have been washing mine about once a week. Except after cleaning the bathroom, those go directly into the washer.
Disclosure: Even though I was given one of the e-cloths to review and one to give away, all the opinions expressed here are my own. I really am impressed with how the e-cloth cleans if I wasn't I would let you know. 🙂 You can read my full disclosure policy here.