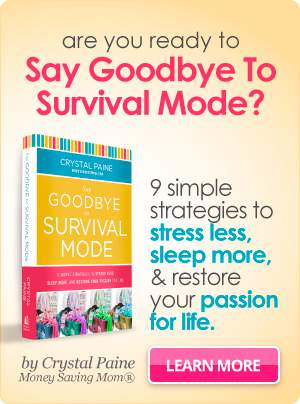 If you are at your wit's end trying to get it all done, you need Crystal new book, Say Goodbye to Survival Mode (affiliate link). I was picked to be part of Crystal's launch team and received this book to review for free, but the opinions are all my own.
Do you feel like you are running behind or in place, all the time and just can't get ahead? I know there have been times in my life that's exactly how I felt. I was working at a feverish pace everyday, wearing myself out but really getting nowhere fast. If this is how your days go more often than not Crystal's new book will help you get out of survival mode.
In Say Goodbye to Survival Mode you will find great advice on how to get your life back on track. Crystal shares stories of trying times in her life and how those times helped her to make changes. She shares how you can make changes in your life to break free from constantly living in survival mode.
Crystal not only shares her stories and other people's stories of making changes in their lives but gives practical things to do to make those changes happen in your life too.
I know so many of us, myself included, try to do everything and then nothing gets done well. In her new book, Crystal shares about making priorities and how you just can't do it all. She stresses how we need to make priorities and keep only the best things in our day. While letting the rest fall away.
She talks about saying no, and that it's alright to say no. I know it can be hard to say no, but it is so necessary to a more balance and happy life. She has great advice from managing your time to managing your finances.
I loved how Crystal approached talking about disciple. How we have to believe we can change and really want to change. I know I am held back many times by not believing something is possible for me to change. It was really encouraging to me to read this chapter.
I also loved the chapter on failure. Now you might think talking about failures may not be encouraging but this chapter really was very encouraging. I loved it when she talked about, failure is evidence you are trying. It just helped me to see even if I fail, I can learn and do better the next time. Progress is progress.
So if you need to escape survival mode, I would really encourage you to pick up Say Goodbye to Survival Mode (affiliate link). I think you will find it practical and encouraging. I know I will be referencing it from time to time to keep myself on track.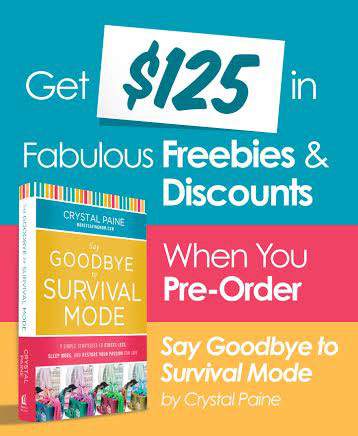 If you preorder Say Goodbye to Survival Mode (affiliate link) before January 20th you can get some freebies and discounts too. Just preorder the book and then go here and follow the instruction to get your freebies and discounts.
Also while your waiting for your book to arrive you can sign up for Crystal's free Say Goodbye to Survival Mode 7 day  email course to get your started.
Some of the links in this post are my referral links. Please see my disclosure policy for more information.