We have been following along with Money Saving Mom's 4 Weeks to a More Organized Home. Today's assignment was to clean the bottom of the closet out and vacuum for 15 minutes. If you are getting a late start just jump right in and join us.
Here is how the day went.
This morning we got up and got around to doing I usual stuff. I put in a load of laundry and got started right away with our home school studies. Once we were done I let the kids know we would be cleaning closet. They were ready to help and went to empty their closets out while I emptied the master bedroom closet.
I started first with my sons closet.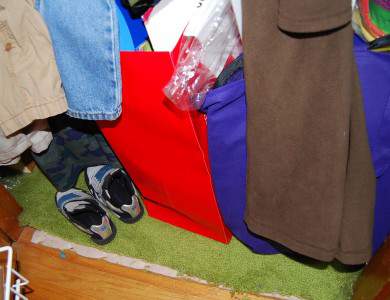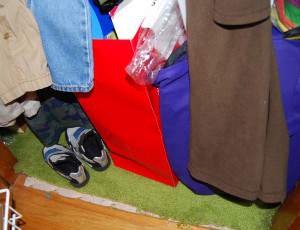 This one just needed to be organized. It wasn't as bad as it looked. Here it is after we had it empty.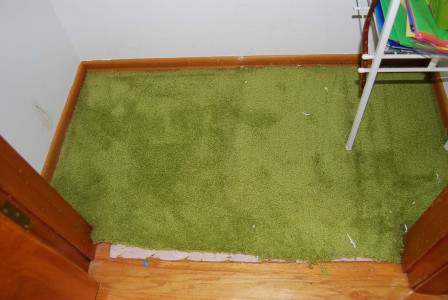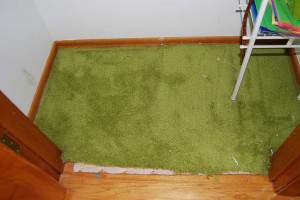 It was not too dirty in there just a little dust and a few scraps of paper. I vacuumed and sorted as I put things back in.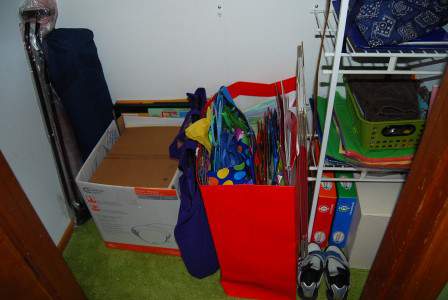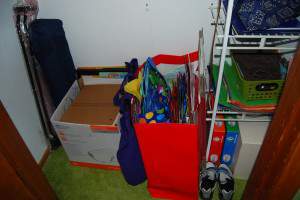 Now that looks better doesn't it.
Then I went on to help my daughter with her closet.
Here are the before pictures.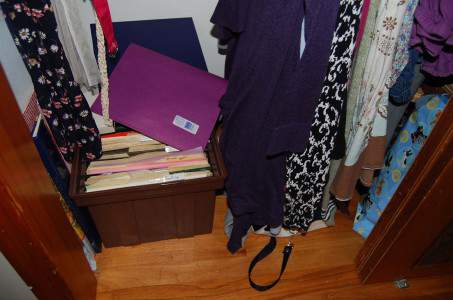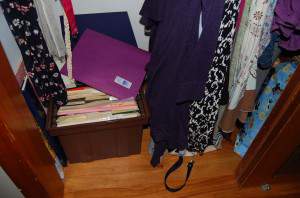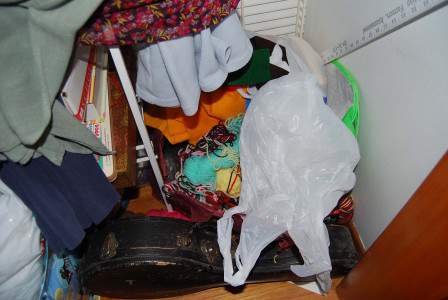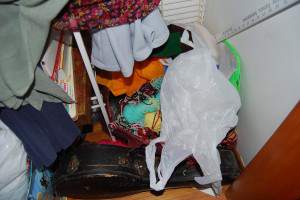 As you can see there are bags of stuff and things are falling out of the bags.
There is a lot of room in this closet once it is empty.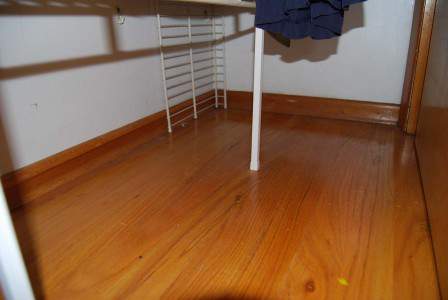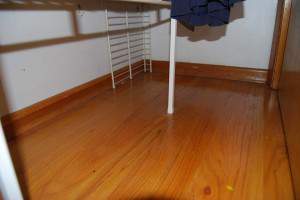 Again other than a little dust this closet was not that dirty. My daughter went through her items and put things into new bags for storage. I did not have any containers to put them in but the recycled birthday bags will work for now.
Here is what we ended up with.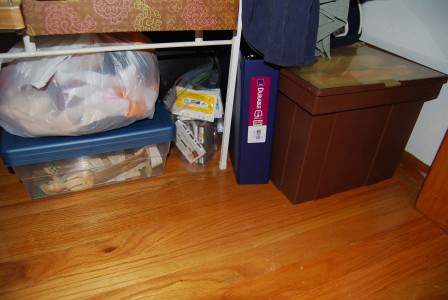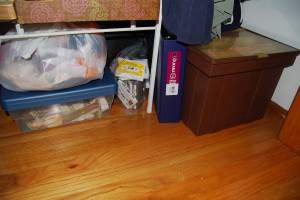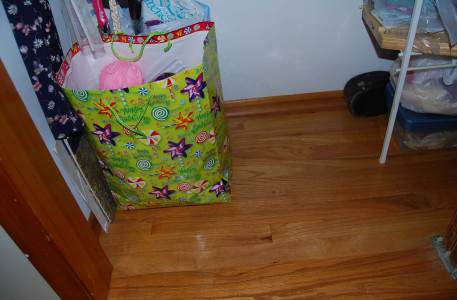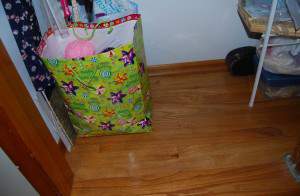 Now that looks much better doesn't it. Now she can find her yarn and other crafting stuff more easily when she needs it.
Then it was time to do the master bedroom closet.
Now I don't have many shoes so what I store in the master closet is our canned goods. I know it sounds funny. But by storing my canned good there I won't fill it up with other things we don't need.
Here it is before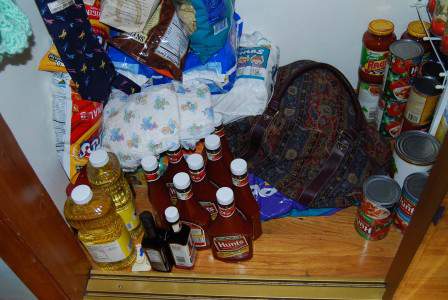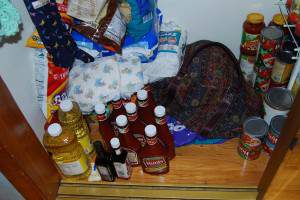 Here it is empty. Again not too dirty but quite a few dust bunnies.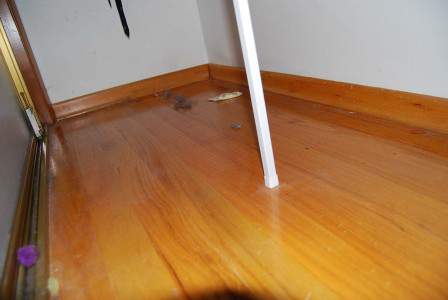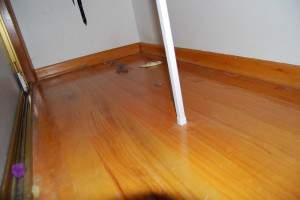 Here it is after. All nice and organized with all our canned goods.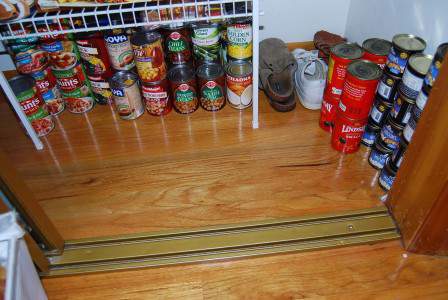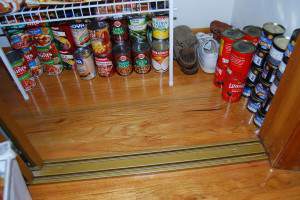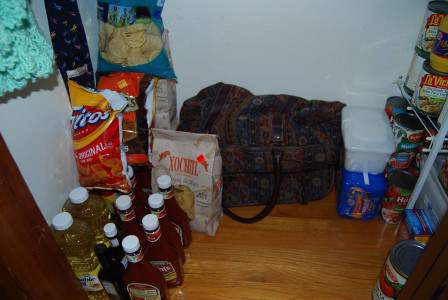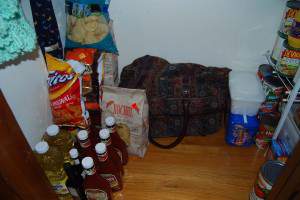 That is much better. I did find a few packages of pull ups and baby wipes that I had forgotten were in this closet. So I am glad to have gone through it. I also organized the shelves but I did not take pictures of it.
The last closet we had to do was our Coat Closet.
Before, what a mess with all the shoes just thrown in there.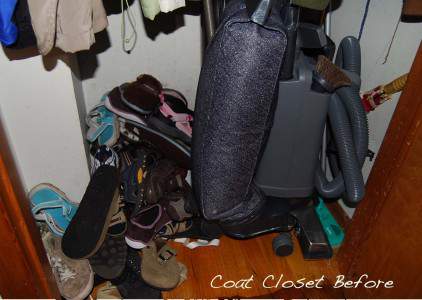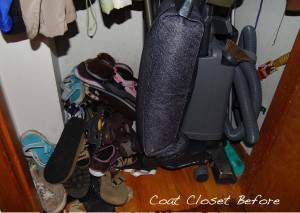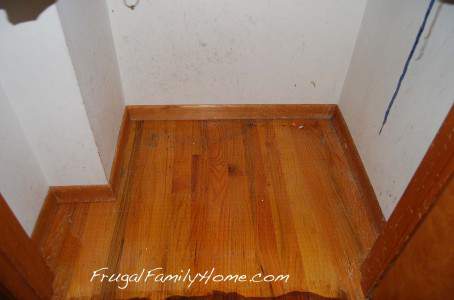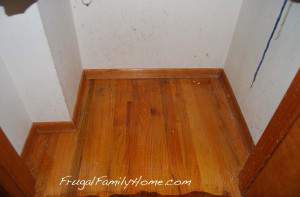 Here it is empty. I vacuumed it out and used a Mr. Clean eraser to get the scuff marks off the walls.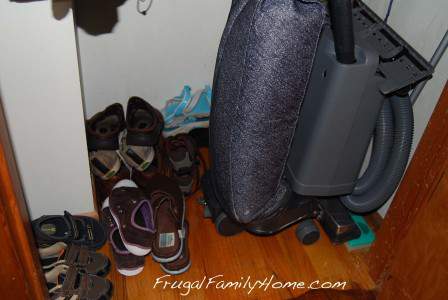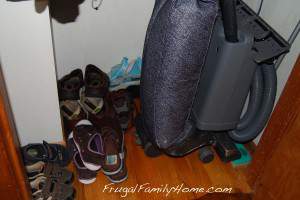 Here it is all put back together. I did remove about 4 pairs of shoes, some my son outgrew, some I have not worn in a while. I wish I had a better system for the shoe storage.
Anyone have any suggestions?
7 items to purge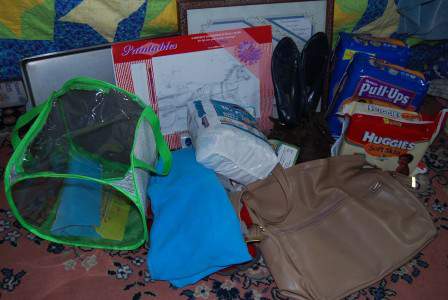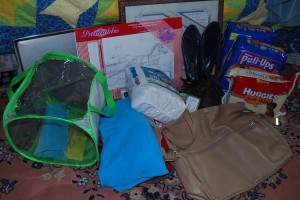 We found many items to get rid of today between all of the closets we cleaned.
We did a quick 15 minute vacuum on the house too. My son asked me "What are we doing tomorrow?" I told him he would have to wait and see. He has really been a big help with all of these jobs. Well, both of the kids have. But my son is so enthusiastic about helping each day.
Can't wait to see what is we are in store for tomorrow.
[signoff]