Today's freezer cooking is waffles.
We eat waffles about twice a month sometimes more if I have enough milk on hand to make them. So it will be nice having some of these in the freezer ready to just heat and eat. We can't eat the store-bought frozen waffles because of the milk they contain. I use soy milk but almond or any other milk substitute should work fine. I also use soy flour to replace the eggs. So if you are allergic to eggs or eat vegan this recipe could work for you too.
Dairy Free Waffles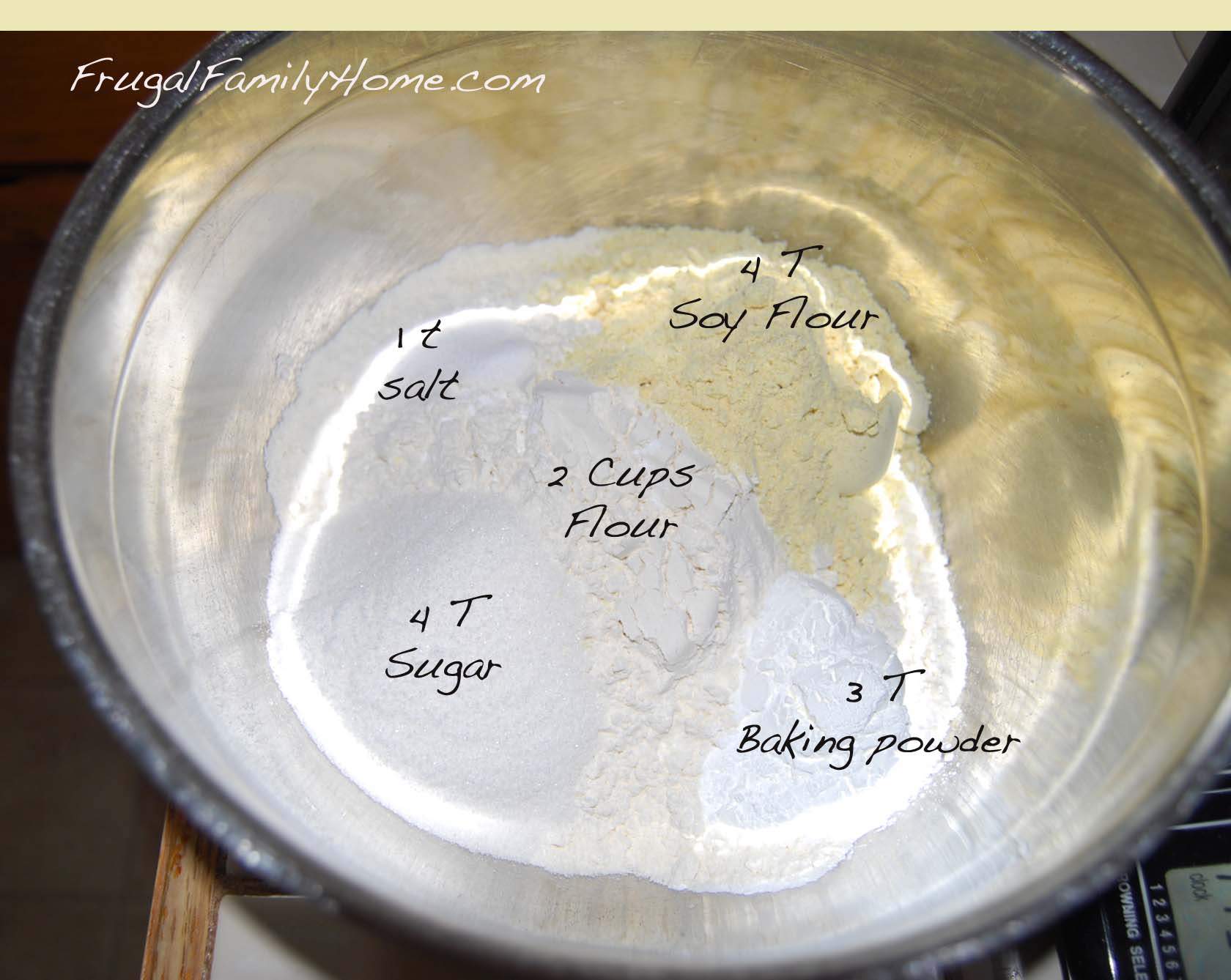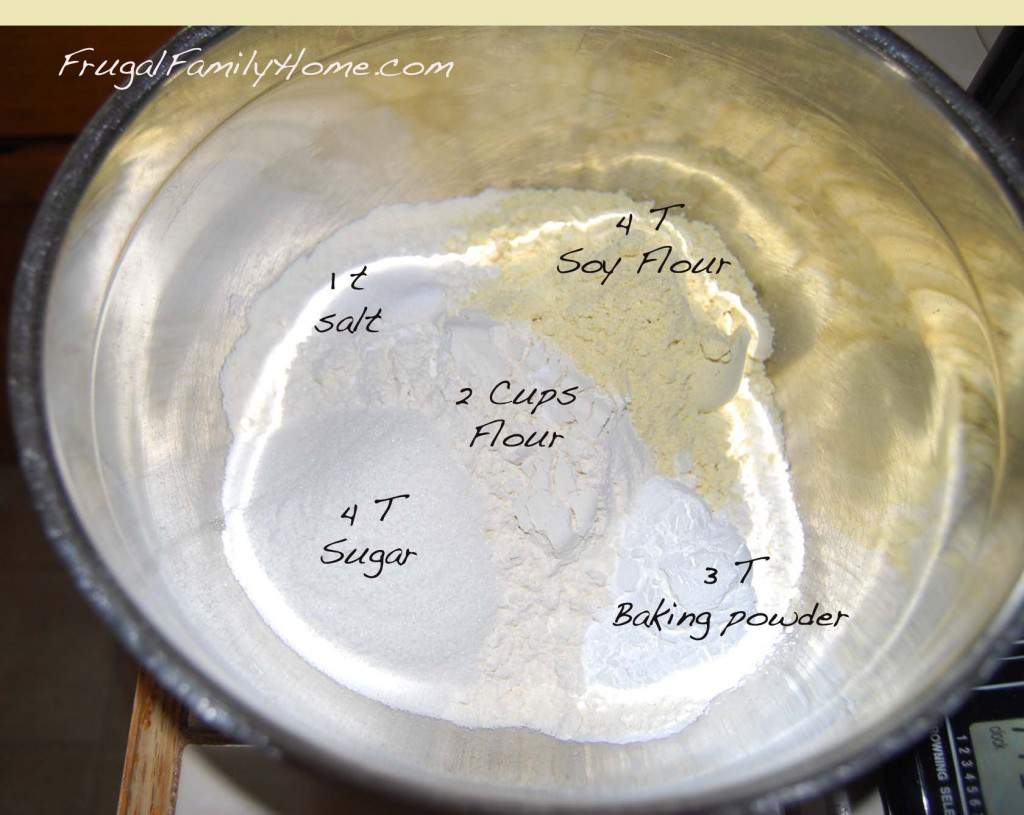 I mix all the dry ingredients with a whisk. Then I mixed all my wet ingredients, which I forgot to take a picture of but it is 3 2/3 cup milk (I use half water), 4 T water,  2/3 cup oil, 2 t vanilla, and 2 t maple flavoring.
Then I combine them and stir just to moisten the dry ingredients.
Then you have this very nice batter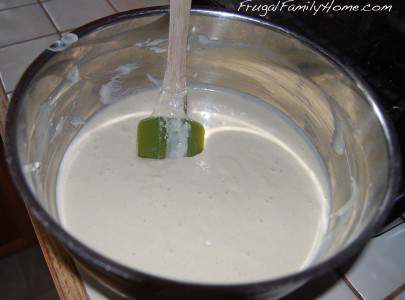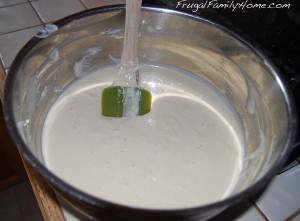 While I was mixing up the batter. I had my waffle iron heating up. This one used to be my great grandma's and it works great. I oiled the waffle iron, then added the batter.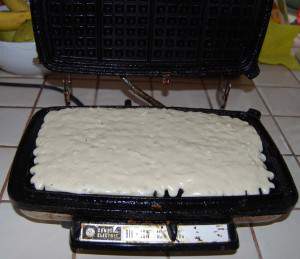 Then I closed the lid and let it cook until the amount of steam escaping slows down. Since I am putting these into the freezer I tried to cook them a little less so they won't get too hard when re-heating them in the toaster oven.
Here is one done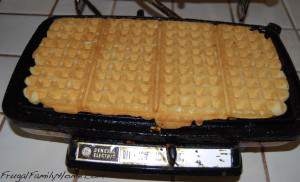 I cooled them completely on my oven racks. Then once fully cooled I put them into freezer bags and remove as much air as I can. Then I labeled them and put them into the freezer.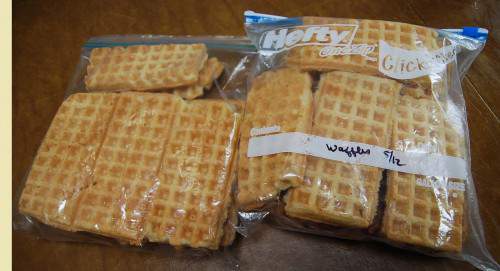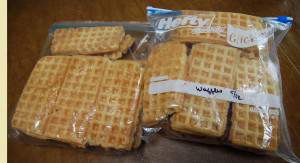 These are also great for snacks for the kids with peanut butter and jelly on them.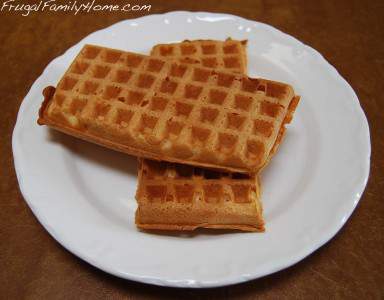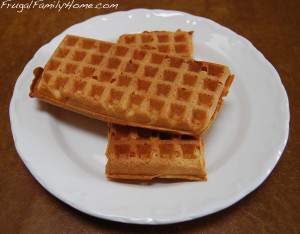 Tomorrow we will be making oatmeal packet for our freezer cooking. I know they don't need to go in the freezer but it is nice to have them made ahead. Money Saving Mom is going to be doing Freezer Friendly Baked Oatmeal, so I thought I would stay with the oatmeal theme. Also we are out of our homemade oatmeal packets.
I also wanted to keep the house up since I worked hard last month on cleaning and organizing it. So we all pitched in and vacuumed and dusted the house along with a 15 minute cleaning of the bathroom.
What freezer cooking did you do today?
[signoff]