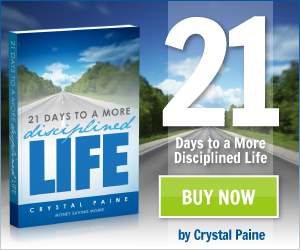 I received a copy of Crystal Paine's new book, 21 Days to a More Discipline Life. This book was a really quick read. I was able to finish half the book in just a few hours. But the book is written to be a guide for 21 days not to be read in a sitting or two.
I have to say I am not one that is really disciplined. I get the things done when they need to be done but usually not a lot ahead of time. At the same time I am never late to a meeting or an appointment. So you can be disciplined in one area but not in another area of your life.
This book helps you to slowly make changes through small steps, to work towards being more disciplined. Small changes are often much better than just one day deciding to do something new. It is much harder to make a large amount of changes quickly.
With Crystal's book you can make small changes each day. She suggests to pick a Mega Project as she puts it, to work on. So each day as you read through the book you work on the project you have picked. Each day you also get great suggestions on how to change an aspect of your life so you can become more disciplined. Ideas like having an accountability partner are just one example.
The book is sort of like a road map (maybe that is why there is a road on the cover) to changes to make to become more disciplined. This book would be a great read for anyone who wants to make changes but just doesn't know how or where to start. The book is like someone leading you on the way with small steps that should only take 10-15 minutes a day. All working towards change in the right direction but not too much change that you get overwhelmed and give up.
Crystal's tone in the book is one of encouragement and filled with her own story of struggles with becoming more disciplined. So if you are looking to make a change but need some help and motivation this book would be a book to consider. You can purchase the book here, or at Amazon.com.
[signoff]
Disclosure: I received this book for free but the review of this book is my all my own opinion. The Amazon and other links are my affiliate links.