Homemade donuts are just about the best breakfast I can make. I make baked donuts and baked maple bars on a regular basis, but I haven't made fried donuts in a while. I think it had been about 9 years since I last used my deep fryer. The last time I had it out was to make donuts too. My husband just loves apple fritters and since I'm sharing lots of apple recipes this month, I thought you might enjoy making them too.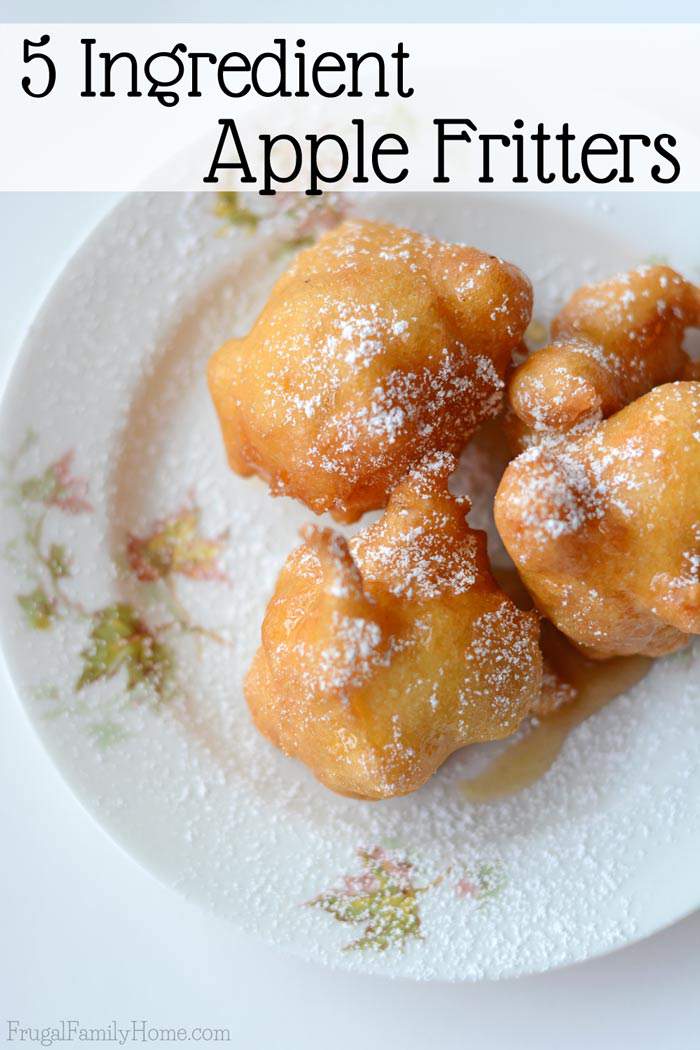 I have a Fry Baby. This little fryer I've owned for years, and it works great for recipes like this one. You can't fry as much per batch but for our family of 4 this model works well. If you have a larger family you might want to give the Fry Daddy (affiliate link) a try. Unfortunately, they don't seem to make the smaller Fry Baby anymore but the Fry Daddy is just like the one I own just a little bigger.
But you don't need a deep fryer to make this recipe. A pan on the stove with oil an inch or two deep will work well too. If you have a thermometer to keep track of the temperature, you'll want to keep it right around 375 degrees. Without a thermometer, you can tell if the oil is hot enough by testing it. Drop a little batter in and see if it floats pretty quickly to the top. If it does the oil is hot enough, if not it needs to heat a little longer.
When you are cooking with hot oil, do take care to keep kids back away from the fryer or stove. Also, be careful when dropping the batter in as the oil can splash up and burn your skin.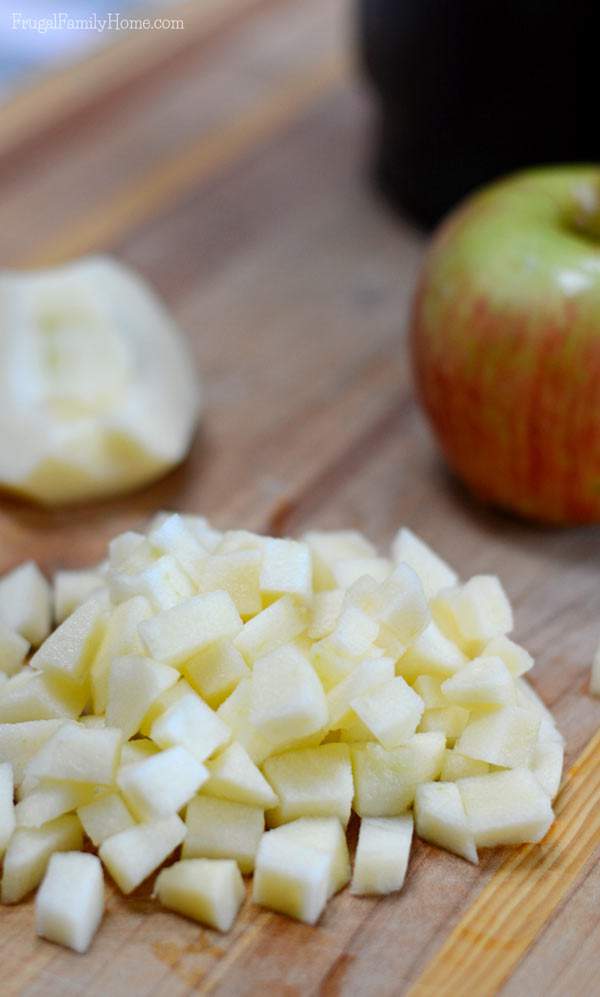 Ingredients Need to Make this Apple Fritter Recipe
Flour
Apple
Milk or Dairy Free Milk
Baking Powder
Egg
To Make these Apple Fritters
The batter is very quick to mix up. Place the flour and baking powder into the bowl and mix. I measure out my milk into a measuring cup and then add the egg. I like to keep the dishes to an absolute minimum, so I mix the egg and milk in the measuring cup.
Next add the chopped apples to the flour mixture and then stir in the milk mixture. Mix only until the flour is moistened. Don't over mix the batter it will become tough. Making the apple fritters tough instead of tender.
Set the batter aside and heat the oil in a pan or deep fryer until hot. Add the batter a tablespoon at a time, limiting the number of fritters to 3-4 at a time, let it fry on one side then flip to the other side. Total cooking time is only 3-4 minutes or until golden brown. Remove fritters from the oil with a wire mesh strainer or slotted spoon. Let drain on paper towels while you cook the rest of the batter.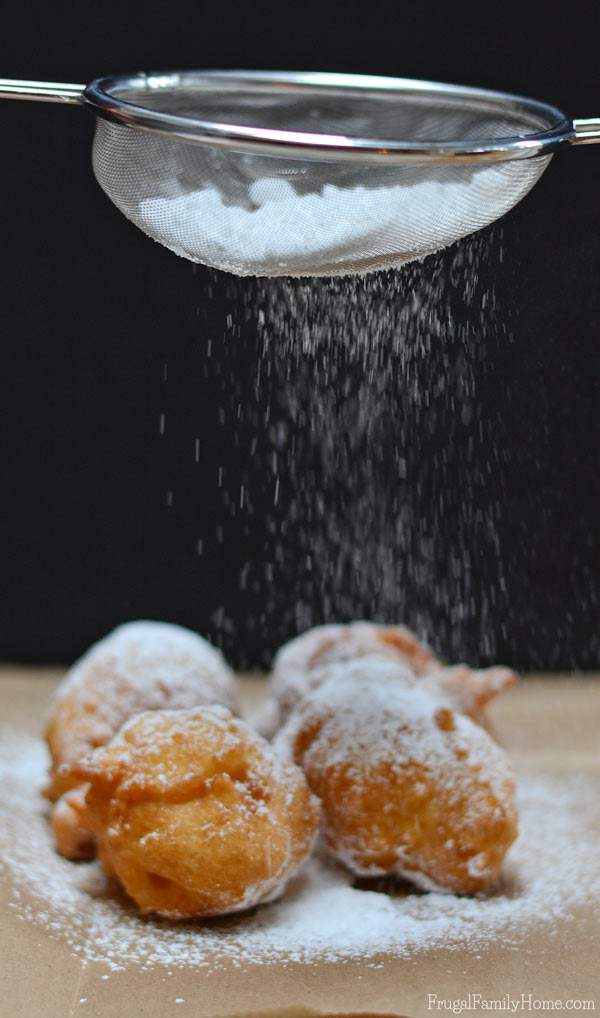 Toppings to Add to the Apple Fritters
You'll want to serve the apple fritters warm. We like to top ours with a little pancake syrup or sprinkled with a dusting of powdered sugar. I've also made a glaze either vanilla or maple flavored and dipped the warm apple fritters into it to coat them and then let the excess drip off.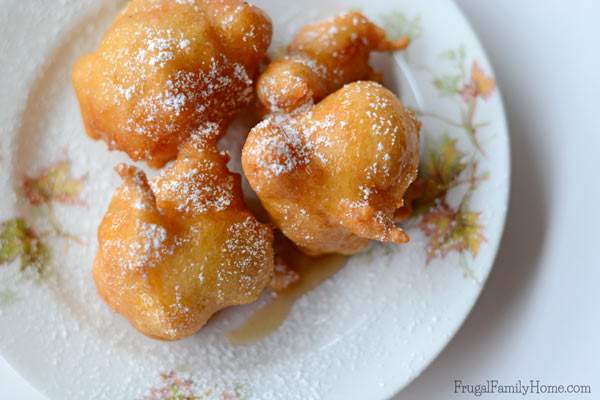 If I've convinced you, that you need to give these apple fritters a try, here's the printable recipe to add to your  recipe collection.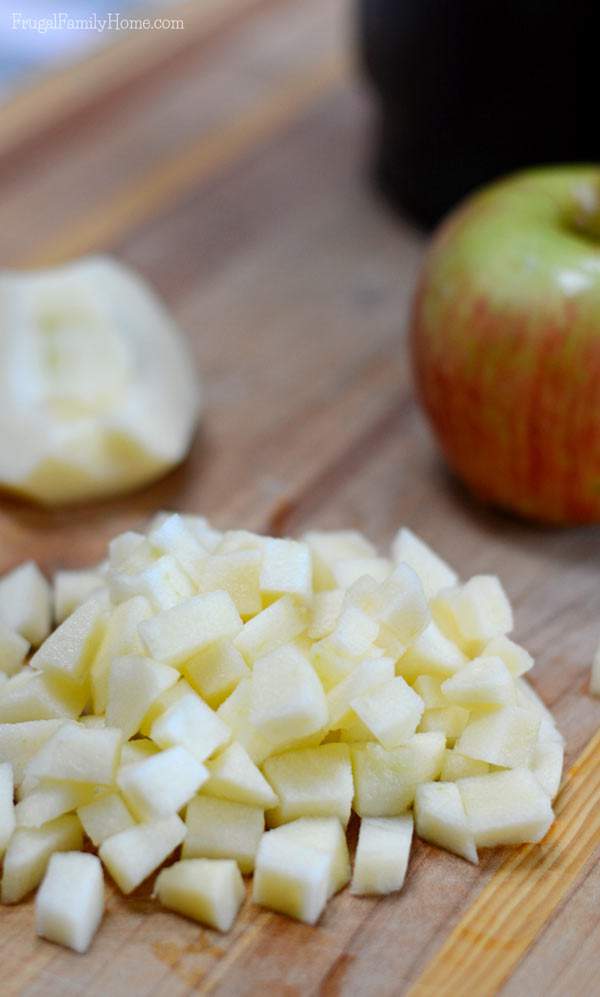 Easy to Make Apple Fritter Recipe
Ingredients
1

cup

Apples

chopped

1

cup

Milk

we use dairy free milk

1 3/4

cups

Flour

2

teaspoons

Baking Powder

1

Egg

beaten

Oil for deep frying
Instructions
In a bowl mix the flour and baking powder.

In the measuring cup, measure the milk and add the egg, stir to combine.

Add the chopped apples to the flour mixture and then add the milk mixture to the bowl. Stir until the flour is just moistened.

Place enough oil to fry the apple fritters into a pan or deep fryer. Heat until hot about 375 degrees.

Drop batter by tablespoon into the hot fat. Be careful as you drop the batter in, the oil could splash and burn your skin. Be cautious when working with hot oil and keep children away. Cook 3-4 minutes or until golden brown, turning once while frying.

Drain on paper towels. Repeat for remaining batter.

Serve warm with maple syrup and/or sprinkle with powdered sugar if desired.
Have you ever tried to make donuts at home? How did they turn out if you did? What's your favorite donut? I would love to have you join the conversation below.
[signoff]
Looking for more Apple Recipes? Find more by clicking here.