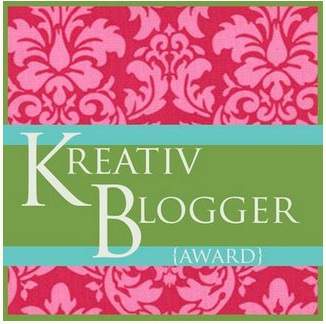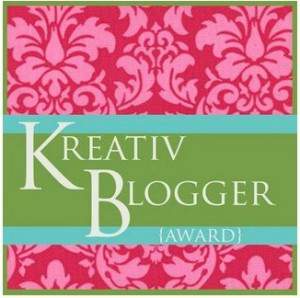 Thanks to Erin over at My Mommy World for nominating me for the Kreativ Blogger award. My blog is new and it so great to be nominated. Thanks again Erin. 🙂
Here are the rules.
1. Thank the blogger who gave me the award and provide a link.
2. List 7 interesting things about myself that readers might find interesting.
3. Nominate 7 other bloggers, provide links and let them know.
Hmmm, Here are 7 interesting this about me…
1. I swam on my high school swim team for 3 years and set a school record with 3 of my team mates.
2. I eat ketchup on my scrambled eggs. (It really is quite good)
3. I learned to knit when I was 9 year old.(I still knit and crochet today)
4. I was extremely shy as a child but you would not know it now.
5. I used to work as a Dental Hygienist and still keep an active license just in case.
6. I like to do home improvements around the house with my husband. (we really do work well together)
7. I am extremely clumsy and can trip over absolutely nothing at all.
7 blogs I want to nominate..
1. Proverbs Living, Adoption, Faith and Family
2. Jade Louise Designs, Great post on how to write a product review.
3. Smiling Homemaker, Homemaking, Homeschooling and some great deals.
4. Busy Mom On The Go, Family, Recipes and Crafts
5. My Lil Budget Book, Great deals and coupons
6. Country Living on a Hill, Her Sunday Confessions post are great.
7. Living Crunchy, All about living green.
Please check out this wonderful blogs.