I am a member of the Collective Bias® Social Fabric® Community. This shop has been compensated as part of a social shopper insights study for Collective Bias and their client. Please see my disclosure policy. #TotalSmile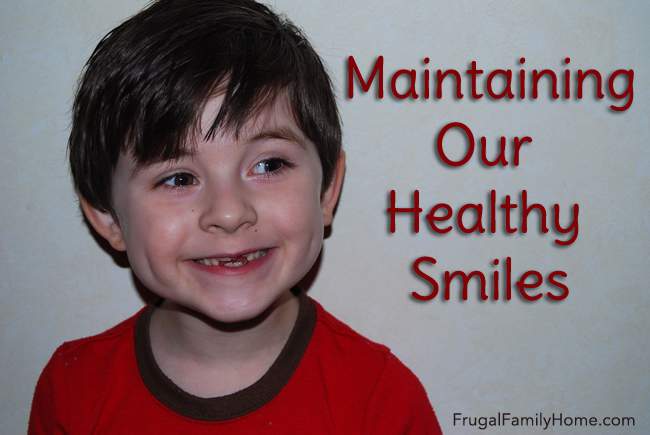 Maintaining Our Healthy Smiles
We do a lot of laughing in our family from correction tickles to just having fun our family has lots of smiles to share. When you smile often you want to keep your teeth as healthy as you can. It takes a regular oral health routine to keep our teeth healthy. I love how Colgate products fit right in to helping us maintain our healthy smiles. On my latest trip to Target I found the new Colgate Total Advanced Pro-Shield mouthwash to add to our routine.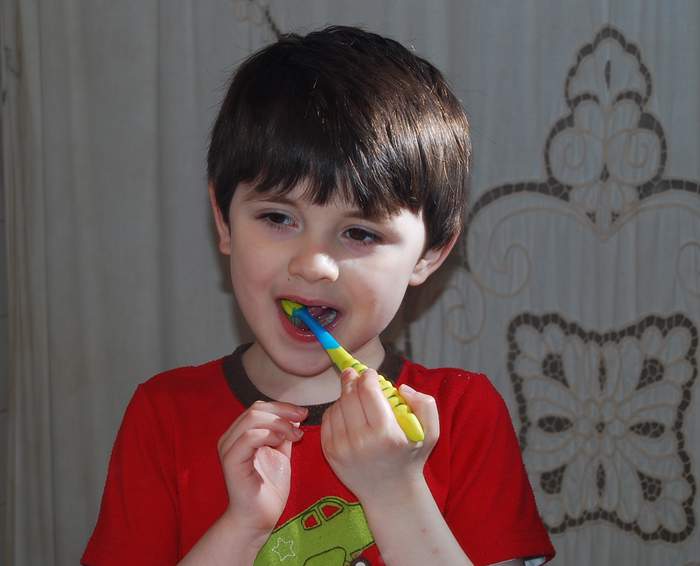 In our home we start the kids on a good oral routine early. I used to use a washcloth on my kids gums before they had teeth and then after the teeth came in I helped them learn to brush right away with my help of course. Even if it was just chewing on the toothbrush at first. I just wanted to get them into a regular routine.
We also add flossing in at a young age. Although when the kids were really small I would floss their teeth for them. Now that they are older they love to use floss picks to floss their teeth. Just getting the kids into a regular routine is half the battle of establishing good life long oral cleaning habits.
By having a regular dental routine you can feel confident about your teeth and in turn you just tend to smile more. When you smile at someone you can make them feel more at ease and you appear more approachable. Sharing a smile is easy when you feel confident about your smile.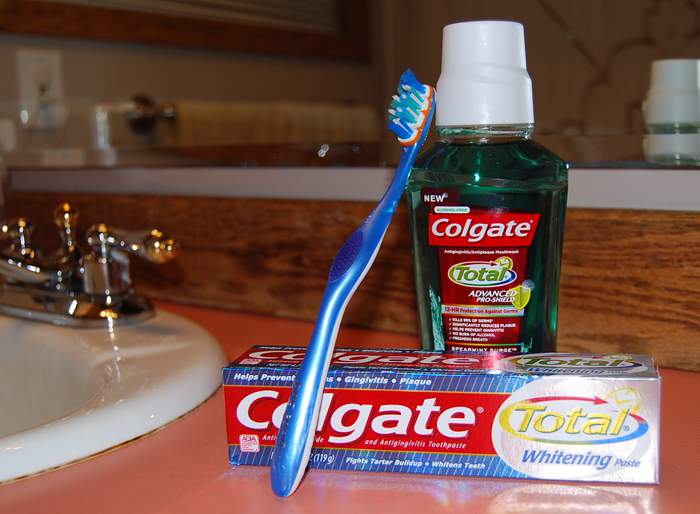 Part of maintaining our smiles is regular dental check ups. At our recent visit to the dentist my kids were given Colgate toothbrushes and Colgate toothpaste to take home. So I thought the Colgate mouthwash would be a good addition to our oral health routine. After all if the dentist sends us home with Colgate products the mouthwash had to be a great product too.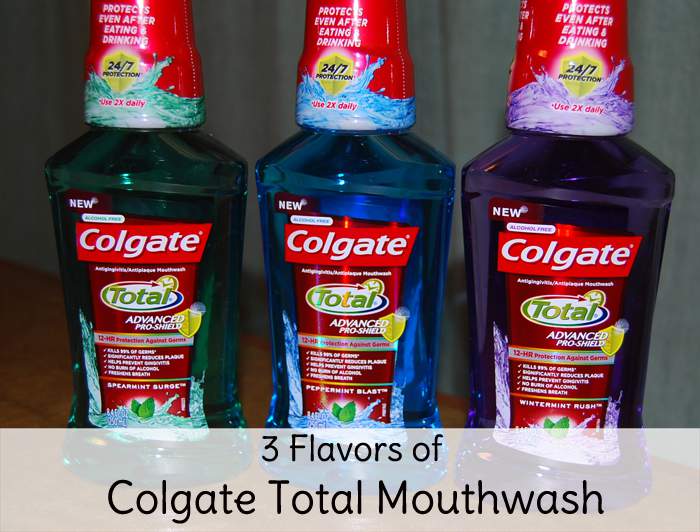 As I was cruising the aisles at Target I realized there are a lot of mouthwashes out there. In fact a whole aisle full. After I located the Colgate Total Advanced Pro-Shield, I couldn't decide on which flavor of mouthwash we should try. Since Target was having a buy two get one free sale I just purchased all three flavors.
Before I had set out to the store I had also found a coupon at Colgate.com so I saved even more. It only took me a few minutes to find the coupon and print it so it was definitely worth the effort to save a little more.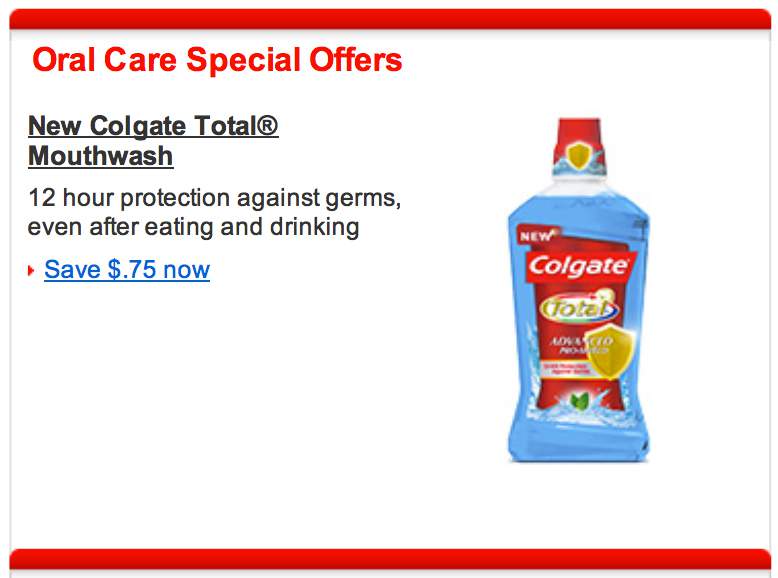 I had a few reservations about adding a mouthwash to our routine. My experience with mouthwash as a child was not good. So as an adult my oral health routine didn't always include mouthwash.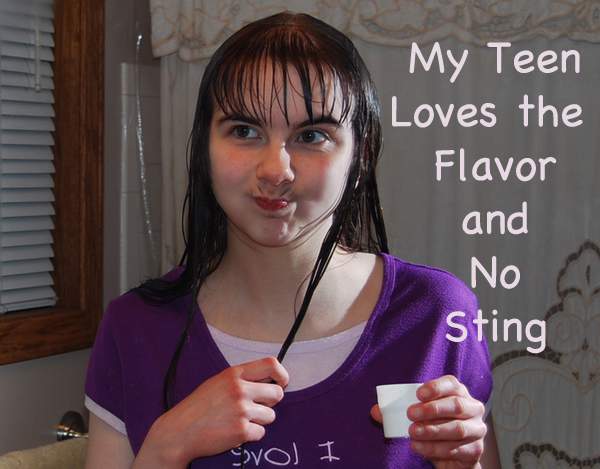 You see when I was young,  my mom would purchase a mouthwash for our family. But it wasn't the minty kind it was the antiseptic kind that burned your mouth to use it. So I never really wanted to use a mouthwash. Fast forward to today, I had a little concern with how the Colgate mouthwash would taste and feel in my mouth.
Right after picking up the bottle and reading on the label "no burn of alcohol", I was reassured. After using the Colgate Total mouthwash  I was pleasantly surprised with not only the flavor but also the nice tingle it gave to my mouth. As the day went on my mouth stayed feeling fresh even after eating.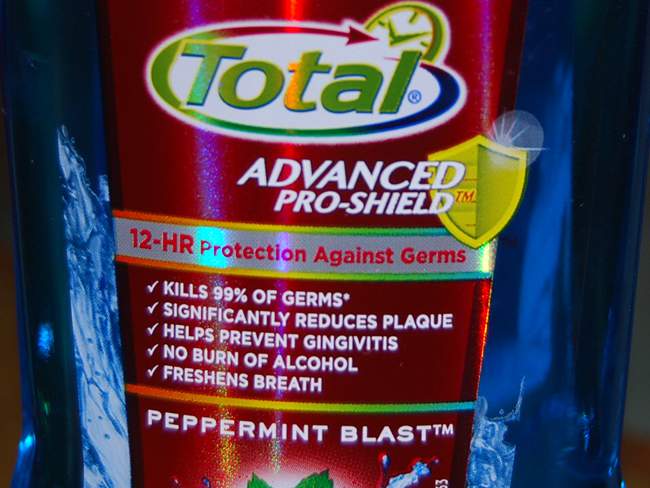 Right on the label it says 12 hour protection and they are right. For the whole day my mouth felt fresh and there wasn't any of that plaque feeling on my teeth. You know the feeling that your teeth are wearing sweaters. The Colgate Total mouthwash kept that feeling away for the whole day.
I had the rest of my family give the Colgate Total Mouthwash a try and we all give it a thumbs up.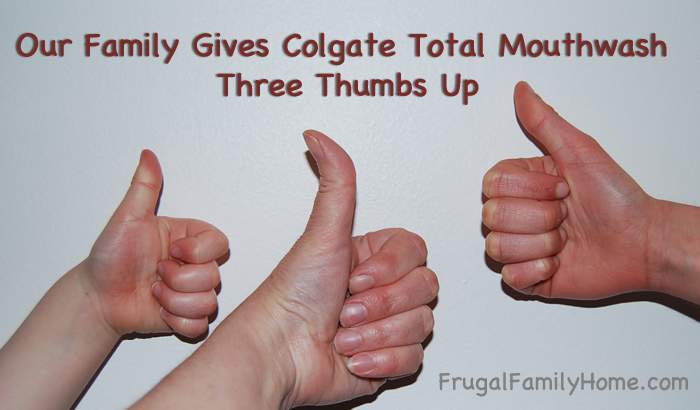 If you want to see more of my shopping trip to Target along with the sales I found just take a peek at my Google+ album.
Do you include mouthwash as part of your family's oral health routine? What is your favorite mouthwash to use?
[signoff]