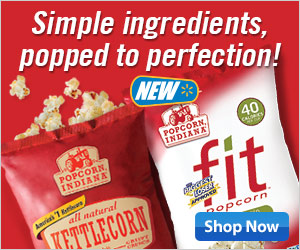 Popcorn, Indiana's mission is to make the best tasting better-for-you snacks on the planet. Popcorn, Indiana wants you to meet the newest member of their popcorn family.
NEW FIT Popcorn! Featuring amazing taste, crispy crunch, whole grains, only 40 calories or less and just 2g of fat per cup.
All flavors of FIT popcorn, including Sea Salt, Extra Virgin Olive Oil, Parmesan & Herb and Onion Dijon have been approved by "The Biggest Loser" as snacks that can be part of a healthy lifestyle.
Smart Never Tasted So Good
• 40 Calories or Less Per Cup
• All Natural
• Gluten FREE
• Whole Grain
• Zero Trans Fat
• Sea Salt and Olive Oil flavors are Non-GMO Project Verified
Go here to check out the new flavors.
Disclosure: This post contains my referral links.