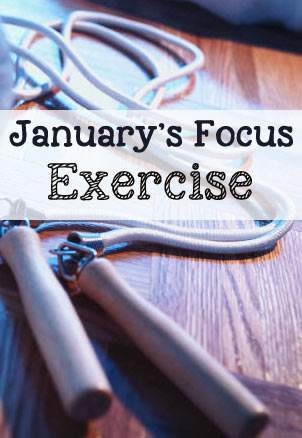 12 Months to a Healthier You Challenge, Week 2 Update
I'm joining Crystal of Money Saving Mom in her 12 Months to a Healthier You Challenge. Each month will have a focus area and for the month of January the focus area is exercise.
I committed to exercising 5 days a week for this month. I didn't set a goal for a particular amount of time each day. Just a goal to exercise 5 days a week. I have found for myself it's so much better to just have a goal of getting some activity in, rather than having to get a certain amount of time in.
This way I can feel good about getting active each day even if it's only 5-10 minutes. After all a little exercising is better than none at all. Am I right!?
How I did this past week,
I started the week out right, getting lots of exercise in on Saturday morning, in the form of grocery shopping at Winco Foods. Pushing around a cart with a month worth of staples can give you a good workout, especially when you are trying to get it all done in about an hour. 🙂
Then Saturday afternoon, I helped my husband trim our cedar tree. We thought it would just take a short amount of time. After all it was only a few branches to remove. Well the tree had gotten a little more out of control than we had thought.
Two hours later we were still chopping up all the branches we removed to put them into the yard debris bucket. We filled our 90 gallon can and then stacked the rest of the branches onto the deck to be chopped up on Monday. My arms and back got quite a workout by the end of this day.
Sunday I took the day off from exercising. My muscles were already quite sore from all of the chopping the day before.
Monday, I got up early and did some cardio for my exercising. Then in the afternoon, I went out to tackle the rest of the pile of cedar branches. About an hour and half later it was done. I'm so thankful to have that mess cleaned up. My husband was so pleased the cedar trimmings were all cleaned up he thanked me more than once. 🙂
The rest of the week, Tuesday through today,  was pretty much a mix of cardio and some calisthenics. So I met my goal of exercising 5 times this week. Two weeks down three more to go for this month.
Are you joining in the challenge? Leave me a comment below and tell me how it's going for you so far.