Last week I talked about how to shop your pantry before you even leave for the store. This week I'm sharing about how to save before you even leave the house by using the sales flyers. When you know what you have on hand you can start to build meals from those items and add in sales items to save each week on groceries.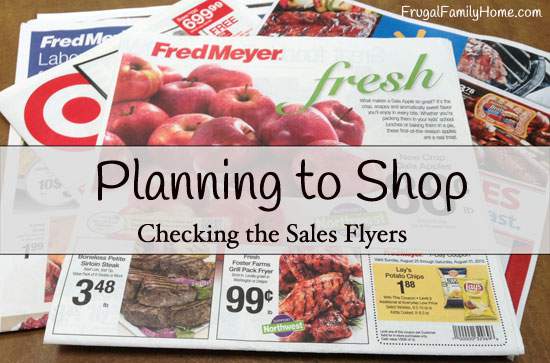 I always look over the meats, canned good and produce deals each week in the flyers that come to my house. Why pay full price when you don't have to? There will be inevitability items that you may have to pay full price for but when you plan your purchases around what is on sale you can keep your grocery spending low.
I am also on the lookout for items that are at my stock up price. If I see canned tomatoes for $.50 a can or less I know I will want to stock up, as that is a good price for my area. So be sure to be on the lookout for good buys on items you keep in your pantry so you can stock up on them when the prices are good. By stocking up when prices are low you can avoid buying them at full price.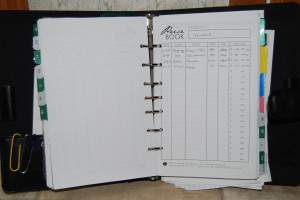 How do you know what a good price is? By using a price book. I have my price book to keep track of prices in my area. You can start by just tracking about 5-10 items and then add more as you can. Eventually you will have a book full of current prices so you will know what a good price is in your area.
So far you know what items you have on hand and what items are the best deals at the store in your area. You already figured out if there were any meals you could make from your pantry. So now is the time to figure out what kind of meals you can make out of what is on sale paired with what you have on hand. Then add those meals to your meal plan for the week.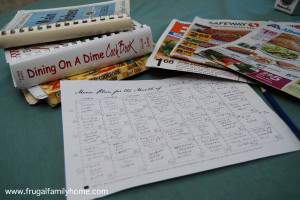 Not too bad so far, right? It might sound like a lot to do but I can usually meal plan for a whole month quite quickly using my monthly meal planning method. If you are planning for a week then you should be done in no time. After using this method for a while, you will get quicker at it too.
How do you meal plan? Just what sounds good or do you look for what's on sale and then make a plan?
[signoff]