In this day and age we all need to have a smartphone or at least we think we do. But having an unlimited plan can really end up costing you a lot of money. But you can have a smartphone and keep your cost under $20 a month, I can show you how.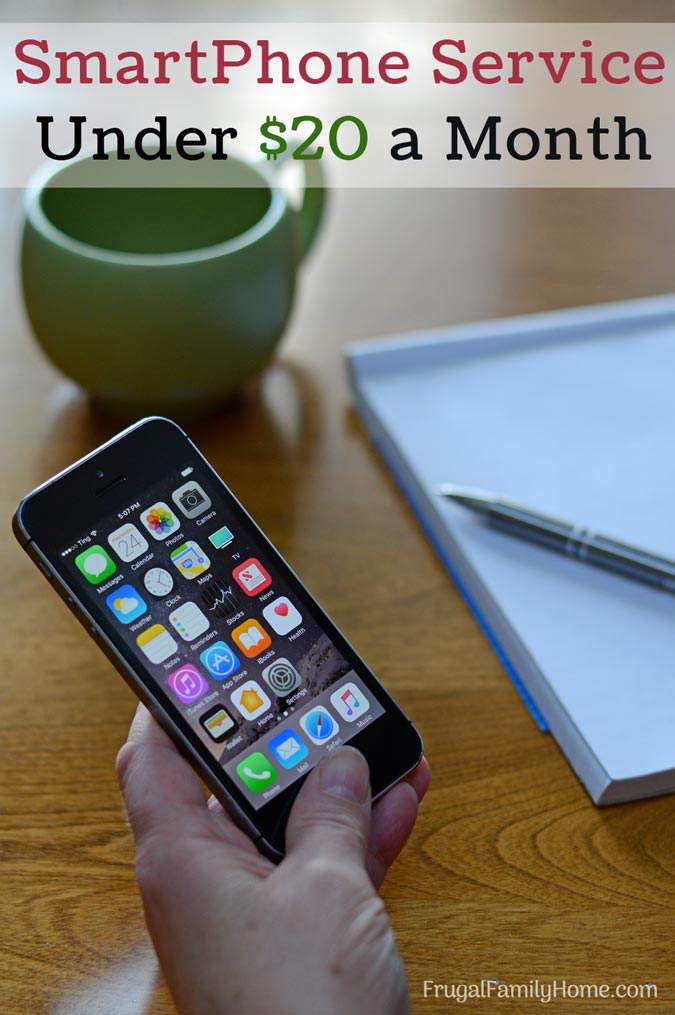 Just so you know, the links in this post are my referral links. When purchasing through them I can make a little money at no extra cost to you. Thanks for the support in this way.
My Mistake When Upgrading to a Smartphone
For a long time, I got by with a non-smart cell phone and my iTouch. It was a good combination. I used my iTouch for shopping apps, texting, and surfing the web while on wifi.
I had a pay as you go plan for my non-smart cell phone at $3 a month and it worked. I use very little talk and text so I didn't want to pay for more than I used. The pay as you go plan was perfect.
Then it happened my old phone started to die, it wouldn't stay charged, and I knew I had to do something different. My husband had switched to an iPhone 4s a few months earlier. We found a great used one on Ebay for $80.
He was able to use his new iPhone with our pay as you go plan and all was well. Since my phone was dying a slow death we began to search for a cheap used iPhone for myself.
We purchased one from a friend, we thought it was an iPhone 4 but it turned out to be an iPhone 5s it was just over $100 so a good deal too. Little did I know that inexpensive phone was going to end up costing me more to use.
What I Discovered with my Old Service Provider
When I went to activate the new to me iPhone 5s with my current provider, I was told it wouldn't work for their pay as you go system and I would have to switch to a monthly plan. I wished I had known that before I purchased the phone.
I would have made sure to get an iPhone 4 instead had I known the iPhone 5 wouldn't work for pay as you go, but I was an owner so I had to find a new plan.
The cheapest plan was $30 a month. When you only use 10 minutes a month of talk and a handful of texts, that's pretty expensive per minute or text. That new plan would have cost me $3 a minute in talk or text since I typically use under 10 minutes or texts a month.
So I was on the search for a cheap plan. I first tried T-Mobile. I'd tried their service a while back with a Samsung phone and switched to their cheap $3 a month plan for that phone. I thought about continuing it but wanted to use my new iPhone on the service.
I searched to see if I could bring my new phone to T-Mobile, but it didn't seem compatible. I was beginning to think I was going to have to pay a lot more for my new to me iPhone, which didn't make me happy at all.
Then I Discovered Ting for Smartphone Service…
On my search for a new cheap phone provider, I came across Ting. Ting isn't a pay as you go but it's not a traditional phone plan either. It's a unique hybrid of the two.
With Ting, I pay a monthly fee of $6 per phone on the account. Beyond that, I only pay for what I use. If I use minutes to talk on the phone, I'll pay an addition $3 for up to 100 minutes of talk. If I sent texts I'll pay an addition $3 for up to 100 texts for the month and for 100MB of data I'll pay $3 additional.
For a little of all three, it would end up costing me just $15 a month, or half the cost of my old provider. And that's only if I use all three services each month.
That's more than my $3 a month plan but still way less than the $30 plan I would have had to switch to. But Ting may not be the best choice for you, here's what to consider.
Who Ting is Best For…
Ting is best for light to moderate smartphone users. If you are normally on wifi most of the day, you don't talk much on your phone and you don't text like a teenager, Ting would work well for you.
I don't use data at all. I keep my data usage to when I'm on wifi. When I text since I use an Apple device and most of my friends and family do too, I text while on wifi and it's free through Apple iMessage app.
That keeps my usage to just the minutes I use for talk and I keep that under 100 a month. Which helps to keep my bill at around $10 a month, see one of my recent bills below. Not bad at all.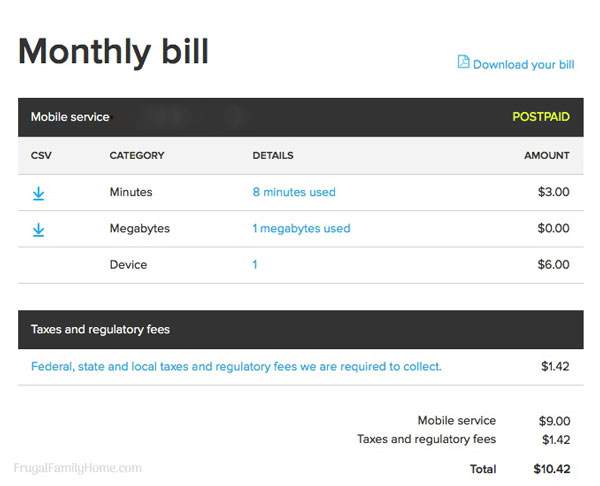 I've found Ting to be a happy middle ground between the pay as you go plans and the unlimited everything plans that have a big price to go with them.
Ting Isn't For…
If you are a heavy user of your phone, you're not on wifi most of the day and you talk and text often. Ting probably won't save you any money and you should stick with an unlimited plan.
But if you are curious you can check out their rates and figure out if you'll save any money.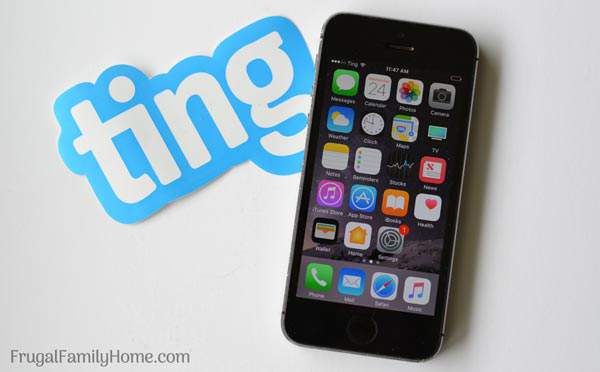 How to Decide if Ting Can Save You Money…
The best way to decide if you can save money with Ting is to do what I did. I went through my last few phone bills to see what my monthly usage was.
Once I knew what my average talk, text, and data usage for each month, I looked over the rates at Ting. It was easy to see I was going to pay $6 for my basic phone cost, $3 a month in talk and occasionally another $3 a month for texts.
Since I never went over 100 for minutes of talk or texts a month I knew my bill would be $12 or less with most months being $10 with taxes and fees.
You can do the same with your phone usage and see if switching to Ting could save you money.
How Does the Service Compare?
For years we have run on the Verizon network. My iPhone can run on either network with Ting. Either the CDMA or GSM network.
I found the coverage to be good on the GSM network. I chose the GSM network since I had used T-Mobile in the past with my Android phone and it had good coverage. But you can check their coverage map to see which would work best for your area to help you decide.
Bring Your Own Device…
With Ting, you may be able to use your current device on one of their systems. Since they have both CDMA and GSM chances are one of those would work with your device. But to be sure you can input what device you have and check before you decide to sign up.
I was happy to see my newly acquired iPhone would work with their system. After I was told it wouldn't work with T-Mobile.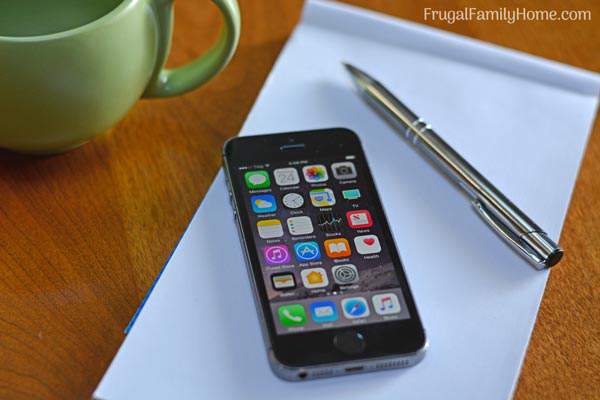 You Only Pay for What You Use…
What I like best about Ting is it's not a pay as you go plan. If one month I need to use data or I need to talk more I can and I'll be billed the extra amount for just that month.
I don't have to load more money onto my phone like a pay as you go plan if I want to use my phone more.
And I won't have to bump up to a higher usage plan and get stuck paying for more than I need every month from that time forward. I'm in control of my smartphone bill by what I use each month.
Plus you can add a second person to your account. There is a cost of $6 a month for the additional person but the total talk, text, and data are combined. Which could really save you money if you and the others on your plan are light users.
That's how to get smartphone service for under $20 a month (most months being around $11 for me) with Ting. Since there are a few cents for the fees and taxes but it's not much.
While it's not as cheap as my old pay as you go plan, it is less than half the cost of my old provider for smartphone coverage.
If you're a light user of your smartphone, why pay for an unlimited plan you're not using. You might be able to save quite a bit each month.
Got questions about Ting? Leave me a comment below and I'll do my best to answer them. Or you can head over to Ting and see for yourself.
PS, Some of the links in this post are my referral links, I just wanted to let you know. You can read my disclosure policy for more information. But I do use Ting and love their service and want to spread the word so you can save too.
Other Ways to Save….