I went to the thrift store to get some t-shirts to make yarn so I could make a t-shirt rug for a birthday present. I made the t-shirts into yarn for this project. I will  do a post soon about how to make yarn from a t-shirt just in case you want to make some yarn yourself. Here is a picture of the yarn I used.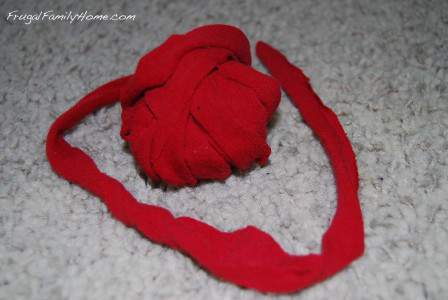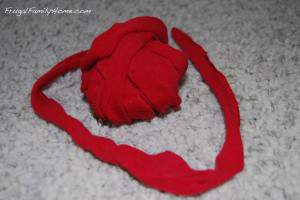 I used a large crochet hook to make this rug. I have made a few of these type of rugs. I usually just do them free hand without a pattern. I started out by trying to write the pattern as I went but I ran out of time and just had to finish the project for the birthday present.
Here it is


I really like these rugs because the feel like a cushion under your feet. I did not do anything too fancy. I used single crochet on the sides and half double crochet to transition to the ends and double crochet stitches at the ends. At the start I went into both sides of the foundation chain.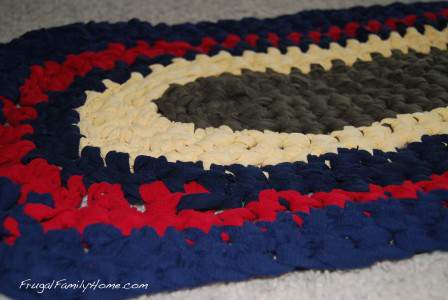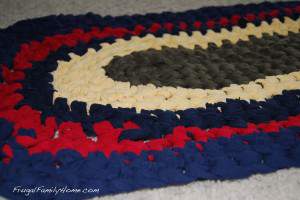 I have one of these rugs for each of our bathrooms. I knitted the one for our downstairs bathroom and it has held up a little better than my crocheted bath mat I made for our other bathroom. This time instead of just tying the yarn ends together I actually sewed each end to the next. I am hoping this will help them hold up in the washer better.
So by using the t-shirts I got on my thrift store shopping trip and a little time I was able to make this rug. I like making gifts for people not to just save money, but to give something unique. Sometimes I will make food gifts, quilts, or a knitted or crocheted project.
Do you have a craft you love to do?
[signoff]