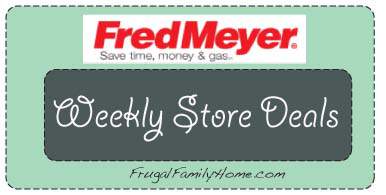 This week at Fred Meyer there is a really good deal on grapes and milk is a good price too.
Produce
Grapes $.78/lb
Organic Kiwi $1/3
Eggplant $1 each
Personal Seedless Watermelon $2.50 each
Meats/Dairy
Foster Farm Chicken thighs or drumsticks $1.49/lb (not a great price but locally grown)
Lean Ground Beef 80% lean $2.28/lb (3 lb roll)
Wild Caught Salmon Whole $4.99/lb
Fred Meyer Milk or Orange Juice 1/2 gallon $1 each with in ad coupon (limit 10)
Kroger Cheese Slices, bars or shreds 6-8 oz $1.50 each with in ad coupon (limit 4)
Fred Meyer Yogurt $1/3
Simple Truth Organic Soy Milk $2.49 each half-gallon
Simple Truth Natural Cage Free Brown Eggs $2.49 dozen
Fred Meyer Butter 1 lb $2
Grocery
Hamburger Helper $.88 each with in ad coupon (limit 4)
Use $.75/3 coupon
Pay $.63 each after coupons
Dial Liquid Hand Soap or 3 count Bars $.79 each with in ad coupon (limit 2)
Use $.35/1 coupon 8/19RP
Pay $.44 each
Betty Crocker Fruit Snacks $2 each
Use  $0.75 off 3 Betty Crocker Fruit Snacks or $.75/2 coupon 8/5GM
Pay as low as $1.63 each
Skintimate Shave Gel $1.99
Use $1/1 coupon in store manufacture's
Pay $.99 each
This post contains my referral links. You can read my disclosure policy here.